Jan & John Maggs
Antiques and Art
About Us
~ ~ ~ ~ ~ ~ ~ ~ ~ ~ ~ ~ ~ ~ ~ ~ ~ ~ ~ ~ ~ ~ ~ ~ ~ ~ ~ ~ ~ ~ ~ ~ ~ ~ ~ ~ ~ ~ ~ ~ ~ ~ ~ ~ ~ ~ ~ ~ ~ ~ ~ ~ ~ ~ ~ ~ ~ ~ ~ ~ ~ ~ ~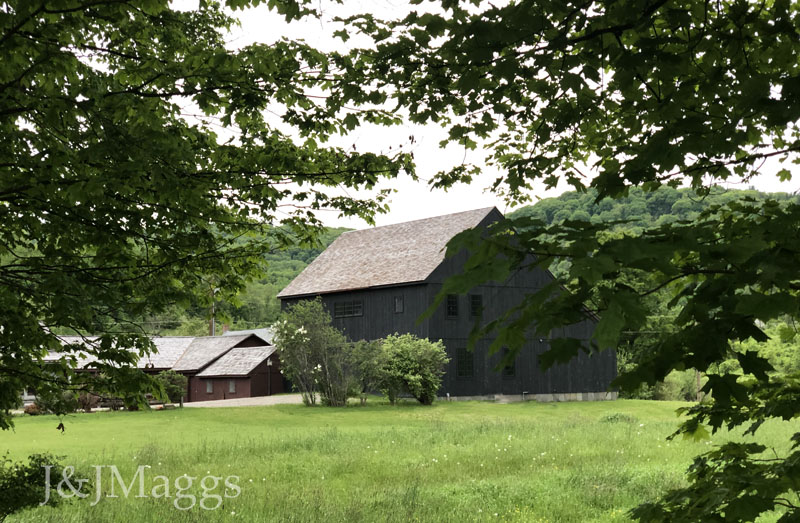 Our new barn, replacing the historic structure destroyed by a freak tornado in February 2017
~ ~ ~ ~ ~ ~ ~ ~ ~ ~ ~ ~ ~ ~ ~ ~ ~ ~ ~ ~ ~ ~ ~ ~ ~ ~ ~ ~ ~ ~ ~ ~ ~ ~ ~ ~ ~ ~ ~ ~ ~ ~ ~ ~ ~ ~ ~ ~ ~ ~ ~ ~ ~ ~ ~ ~ ~ ~ ~ ~ ~ ~ ~

ABOUT US
When Jan, a collector of antique jewelry and period furniture, and John, a teacher and musicologist, met in the early 1980's, it was no accident that their shared interests in music, art and antiquities would morph into a rewarding enterprise. Jan's family had been in the jewelry business since the 1800's, and her passion for early jewels and period English furniture are grounded in this background. John's career had been in the field of music, with an emphasis on the 16th and 17th centuries.
When first together, we spent our weekends buying at tag sales and Sunday flea markets, but soon began to sell at these same markets and in two local group shops. As our fledgling business began to grow, in 1985 we purchased a derelict 18th-century farmhouse and outbuildings in Conway, Massachusetts and commenced a decades-long restoration project.
Even as the restoration demanded hours of exhausting labor, we began to exhibit at some of the myriad antiques shows throughout New England and New York. In one remarkably active year, we exhibited at 43 shows.
While initially focusing on American furniture and smalls, our interests soon turned to the era with which we live, early English oak. Following the leads of a few dealer friends, we made our first trip to England together in 1993, finding that we could buy pieces we loved at a cost that allowed us to bring them home and make them available at reasonable prices. Thus began a pattern of semi-annual buying trips to England, traveling in the spring and in the fall, with a gala opening in our shop soon after our return.
In February of 2017 the barn which we passionately restored and turned into the home of our business, was flattened by a freak tornado. Thanks to insurance companies that honored their obligations to us, we were able to design and build a new barn with comfortable and spacious showrooms in which our early oak furniture, early jewelry, and paintings and accessories from the past three centuries can be displayed in room settings. While we might appear to be open only four days each year, we're eager to show off our new space and our ever evolving inventory, and we open our doors regularly to visitors who call for an appointment or who drop in by chance.
We're doing only a few shows these days, since our website and our monthly newsletters keep us in view. If you're not already a newsletter subscriber, we hope you'll use the link below to get on the list. We appreciate your interest in us and would like to welcome you to our list of readers.
~ ~ ~ ~ ~ ~ ~ ~ ~ ~ ~ ~ ~ ~ ~ ~ ~ ~ ~ ~ ~ ~ ~ ~ ~ ~ ~ ~ ~ ~ ~ ~ ~ ~ ~ ~ ~ ~ ~ ~ ~ ~ ~ ~ ~ ~ ~ ~ ~ ~ ~ ~ ~ ~ ~ ~ ~ ~ ~ ~ ~ ~ ~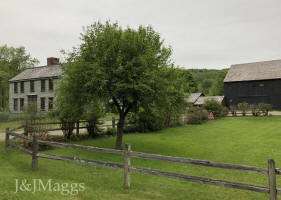 Click to return to the Jan & John Maggs home page