Winter Light
The Art of Virginia Strom Precourt
In our new barn in Conway
February 16 - March 3, 2019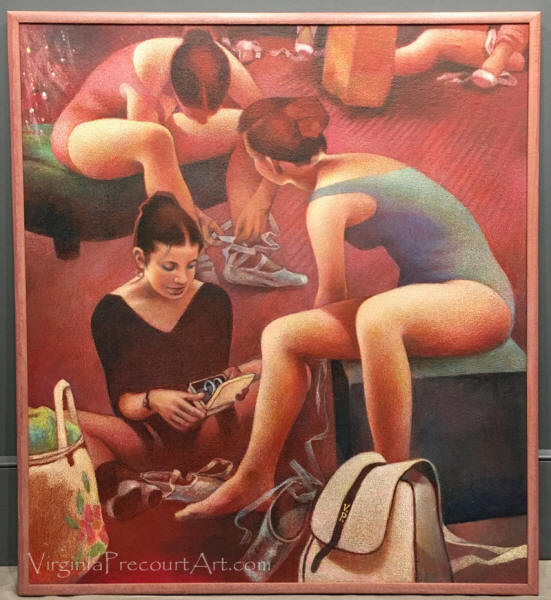 New Earrings - Pastel-leaf on canvas, 1994
~~~~~~~~~~~~~~~~~~~~~~~~~~~~~~~~~~~~~~~~~~~~~~~~~~~
February is here, and with it our first-ever exhibition of the works of a single artist. Our new showrooms, with their 10-foot ceilings and rich blue-grey walls seemed to cry out for this kind of show. Fortuitously, at the same moment, much of the life's work of Virginia Strom Precourt, distinguished Boston-area painter and mother of a close friend, was looking for a new venue.
You can read about Virginia - and her life's work - here. For the past several weeks we have been working with Virginia's family on the presentation of more than fifty of her works, which, the Boston Globe wrote, "ranged from graceful, detailed drawings to seemingly indestructible frescos." We are thrilled to be bringing Virginia's paintings, many of which will be on public view for the first time, to a part of the world she loved, and we're delighted for the chance to display the breadth and depth of her life's work in our new showrooms.
Because Virginia's heirs share her desire to place her work where it will be enjoyed and appreciated, all of the works are being offered for sale at a substantial reduction from the original gallery prices. The range of these works extends from small pencil sketches through framed "pastel-leaf" and oil paintings, to monumental "polyfrescoes", weighing as much as 100 pounds.
The exhibition also provides the opportunity for visitors to see the interior of our new barn at its most elegant. Whether you're in the market for a painting or a sketch or would simply enjoy immersing yourself in the work of an extraordinary American artist, we urge you to visit. Our galleries will be open to the public at these times:
Saturday, February 16 - 10:00 until 6:00
Sunday, February 17 - noon until 6:00
Monday, February 18 - noon until 6:00
Sunday, February 24 - noon until 6:00
Sunday, March 3 - noon until 6:00
In addition, the show may be viewed by appointment during its entire run.
~~~~~~~~~~~~~~~~~~~~~~~~~~~~~~~~~~~~~~~~~~~~~~~~~~~
To visit the Virginia Strom Precourt website, click here.
Click here to watch a brief video of the show.
~~~~~~~~~~~~~~~~~~~~~~~~~~~~~~~~~~~~~~~~~~~~~~~~~~~
To receive updates on this most special show, including the release of the website, please email WinterLight@jmaggs.com