Jan & John Maggs
Antiques and Art
A set of six 17th-century style backstools with leather upholstery
~ ~ ~ ~ ~ ~ ~ ~ ~ ~ ~ ~ ~ ~ ~ ~ ~ ~ ~ ~ ~ ~ ~ ~ ~ ~ ~ ~ ~ ~ ~ ~ ~ ~ ~ ~ ~ ~ ~ ~ ~ ~ ~ ~ ~ ~
Purchased from our favorite English picker, these six chairs have the look of fine backstools from the 17th century.
The set includes two armchairs in addition to the four sides, each upholstered with leather, which is secured by attractively arranged brass bosses.
The front stretchers are turned and connect the front legs at their medial block. The side stretchers are plain and connect the front and rear legs at the medial block and near the bottom. The rear stretcher is also close to the ground, but slightly higher than the lower side stretchers. The back of the chair consists of a crest rail and a lower rail, upon which the upholstery is laid, leaving a space beneath the leather back.
The frame is joined entirely by pegged mortise and tenon joints, which are still tight and secure. The seats have been reinforced by wooden inserts underneath, supporting the seats and minimizing the stresses on the 150-year-old leather.
English, ca. 1870
Armchairs: 22" W X 20" D; Seat height: 20; Overall height: 40"
Side chairs: 19" W X 15" D; Seat height: 18"; Overall height: 37"
Price: $1,200
SOLD
Questions? Click HERE.
Inventory #25681
~ ~ ~ ~ ~ ~ ~ ~ ~ ~ ~ ~ ~ ~ ~ ~ ~ ~ ~ ~ ~ ~ ~ ~ ~ ~ ~ ~ ~ ~ ~ ~ ~ ~ ~ ~ ~ ~ ~ ~ ~ ~ ~ ~ ~ ~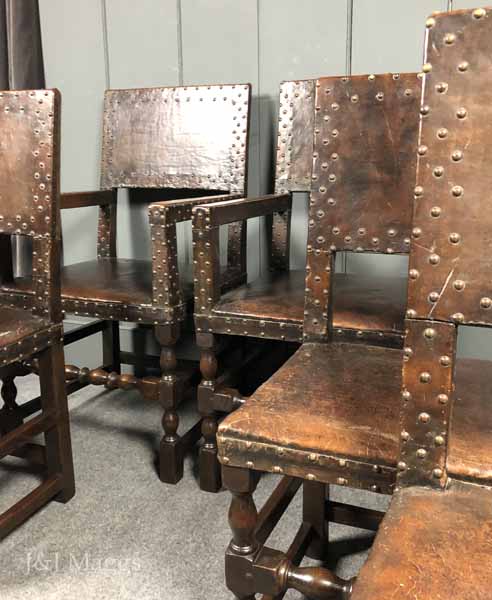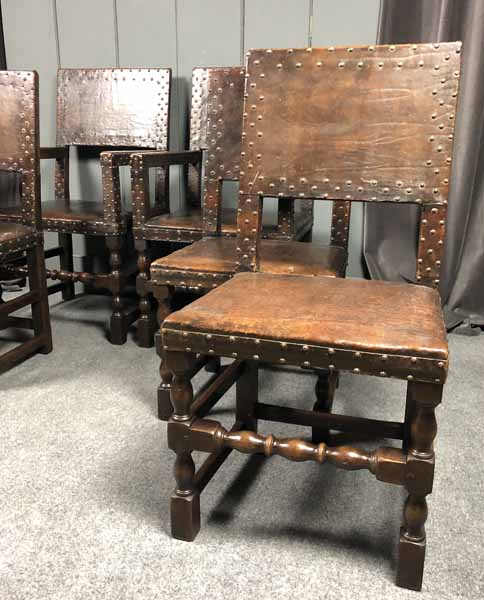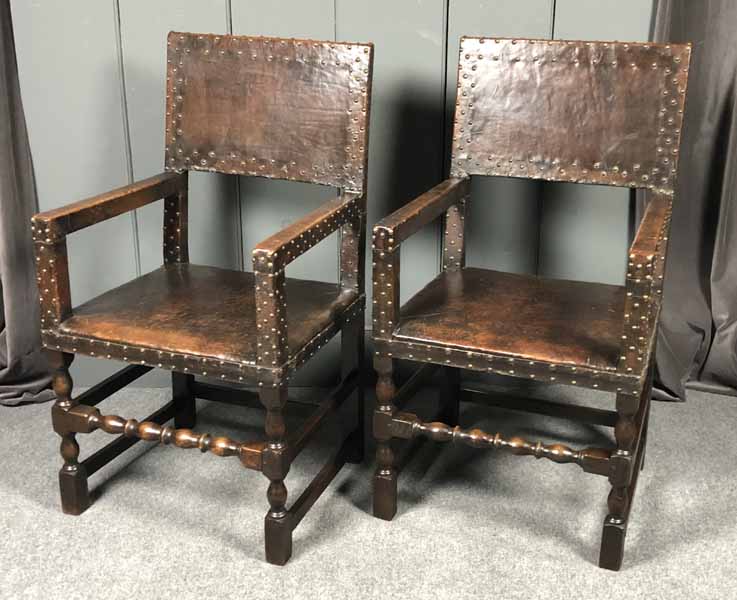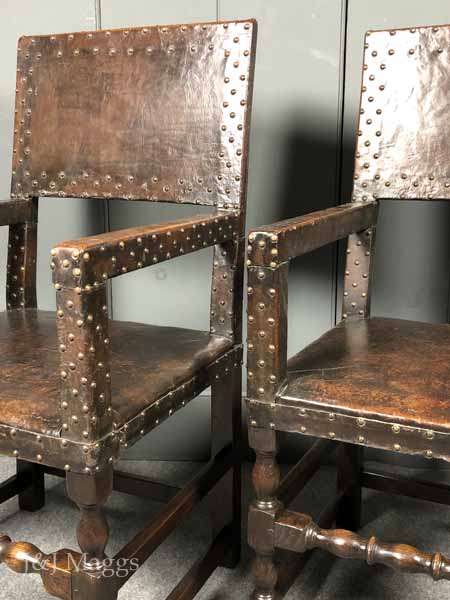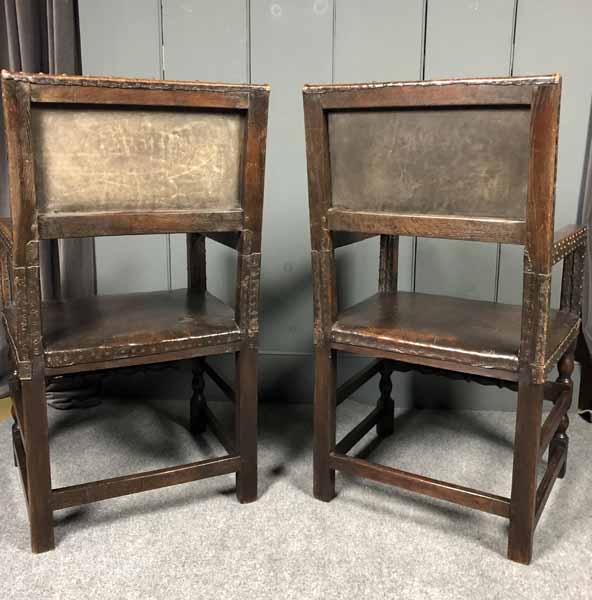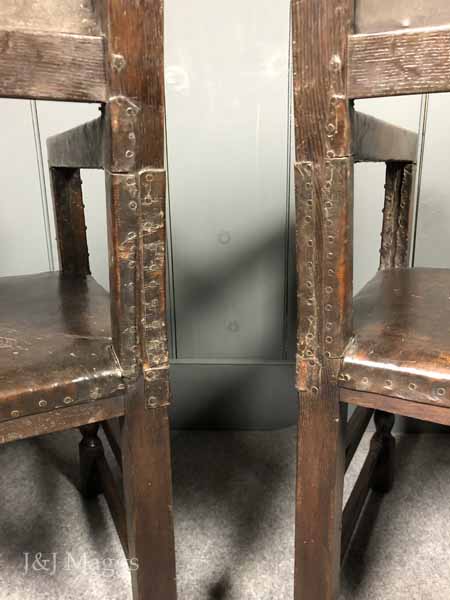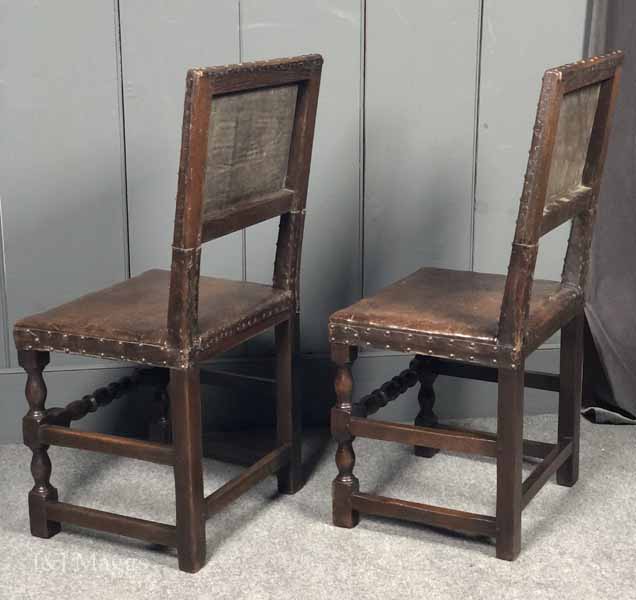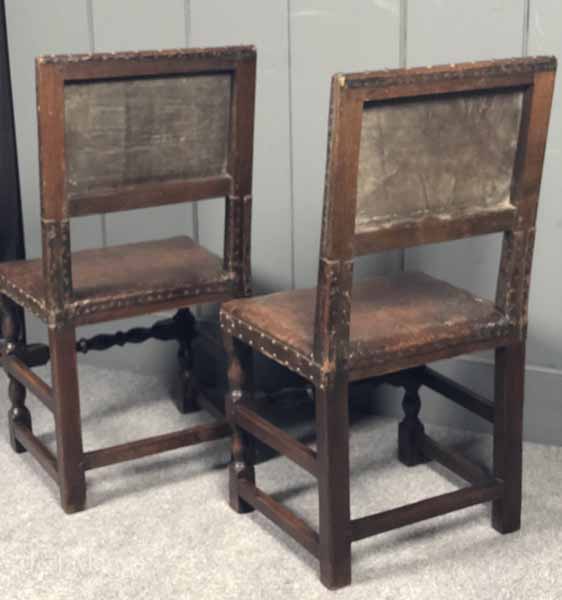 ~ ~ ~ ~ ~ ~ ~ ~ ~ ~ ~ ~ ~ ~ ~ ~ ~ ~ ~ ~ ~ ~ ~ ~ ~ ~ ~ ~ ~ ~ ~ ~ ~ ~ ~ ~ ~ ~ ~ ~ ~ ~ ~ ~ ~ ~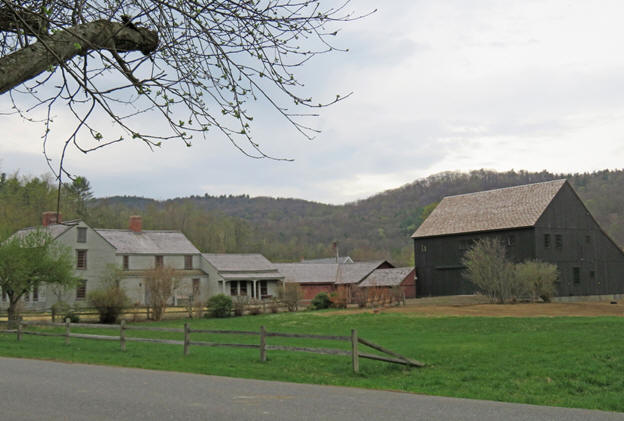 Click to return to the Jan & John Maggs home page