Jan & John Maggs
Antiques and Art
An early 17th-century joined oak coffer with carved face
~ ~ ~ ~ ~ ~ ~ ~ ~ ~ ~ ~ ~ ~ ~ ~ ~ ~ ~ ~ ~ ~ ~ ~ ~ ~ ~ ~ ~ ~ ~ ~ ~ ~ ~ ~ ~ ~ ~ ~ ~ ~ ~ ~ ~ ~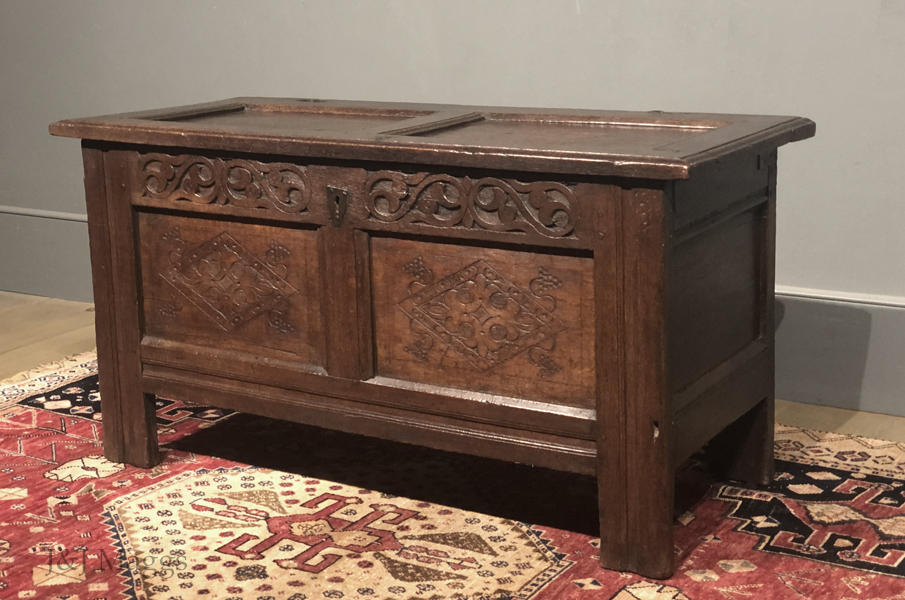 An exceptional example, this small coffer is in excellent condition and most pleasing in appearance. It is comprised of four joined sides, a substantial joined lid, and an applied floor, typical of this form at this time.
Structurally, the face is made up of two carved panels, surrounded by a joined frame consisting of a carved frieze, two wide side stiles, each decorated with an interesting planed moulding, which the maker utilized also in the lower rail. A short, moulded stile separated the two panels. This moulding plane was used on the upper rails of the two single-panel sides. The tool used to shape the sides of the short center stile was used on the three stiles of the two-panel lid, which was also trimmed on all sides with another plane. The back consists of two panels, as well, and they are simply finished on the interior and left unfinished on the back.
Though modest, we find the carving on the face to be very engaging. The pair of double guilloches in the frieze, surrounding a blank space left by the maker for a lock, underscores the symmetry of the two-panel face, and each panel contains shallow carving with a diamond-shaped lozenge filled with symmetrical shallow figures. Two bunches of grapes adorn each end of each lozenge.
The box is fitted with an early type of iron lock. A sliding iron bar is recessed inside an applied wooden box and is meant to engage the iron staple that extends through the front rail of the lid. We've been unable to find a working key for it, but not only is it a most interesting device, it appears to be otherwise complete.
The cotter pin hinges are original and in fine condition. The till that was originally secured by front and rear rails on the right end is lost. Two small wooden rectangles have been applied beneath the lid to secure a split, which was likely caused by someone trying to use the coffer as a bench.
A little gem – and earlier than most.
English or Welsh, 1620 – 40.
Dimensions: 45" X 18 ¾"; Height: 23"
Price: $850
Questions? Click HERE.
Inventory #26585
~ ~ ~ ~ ~ ~ ~ ~ ~ ~ ~ ~ ~ ~ ~ ~ ~ ~ ~ ~ ~ ~ ~ ~ ~ ~ ~ ~ ~ ~ ~ ~ ~ ~ ~ ~ ~ ~ ~ ~ ~ ~ ~ ~ ~ ~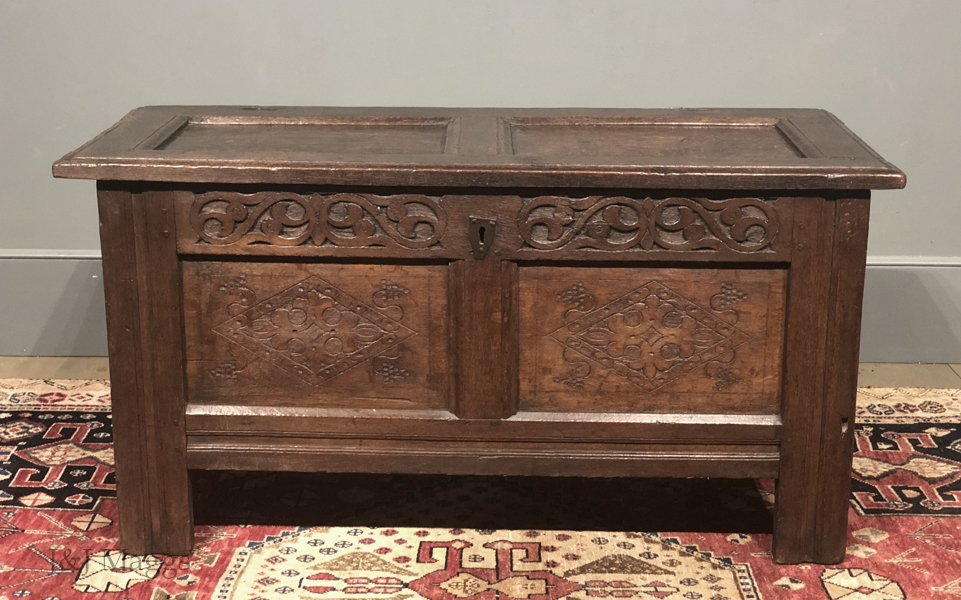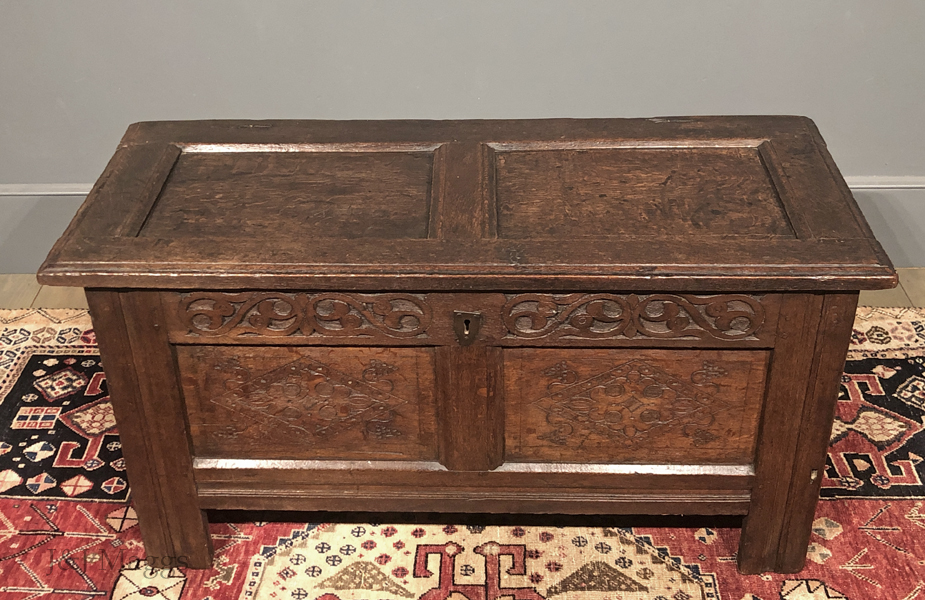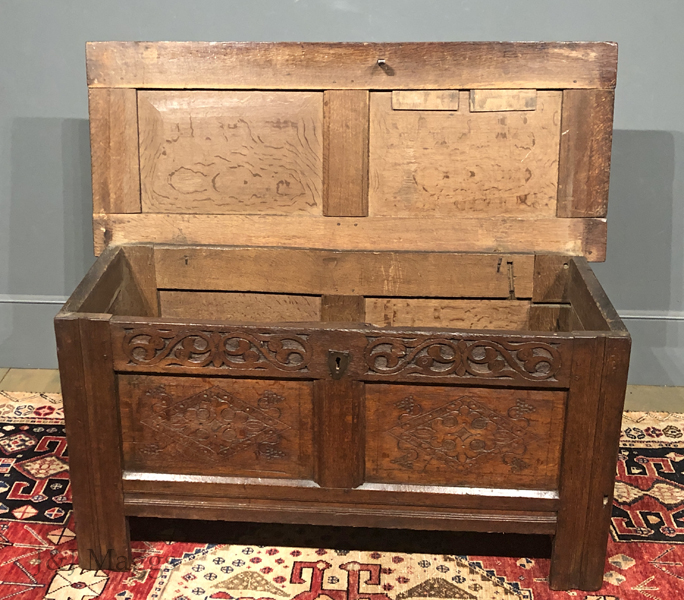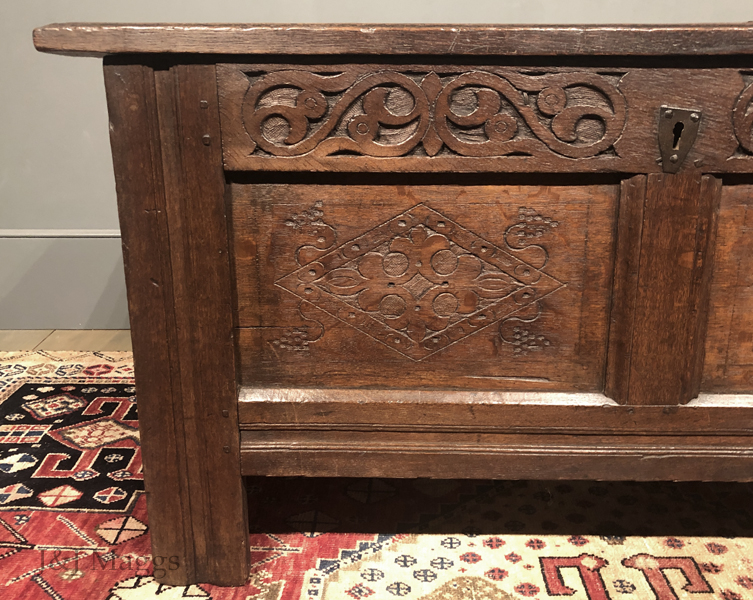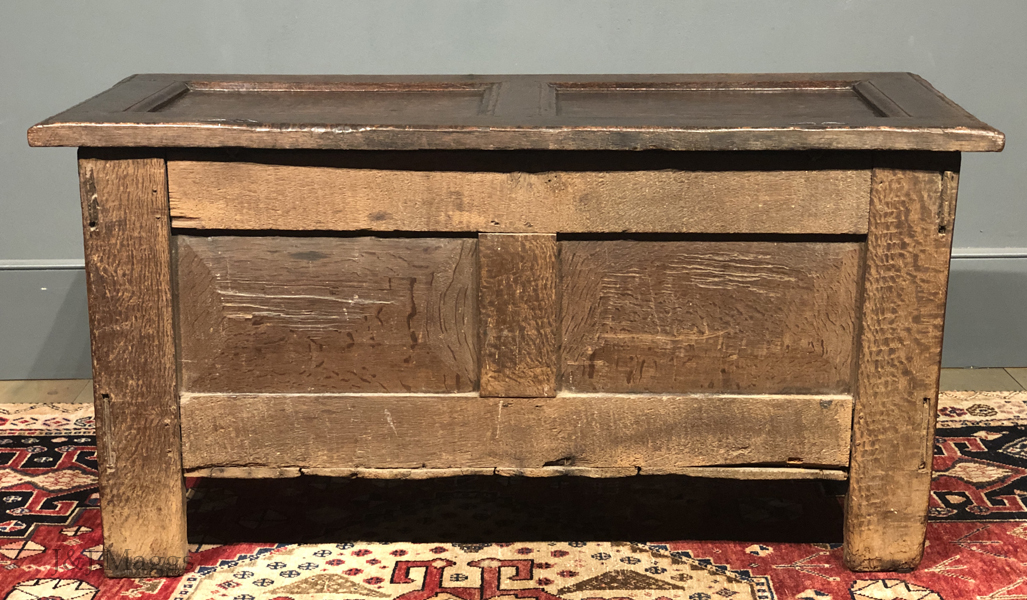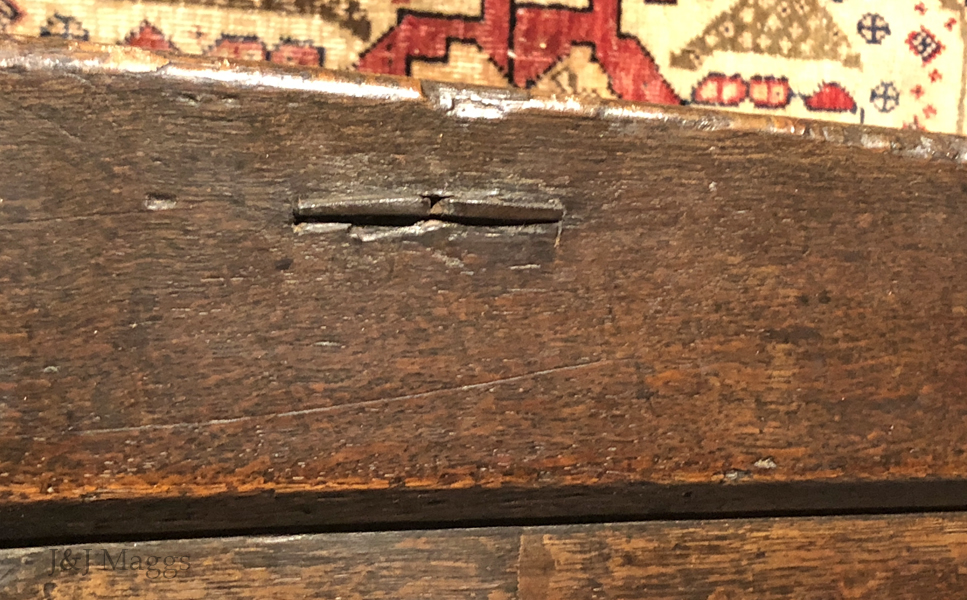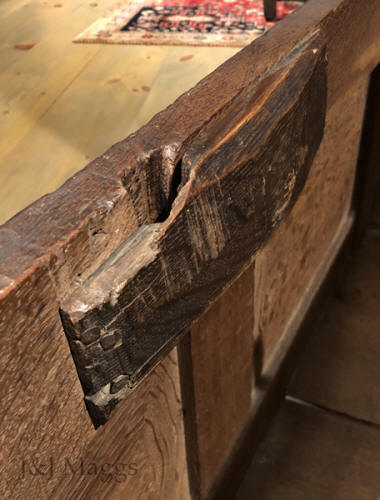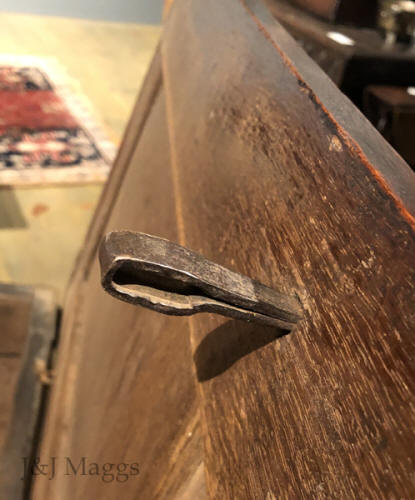 ~ ~ ~ ~ ~ ~ ~ ~ ~ ~ ~ ~ ~ ~ ~ ~ ~ ~ ~ ~ ~ ~ ~ ~ ~ ~ ~ ~ ~ ~ ~ ~ ~ ~ ~ ~ ~ ~ ~ ~ ~ ~ ~ ~ ~ ~
Click HERE to visit the Jan & John Maggs Antiques home page