Jan & John Maggs
Antiques and Art
17th century Welsh wainscot armchair
~ ~ ~ ~ ~ ~ ~ ~ ~ ~ ~ ~ ~ ~ ~ ~ ~ ~ ~ ~ ~ ~ ~ ~ ~ ~ ~ ~ ~ ~ ~ ~ ~ ~ ~ ~ ~ ~ ~ ~ ~ ~ ~ ~ ~ ~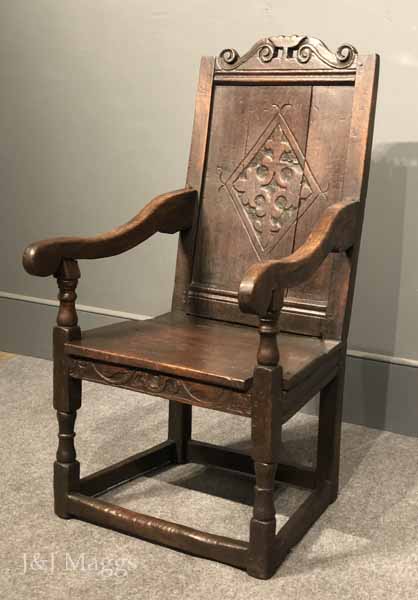 A handsome chair of moderate size, which arrived from England in our most recent shipment. Although spare in its details, its form and decoration follow classic patterns of armchairs of the period.
The frame is joined with pegged tenons and consists of two turned legs in the front and two plain stiles at the rear. The latter are shaped to cant backwards, for the sake of comfort and stylishness. Connecting the front and rear stiles are two undecorated stretchers near floor level, and two side rails which support the seat. These were shaped with a moulding plane. Above the seat are a pair of gracefully flowing arms, ending with large scrolled grips at their ends. Connecting the two front posts are an undecorated stretcher and a seat rail. Which is carved with leaves, vines, and a central flower.
The back of the chair is, fittingly, the focal point for its decoration. The two rear legs are joined at seat level by a broad rail which is decorated like the two side rails, although it is higher on the chair, since it forms the lower rail of the back. The upper rail is carved with opposing scrolls which support a naïve tulip in the center. The wood panel forming the back of the chair is carved with an appealing lozenge, which encloses scroll-like figures arranged in a cross.
It appears that one of the boards of the two-plank seat may have been replaced long ago, and there is evidence the top of each rear post may once have had a wooden finial. There are small surface repairs to the bottoms of the feet on one side of the chair.
Welsh or English, ca. 1650
Seat: 23 ¼" X 16"; Seat height: 16 ½"; Overall height: 42 ¼"
Price: $1,200
Questions? Click HERE.
Inventory #26597
~ ~ ~ ~ ~ ~ ~ ~ ~ ~ ~ ~ ~ ~ ~ ~ ~ ~ ~ ~ ~ ~ ~ ~ ~ ~ ~ ~ ~ ~ ~ ~ ~ ~ ~ ~ ~ ~ ~ ~ ~ ~ ~ ~ ~ ~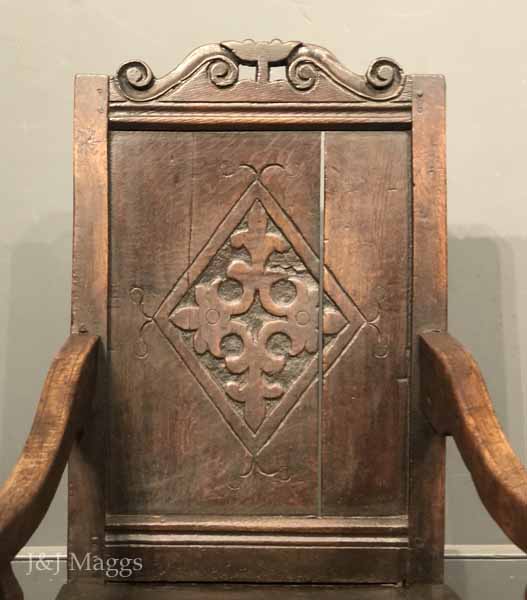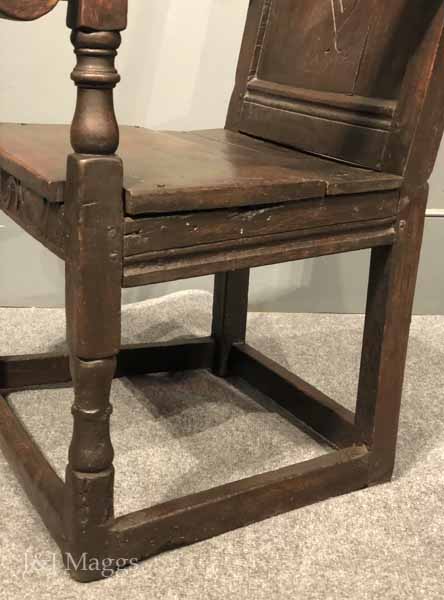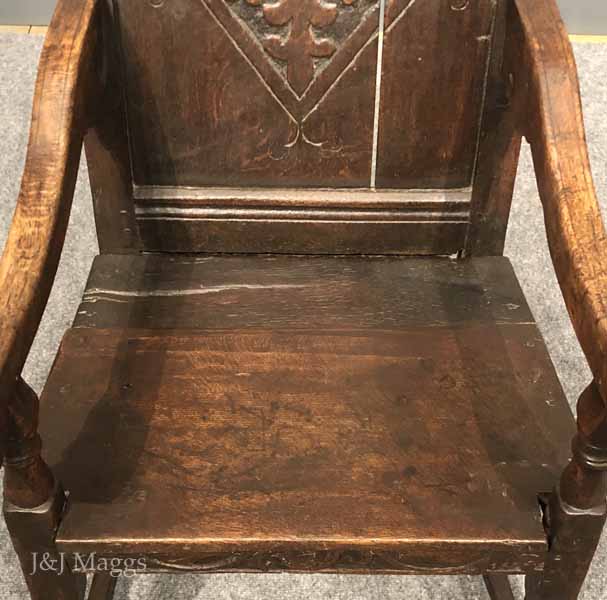 ~ ~ ~ ~ ~ ~ ~ ~ ~ ~ ~ ~ ~ ~ ~ ~ ~ ~ ~ ~ ~ ~ ~ ~ ~ ~ ~ ~ ~ ~ ~ ~ ~ ~ ~ ~ ~ ~ ~ ~ ~ ~ ~ ~ ~ ~
Click HERE to visit the Jan & John Maggs Antiques home page