Jan & John Maggs
Antiques and Art
A small Dutch cupboard with bold crown moulding and door
~ ~ ~ ~ ~ ~ ~ ~ ~ ~ ~ ~ ~ ~ ~ ~ ~ ~ ~ ~ ~ ~ ~ ~ ~ ~ ~ ~ ~ ~ ~ ~ ~ ~ ~ ~ ~ ~ ~ ~ ~ ~ ~ ~ ~ ~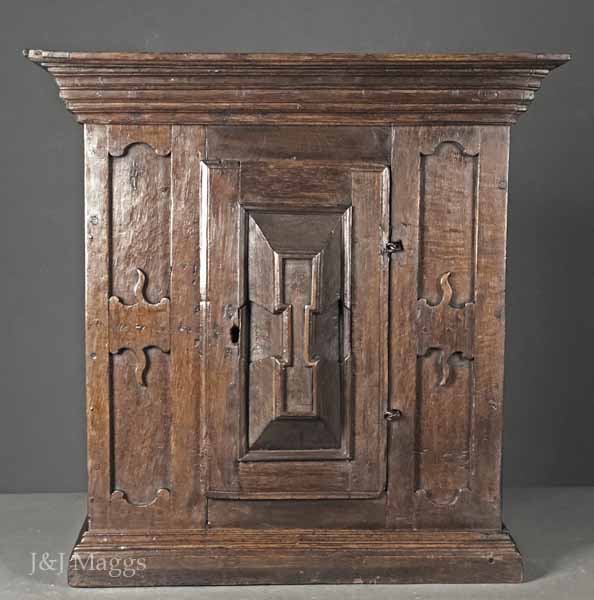 Although of fairly small size, this cupboard has a very bold appearance, with a proud crown moulding at the top and a smaller but no less detailed moulding around its base. On the face of the single door the maker has applied a prominent pillow, which is decorated with a narrow applied moulding in a keyhole design. The entire door is framed with a multi-step moulding and attached with a pair of heavy forged cotter-pin hinges – the originals. The front stiles are decorated with applied pieces in a crown pattern with a flame-like figure at its center. Inside are two shelves, one of which has been notched to accommodate the iron lock. The three-board back is original and in very good condition. The case, door, and mouldings were constructed using wood pegs, rather than iron nails; the back was applied with forged rose-head nails.
We tend to think of smaller cupboards like this one as meant to be mounted on a wall. In this case, however, there is no evidence on the cupboard to indicate that it ever was. Additionally, the edges of the top have been dressed with a moulding plane, suggesting that the top would have been visible when the piece was sitting on a table, probably with smaller household objects on display on top.
Dutch, ca. 1670 or earlier
Dimensions: Crest: 26" X 12 ½"; Case: 21" X 10 ¼"; Height: 26 ¼"
SOLD
Questions? Click HERE.
Inventory #26599
~ ~ ~ ~ ~ ~ ~ ~ ~ ~ ~ ~ ~ ~ ~ ~ ~ ~ ~ ~ ~ ~ ~ ~ ~ ~ ~ ~ ~ ~ ~ ~ ~ ~ ~ ~ ~ ~ ~ ~ ~ ~ ~ ~ ~ ~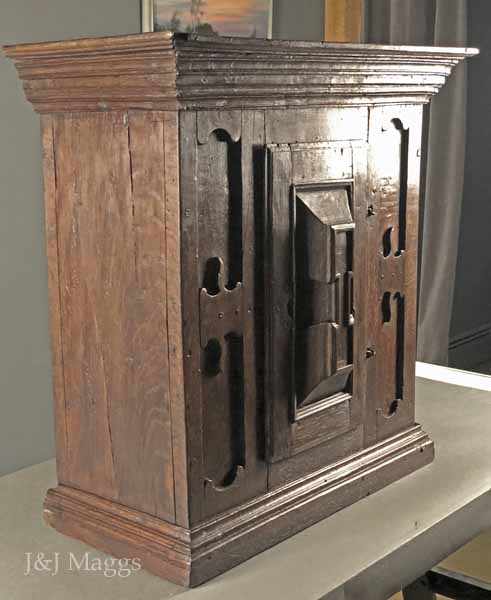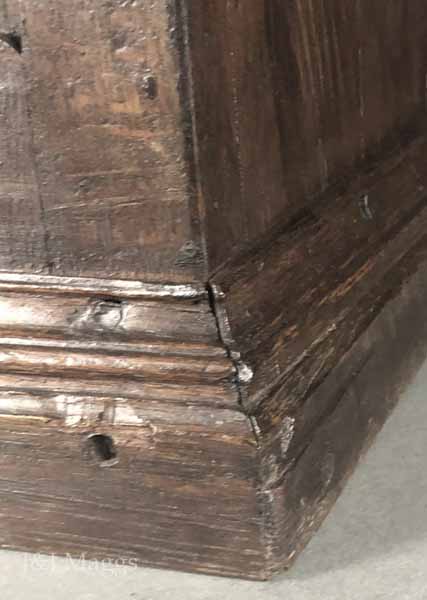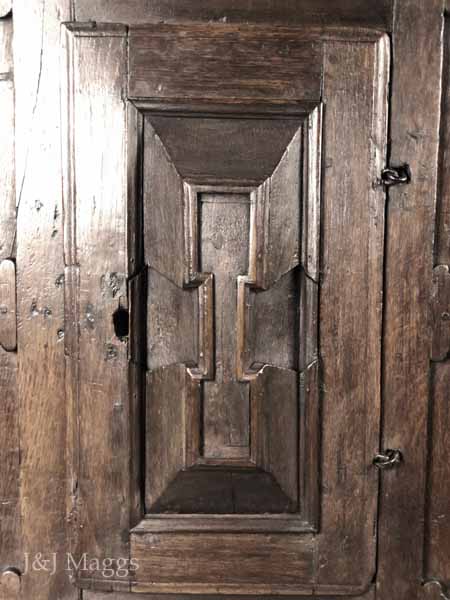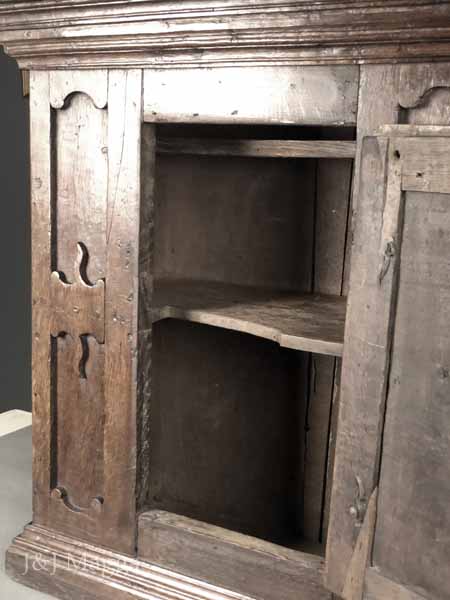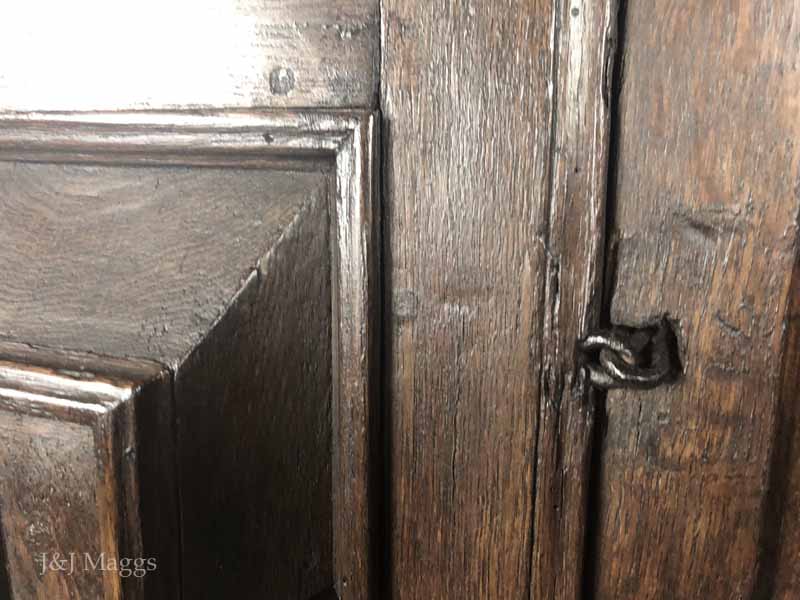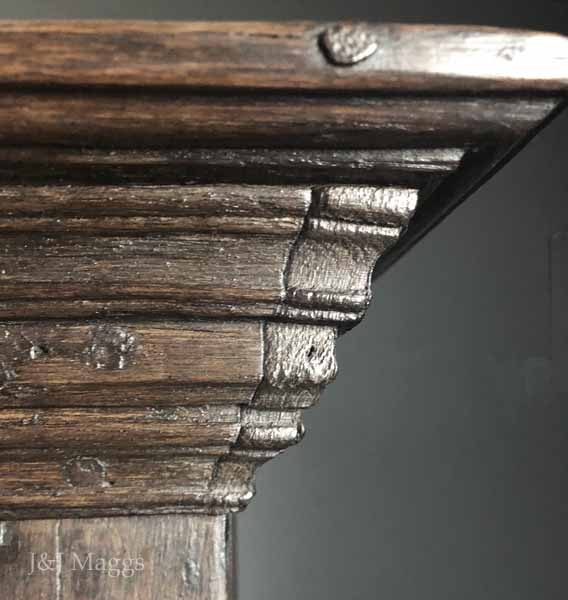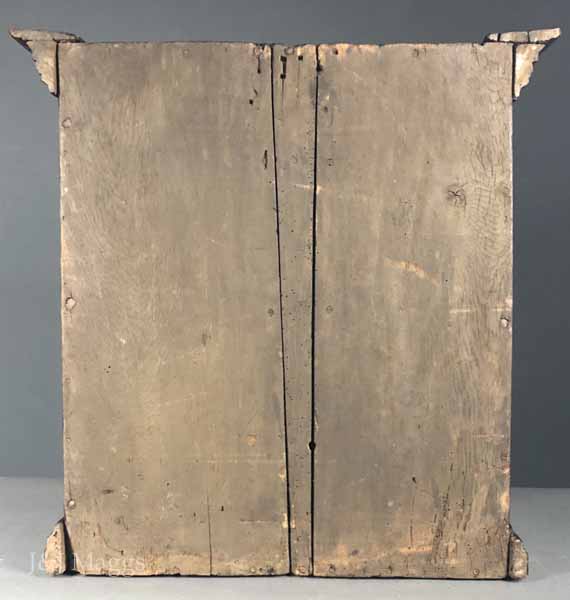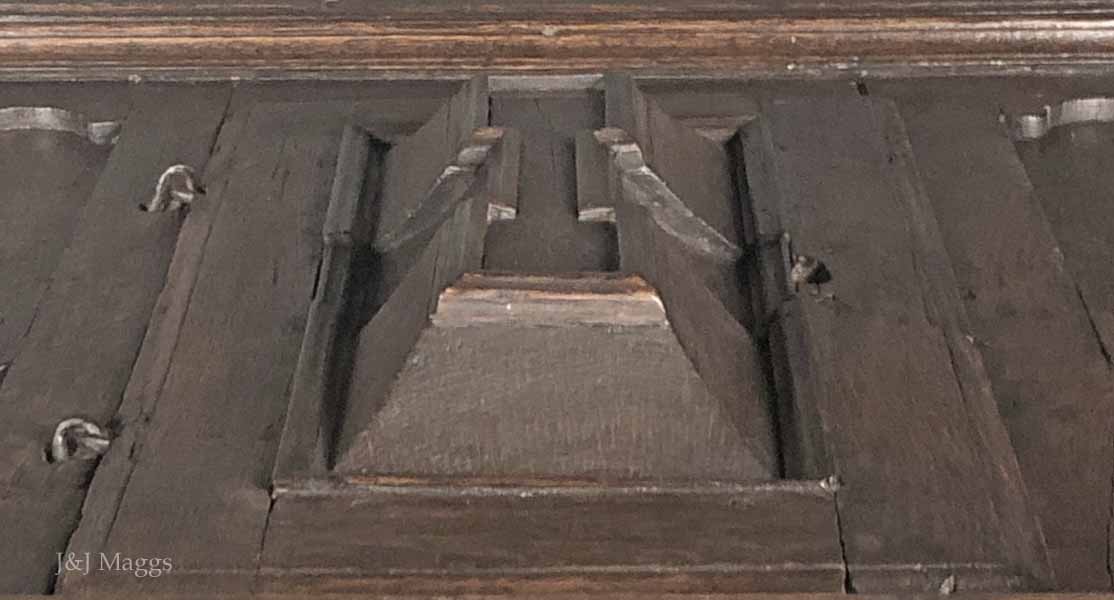 ~ ~ ~ ~ ~ ~ ~ ~ ~ ~ ~ ~ ~ ~ ~ ~ ~ ~ ~ ~ ~ ~ ~ ~ ~ ~ ~ ~ ~ ~ ~ ~ ~ ~ ~ ~ ~ ~ ~ ~ ~ ~ ~ ~ ~ ~
Click HERE to visit the Jan & John Maggs Antiques home page