Jan & John Maggs
Antiques and Art
Large, early joined coffer with nulling and stop fluting
~ ~ ~ ~ ~ ~ ~ ~ ~ ~ ~ ~ ~ ~ ~ ~ ~ ~ ~ ~ ~ ~ ~ ~ ~ ~ ~ ~ ~ ~ ~ ~ ~ ~ ~ ~ ~ ~ ~ ~ ~ ~ ~ ~ ~ ~
An exceptionally stately joined oak coffer. The face contains four undecorated panels set into an elaborately carved frame. The frieze joining the frame at the top is carved with deep nulling and decorated with gouge- and punch-work. Each of the five vertical members of the façade is carved with two ranks of stop-fluting. Each of the upper ranks has four parallel flutes, while the lower ranks are fluted more densely. The lower rail is undecorated.
The sides are framed with two undecorated panels, and the back has four, like the front, but unembellished. The lid is made of two heavy oak planks, while the bottom is made of several thin oak boards.
The lid is attached with hand-wrought strap hinges. Two thin oak cleats under the lid reinforce the original cleats at the ends. The coffer sits close to the ground and appears to have lost some of its height over the centuries.
A very proud piece with a commanding presence.
English, ca. 1620
Width: 66"; Depth: 24"; Height: 26"
Price: $1,450
Questions? Click HERE.
Inventory #26614
~ ~ ~ ~ ~ ~ ~ ~ ~ ~ ~ ~ ~ ~ ~ ~ ~ ~ ~ ~ ~ ~ ~ ~ ~ ~ ~ ~ ~ ~ ~ ~ ~ ~ ~ ~ ~ ~ ~ ~ ~ ~ ~ ~ ~ ~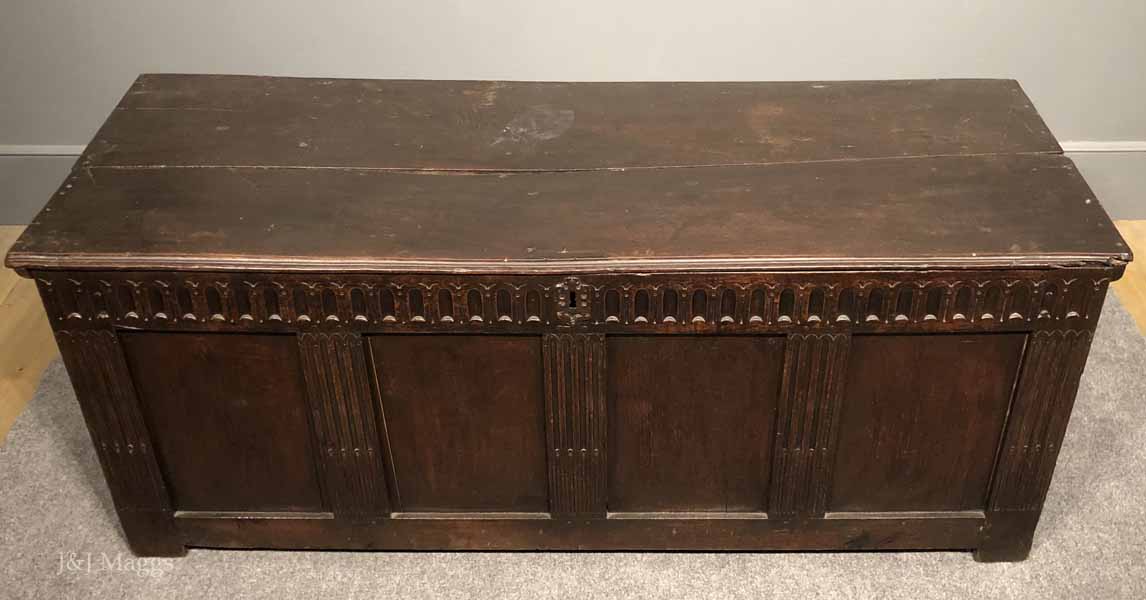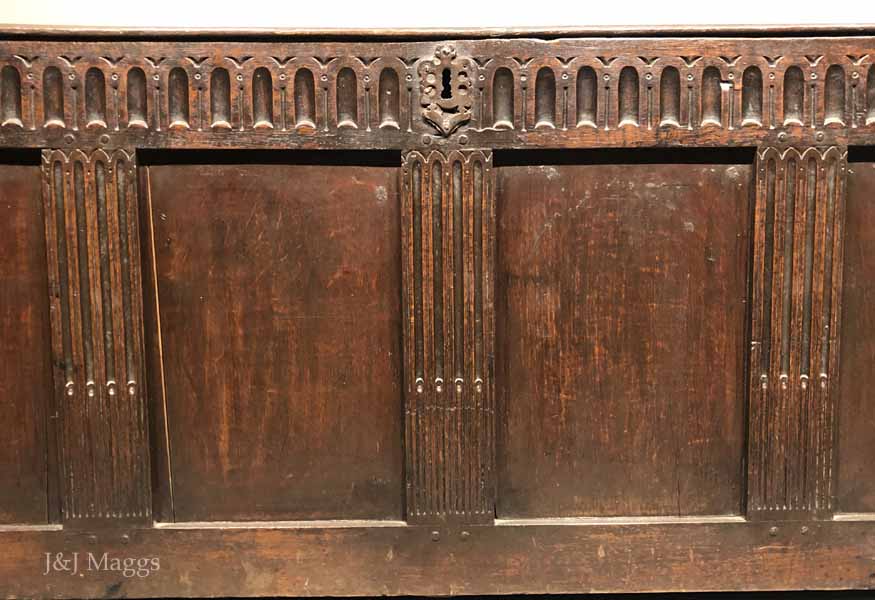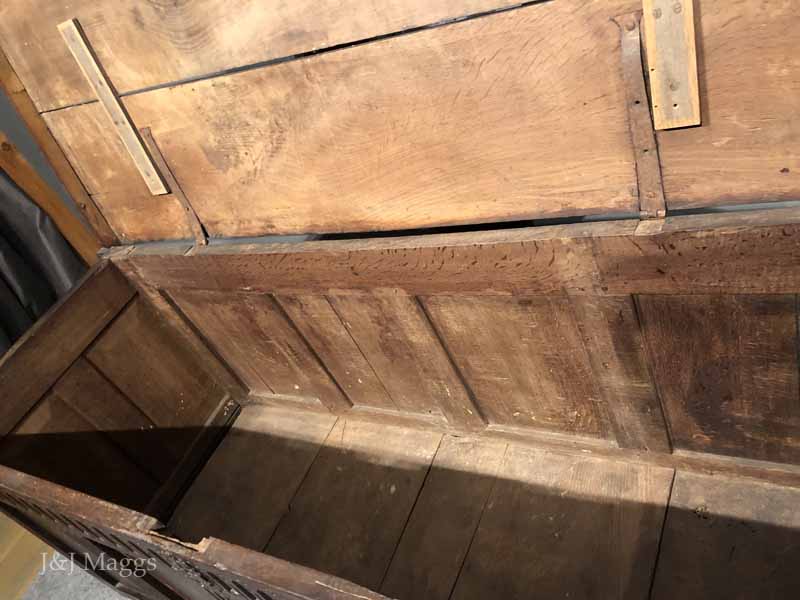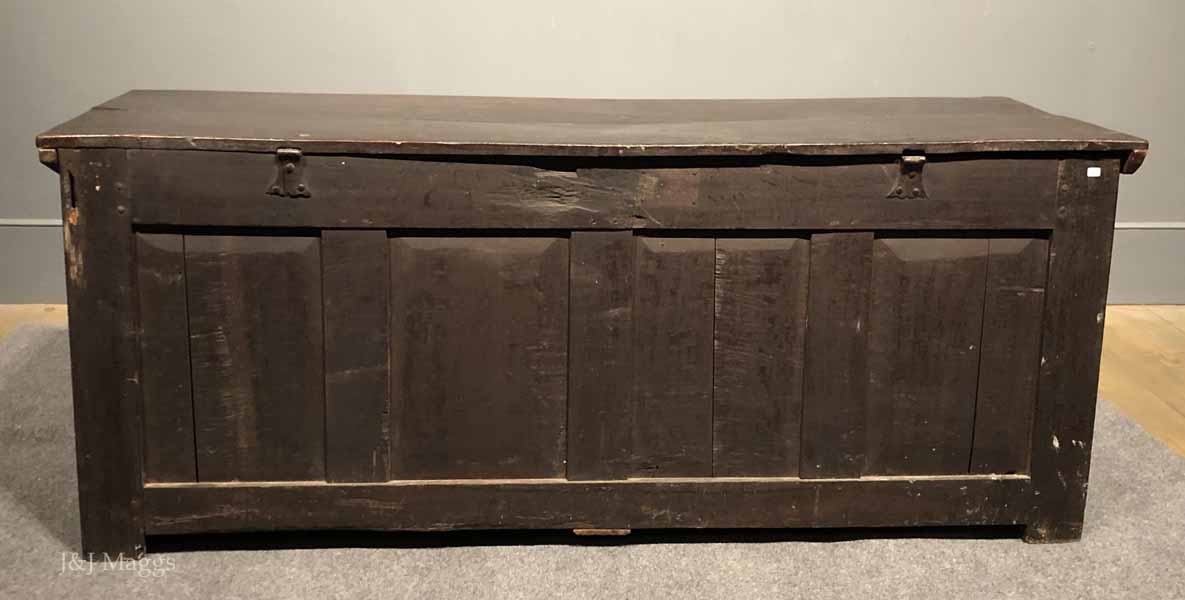 ~ ~ ~ ~ ~ ~ ~ ~ ~ ~ ~ ~ ~ ~ ~ ~ ~ ~ ~ ~ ~ ~ ~ ~ ~ ~ ~ ~ ~ ~ ~ ~ ~ ~ ~ ~ ~ ~ ~ ~ ~ ~ ~ ~ ~ ~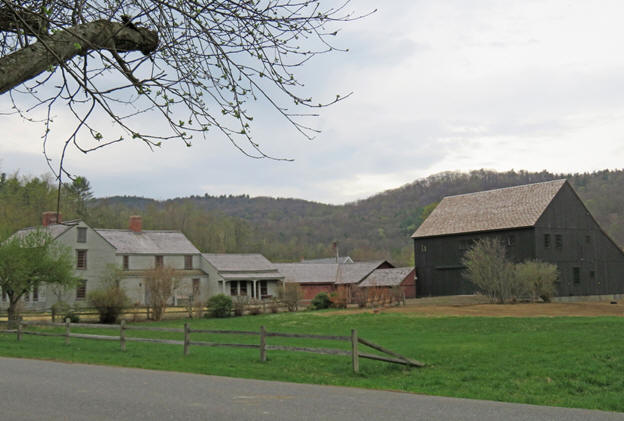 Click to return to the Jan & John Maggs home page