Jan & John Maggs
Antiques and Art
A small, boarded coffer in old, dry surface
~ ~ ~ ~ ~ ~ ~ ~ ~ ~ ~ ~ ~ ~ ~ ~ ~ ~ ~ ~ ~ ~ ~ ~ ~ ~ ~ ~ ~ ~ ~ ~ ~ ~ ~ ~ ~ ~ ~ ~ ~ ~ ~ ~ ~ ~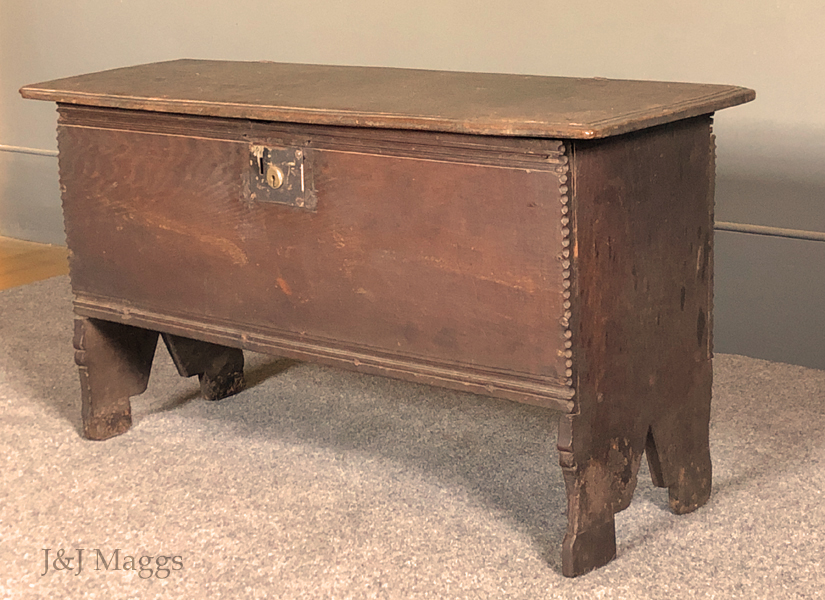 A particularly pleasing coffer, simple in design and attractive in color and form. Constructed of six oak planks, the horizontal front and rear boards are nailed to the vertical boards that complete the box and raise it from the ground. The "feet" were shaped to provide one of the main decorative elements of this otherwise simple box, and the upper and lower edges of the face were given an attractive detail by a moulding plane. The lid was dressed on all sides with the same plane. The back and bottom boards were finished smooth, but otherwise left undecorated. The front and rear boards were treated with chip carving at their ends.
Inside there is a small till, whose lid was decorated with chip- and scratch-carving – a nice touch.
One of the feet has been damaged by dry rot. We've added a small, easily removable splint to the inside of the foot to make the coffer balance. The original cotter pin hinges have failed and have been replaced by iron strap hinges long before it came to us.
English, ca. 1650
Dimensions: 37 ½" X 13 ½"; Height: 20"
Price: $975
Questions? Click HERE.
Inventory #26615
~ ~ ~ ~ ~ ~ ~ ~ ~ ~ ~ ~ ~ ~ ~ ~ ~ ~ ~ ~ ~ ~ ~ ~ ~ ~ ~ ~ ~ ~ ~ ~ ~ ~ ~ ~ ~ ~ ~ ~ ~ ~ ~ ~ ~ ~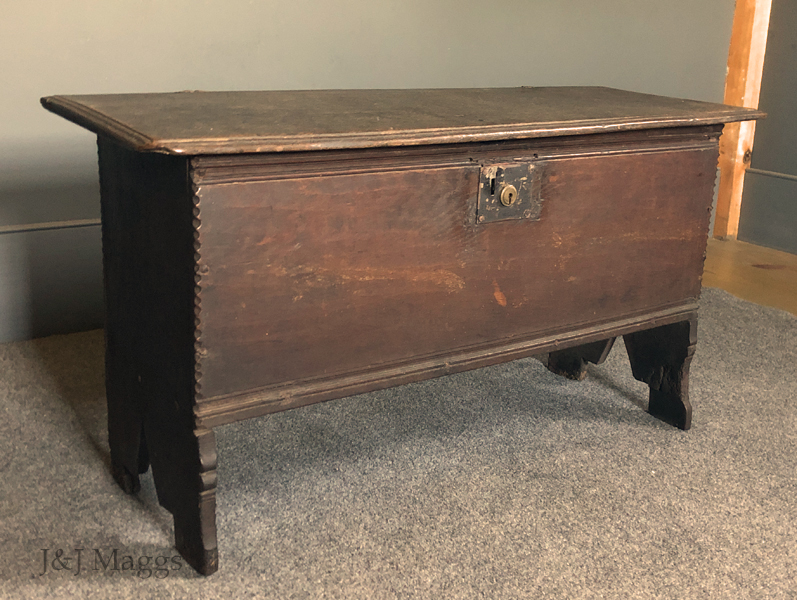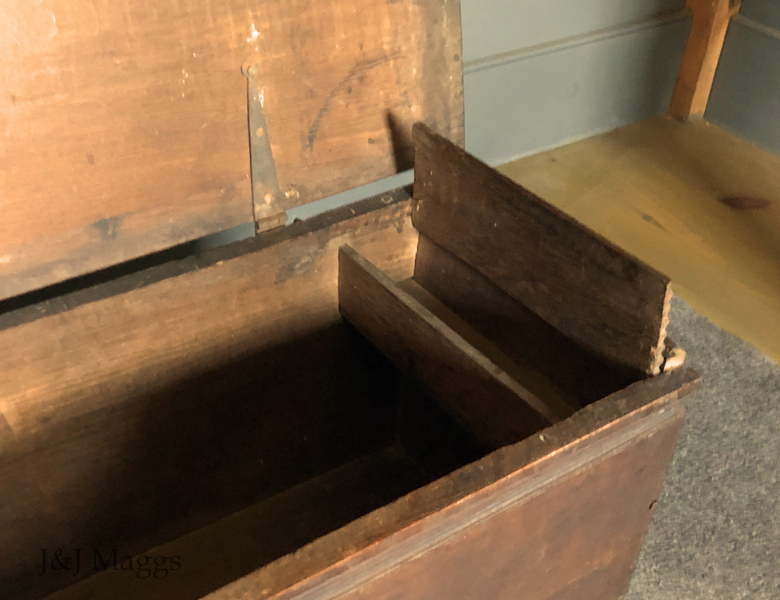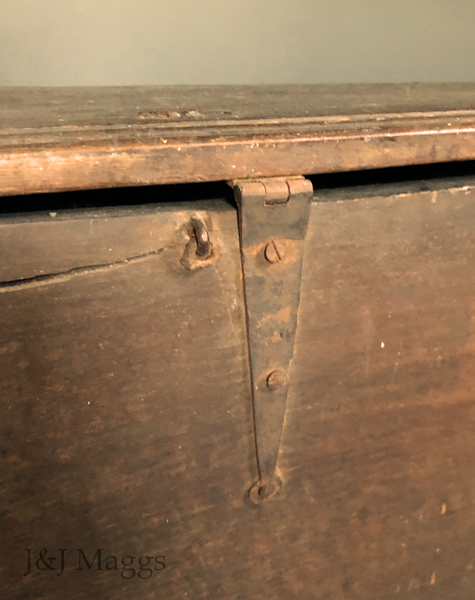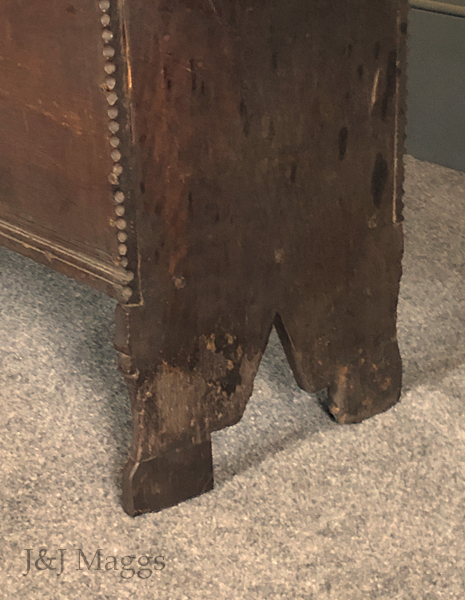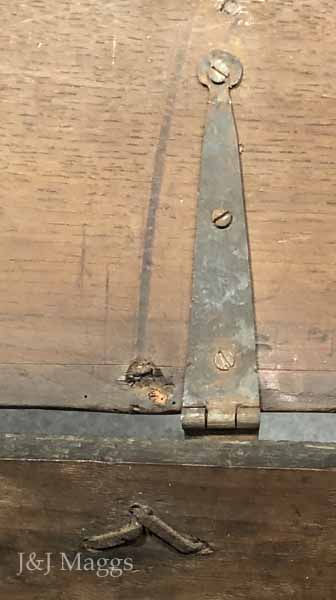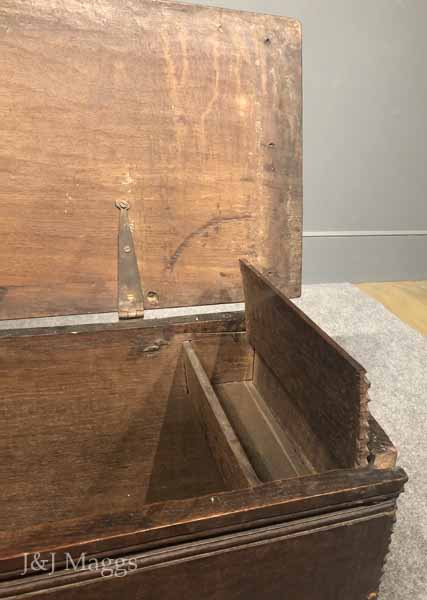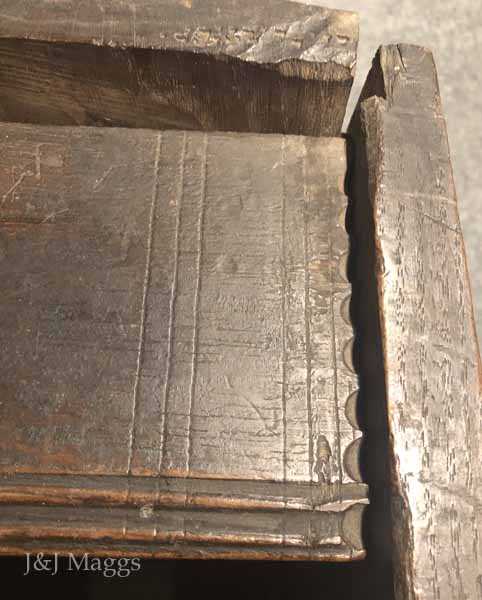 ~ ~ ~ ~ ~ ~ ~ ~ ~ ~ ~ ~ ~ ~ ~ ~ ~ ~ ~ ~ ~ ~ ~ ~ ~ ~ ~ ~ ~ ~ ~ ~ ~ ~ ~ ~ ~ ~ ~ ~ ~ ~ ~ ~ ~ ~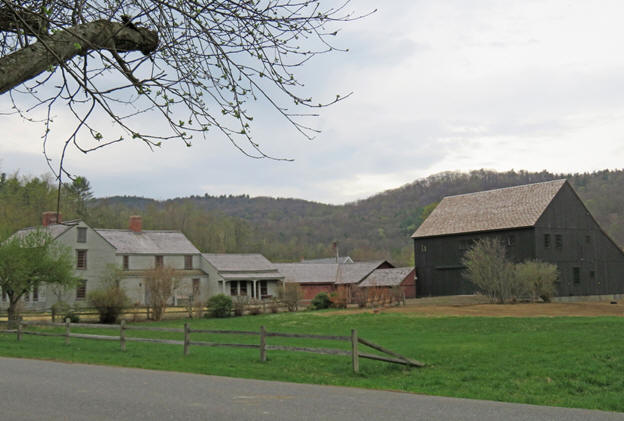 Click to return to the Jan & John Maggs home page