Jan & John Maggs
Antiques and Art
A tall, heavily carved oak court cupboard with drawers
~ ~ ~ ~ ~ ~ ~ ~ ~ ~ ~ ~ ~ ~ ~ ~ ~ ~ ~ ~ ~ ~ ~ ~ ~ ~ ~ ~ ~ ~ ~ ~ ~ ~ ~ ~ ~ ~ ~ ~ ~ ~ ~ ~ ~ ~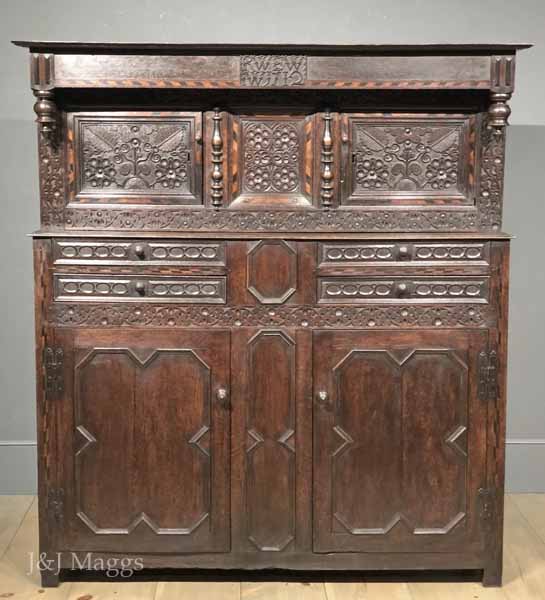 Made in two pieces, as was common in an age of low ceilings and narrow stairways, this court cupboard offers a sophisticated and handsome combination of carving and inlay.
The base consists of a large storage area with a single shelf and four drawers. The storage area is enclosed behind two large doors. Each of them is hung with two iron hinges and closed with a simple knob latch. They and the vertical section between them are decorated with an applied moulding. The faces of the drawers are decorated with shallow carving of joined ovals. The stiles and the divider between upper and lower drawers are inlaid with ebony and holly, and the rail separating drawers and doors is carved with vines and leaves.
The upper section is considerably smaller but more lavishly decorated. Its two heavily carved doors are framed with the ebony/holly inlay and open on the iron rod hinges characteristic of cupboard doors of the period. The central panel is carved with four intertwined wheels and an echo of the oval motif noted on the drawers. The outer stiles continue the carved forms of the lower rail, while the two inner stiles have applied split spindles on their faces. The frieze has the same inlay as the rest of the piece, and in its center is an elaborately carved set of the initials "RW", "EW", and "IW" with the date "1712". We believe that the date is a dedicatory one, since the cupboard appears to be two or three decades older. Two turned drops hang from the corners of the frieze and are decorated with applied ebony bosses.
The cupboard is in quite fine condition with a short list of repairs and restoration. The four legs have all been pieced, a common condition in heavy pieces of this time. The large shelf in the base is a replacement for an original in the same position. The hinging of the upper doors has been repaired and they both operate easily. The boards of the "roof" have been replaced.
English, ca. 1680
Width: 60"; Depth: 20"; Height: 68 ¼"
Price: $3950
Questions? Click HERE.
Inventory #26626
~ ~ ~ ~ ~ ~ ~ ~ ~ ~ ~ ~ ~ ~ ~ ~ ~ ~ ~ ~ ~ ~ ~ ~ ~ ~ ~ ~ ~ ~ ~ ~ ~ ~ ~ ~ ~ ~ ~ ~ ~ ~ ~ ~ ~ ~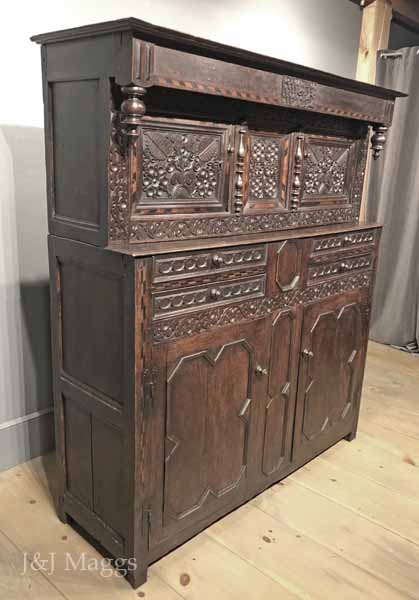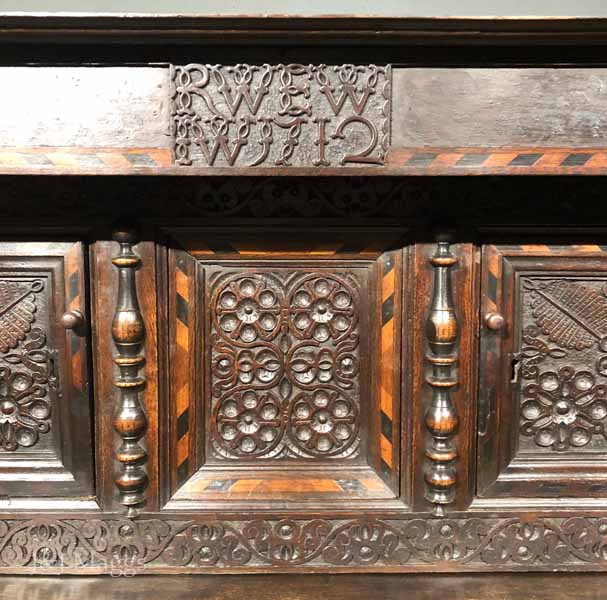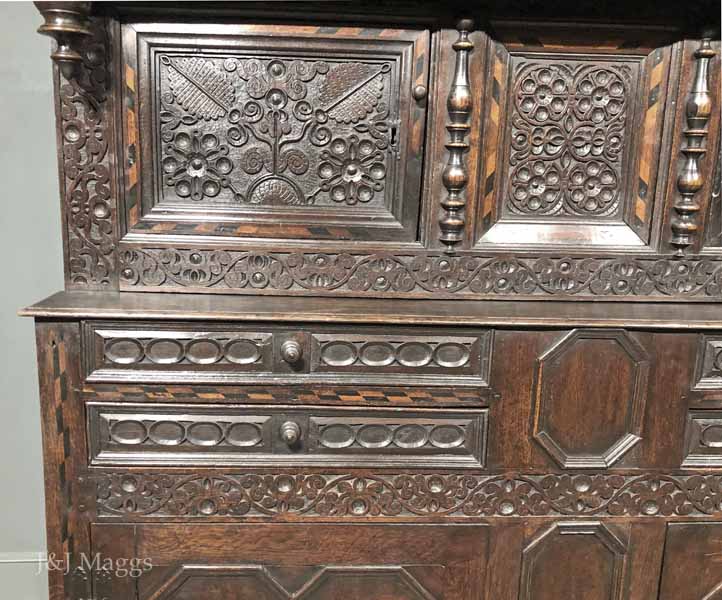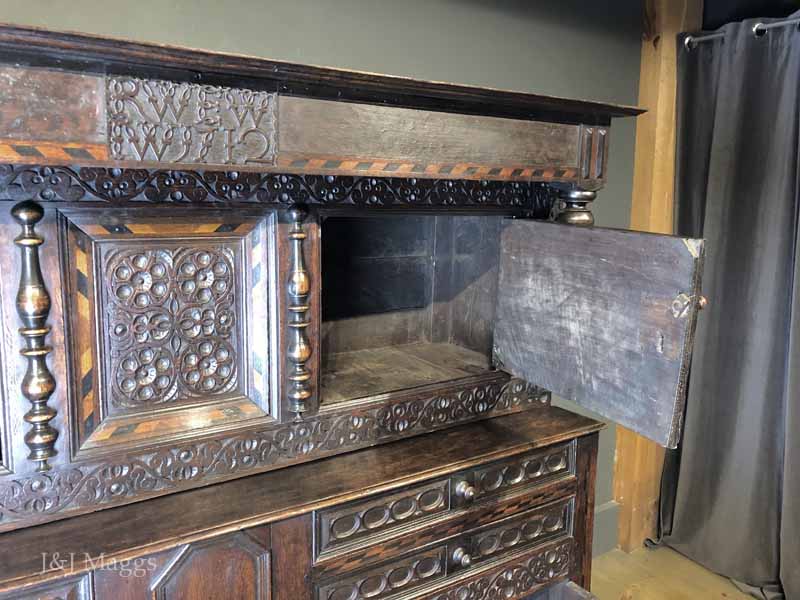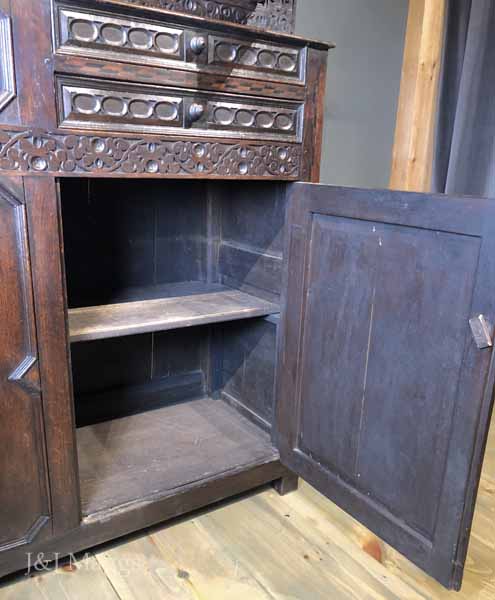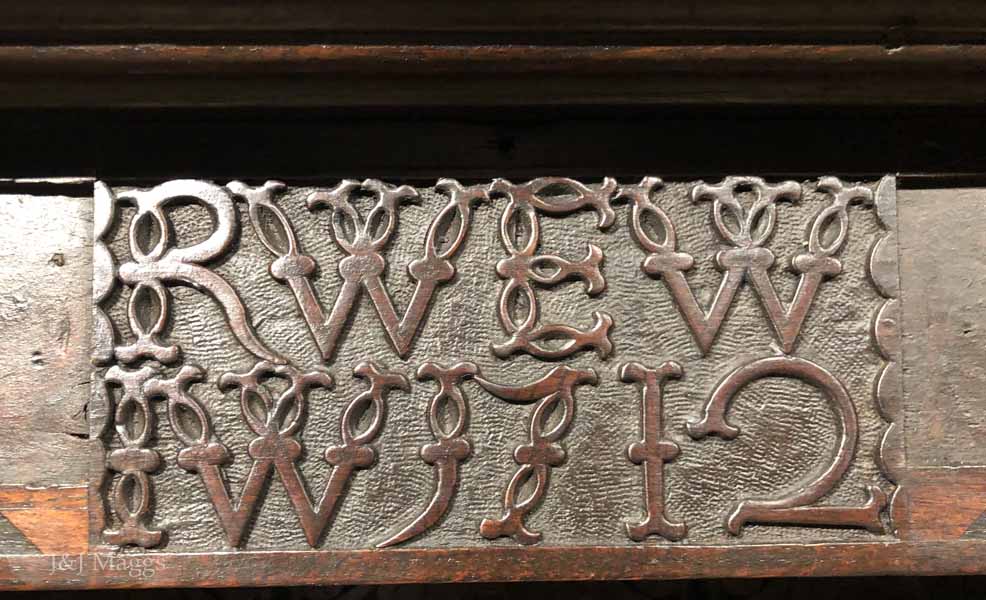 ~ ~ ~ ~ ~ ~ ~ ~ ~ ~ ~ ~ ~ ~ ~ ~ ~ ~ ~ ~ ~ ~ ~ ~ ~ ~ ~ ~ ~ ~ ~ ~ ~ ~ ~ ~ ~ ~ ~ ~ ~ ~ ~ ~ ~ ~
Click HERE to visit the Jan & John Maggs Antiques home page