Jan & John Maggs
Antiques and Art
A densely carved, boarded oak coffer
~ ~ ~ ~ ~ ~ ~ ~ ~ ~ ~ ~ ~ ~ ~ ~ ~ ~ ~ ~ ~ ~ ~ ~ ~ ~ ~ ~ ~ ~ ~ ~ ~ ~ ~ ~ ~ ~ ~ ~ ~ ~ ~ ~ ~ ~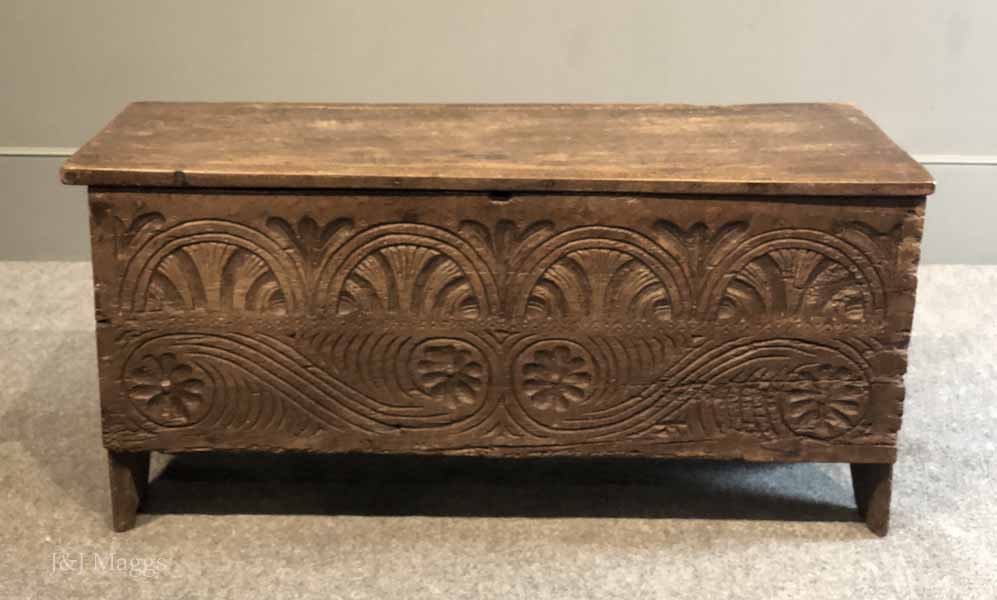 A six-board chest, the naïve equivalent of American blanket boxes of the following century, this coffer is constructed simply with six boards, four long for the front, back, lid, and bottom, and two shorter ones for the ends and the feet. This latter pair extend below the case and, in this instance, have been cut with a V-shape to produce the four legs of the coffer.
Five of these six boards have been left plain, but the face carries an explosion of carving. The field is divided by a narrow horizontal sawtooth band of punch decoration with two tools: a chisel and a punch. Beneath the band are two flamboyant arabesques which encircle nine-petal flowers at each of their two ends. Above is another range of repeated decoration, this one with four detailed demilunes.
Despite the detailed work on the face, this is an extremely humble coffer with strong country roots. It is in very good condition but well-worn. The lid is secured with its original iron butterfly hinges, and the coffer has good height. The lock box is located in the lid, an early application.
English, early 1600's
Width: 37"; Depth: 16"; Height: 17 ½"
Price: $1,450
Questions? Click HERE.
Inventory #26632
~ ~ ~ ~ ~ ~ ~ ~ ~ ~ ~ ~ ~ ~ ~ ~ ~ ~ ~ ~ ~ ~ ~ ~ ~ ~ ~ ~ ~ ~ ~ ~ ~ ~ ~ ~ ~ ~ ~ ~ ~ ~ ~ ~ ~ ~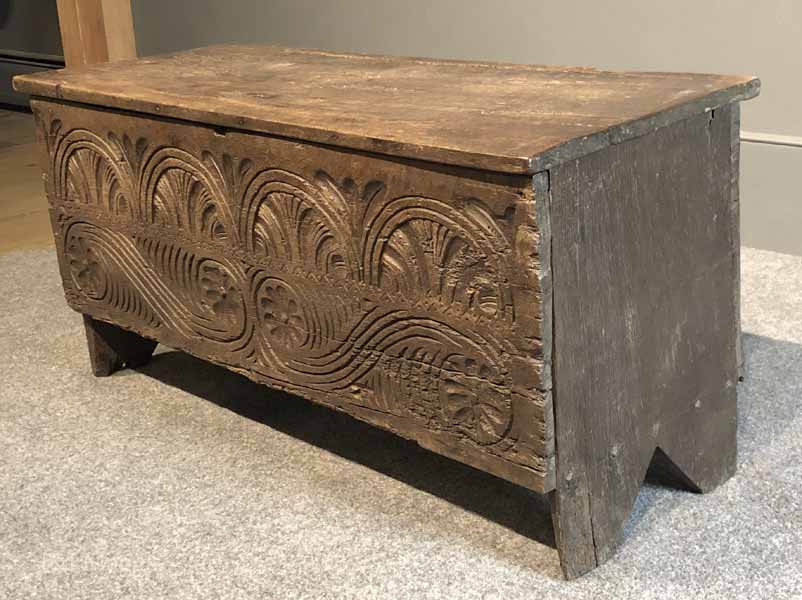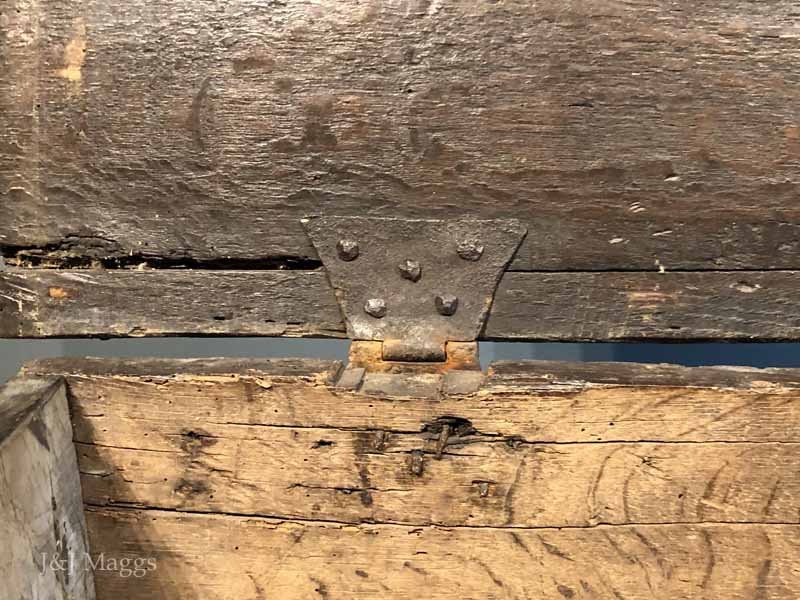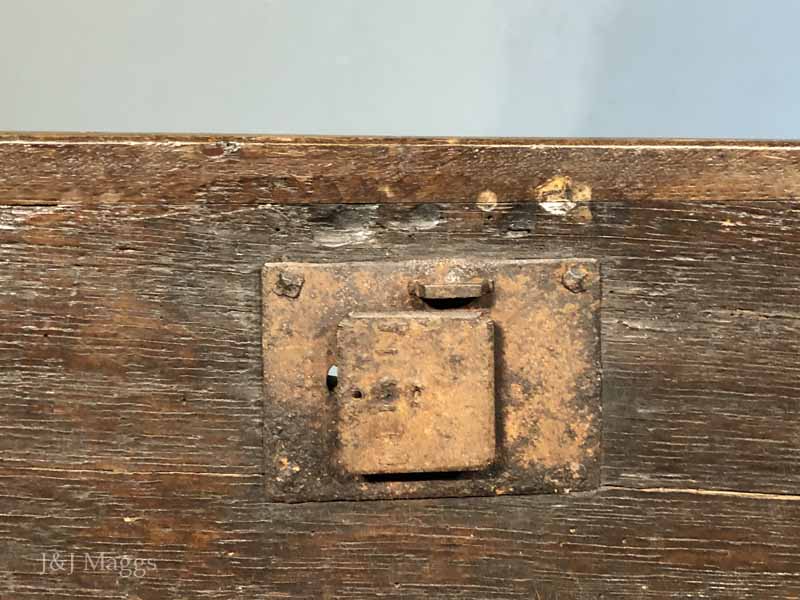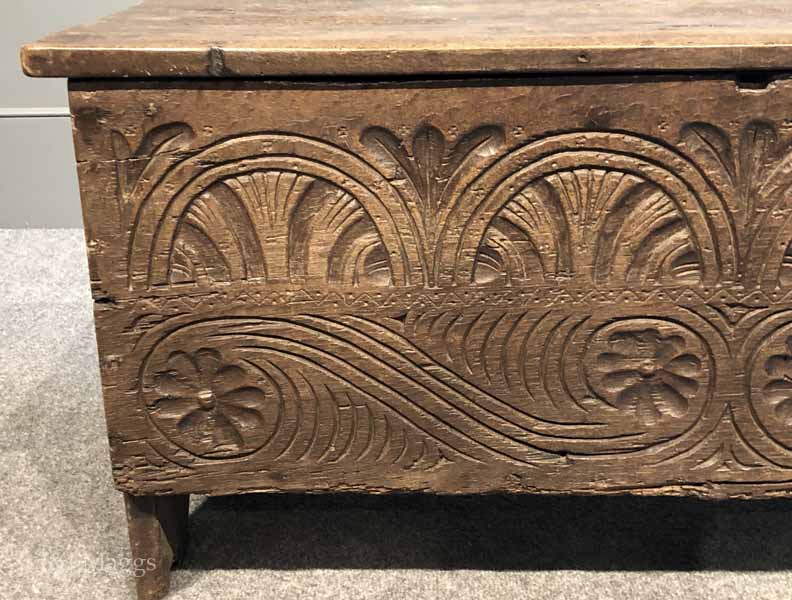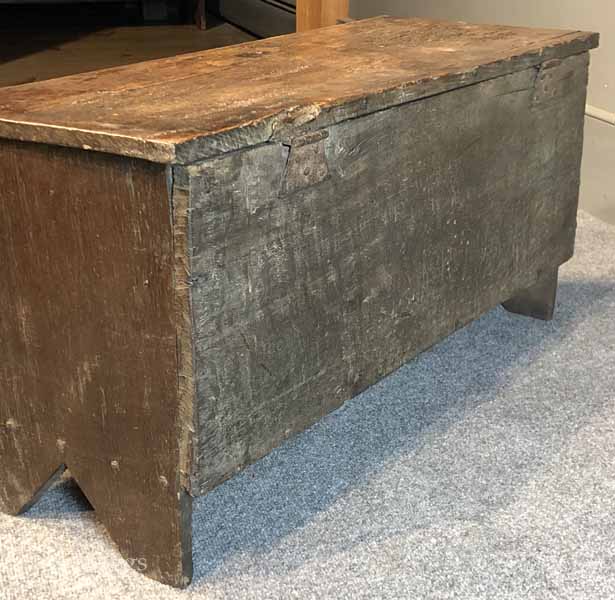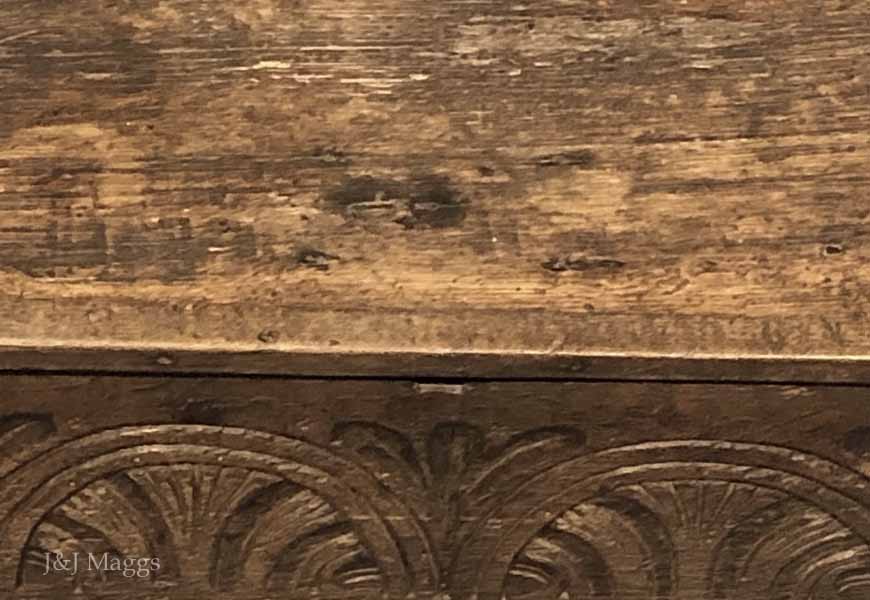 ~ ~ ~ ~ ~ ~ ~ ~ ~ ~ ~ ~ ~ ~ ~ ~ ~ ~ ~ ~ ~ ~ ~ ~ ~ ~ ~ ~ ~ ~ ~ ~ ~ ~ ~ ~ ~ ~ ~ ~ ~ ~ ~ ~ ~ ~
Click HERE to visit the Jan & John Maggs Antiques home page