Jan & John Maggs
Antiques and Art
An oak "bible" box with carved face
~ ~ ~ ~ ~ ~ ~ ~ ~ ~ ~ ~ ~ ~ ~ ~ ~ ~ ~ ~ ~ ~ ~ ~ ~ ~ ~ ~ ~ ~ ~ ~ ~ ~ ~ ~ ~ ~ ~ ~ ~ ~ ~ ~ ~ ~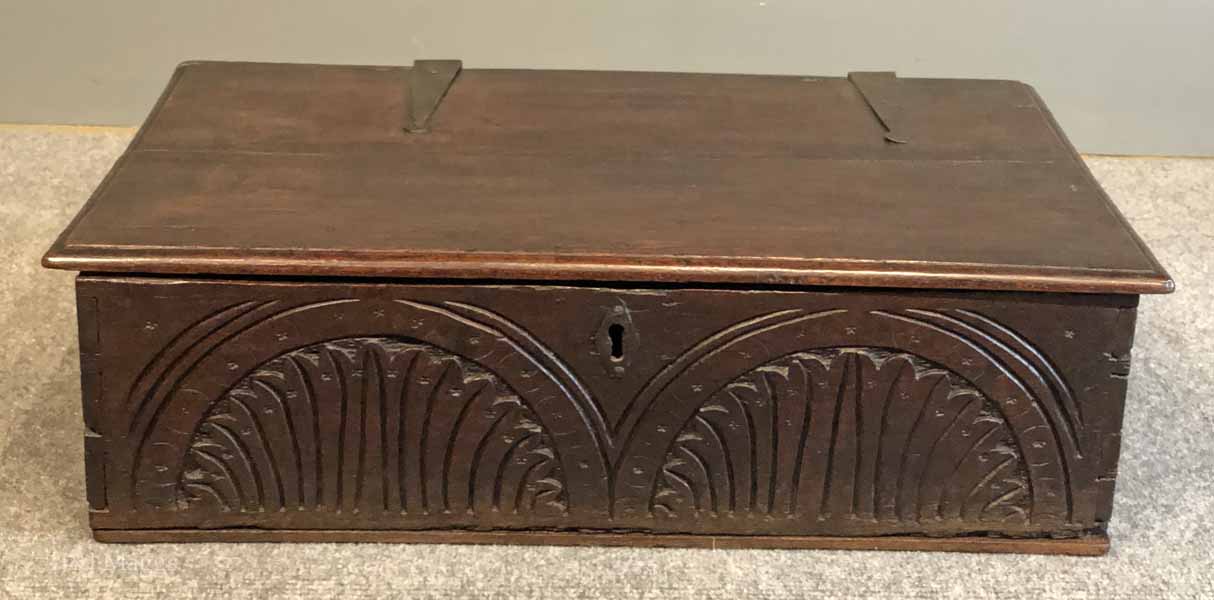 A simple oak valuables box with two large demilunes carved on its face. The box is in good condition, its original hinges replaced by long strap hinges. The lock and its hasp, a requisite for boxes of any sort in an era when relatively large numbers of people occupied the average home, is missing, as is its hasp.
Good color and condition. Two narrow oak cleats have been added under the lid for strength and stability.
English, ca. 1690
Dimensions of lid: 27 ½" X 18 ¼"; Height: 8"
Price: $825
Questions? Click HERE.
Inventory #26633
~ ~ ~ ~ ~ ~ ~ ~ ~ ~ ~ ~ ~ ~ ~ ~ ~ ~ ~ ~ ~ ~ ~ ~ ~ ~ ~ ~ ~ ~ ~ ~ ~ ~ ~ ~ ~ ~ ~ ~ ~ ~ ~ ~ ~ ~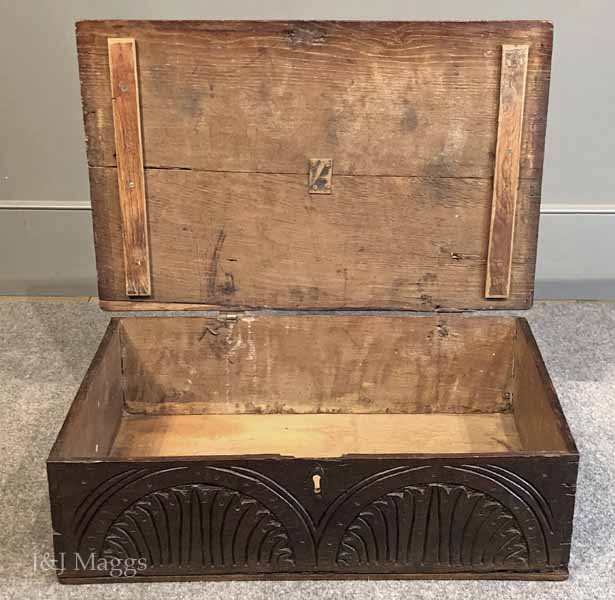 ~ ~ ~ ~ ~ ~ ~ ~ ~ ~ ~ ~ ~ ~ ~ ~ ~ ~ ~ ~ ~ ~ ~ ~ ~ ~ ~ ~ ~ ~ ~ ~ ~ ~ ~ ~ ~ ~ ~ ~ ~ ~ ~ ~ ~ ~
Click HERE to visit the Jan & John Maggs Antiques home page