Jan & John Maggs
Antiques and Art
18th-century oak wainscot chair
~ ~ ~ ~ ~ ~ ~ ~ ~ ~ ~ ~ ~ ~ ~ ~ ~ ~ ~ ~ ~ ~ ~ ~ ~ ~ ~ ~ ~ ~ ~ ~ ~ ~ ~ ~ ~ ~ ~ ~ ~ ~ ~ ~ ~ ~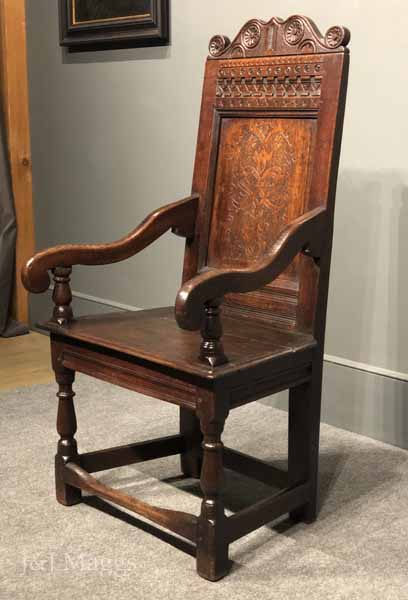 A very attractive armchair with gracefully flowing arms. While many chairs of this type are highly carved, this example is quite conservative. Other than the turnings in the front posts and the planed moulding in the front and side seat rails, the decoration is confined to the back.
The upper rail of the back is carved with several distinct patterns, repeated across the width of the rail. The deepest is a wide channel containing two sets of dentils and a sawtooth line with punch work along its length. Above it is a row of punched esses, a scribed line, and a series of punched asterisks.
The shaped crest is decorated symmetrically with circles and semicircles, with vertical nulling in the center. The chamfered central panel is shallowly carved with architectural and floral motifs.
At some past time, the feet had worn up to the bottom stretchers, and were tipped, nicely matched.
A lovely chair of relatively small size. Also, quite comfortable.
English, 18th century
Overall width: 26"; Depth: 15 ¼"; Seat height: 18 ½"; Overall height: 46"
Price: $1,250
Questions? Click HERE.
Inventory #26638
~ ~ ~ ~ ~ ~ ~ ~ ~ ~ ~ ~ ~ ~ ~ ~ ~ ~ ~ ~ ~ ~ ~ ~ ~ ~ ~ ~ ~ ~ ~ ~ ~ ~ ~ ~ ~ ~ ~ ~ ~ ~ ~ ~ ~ ~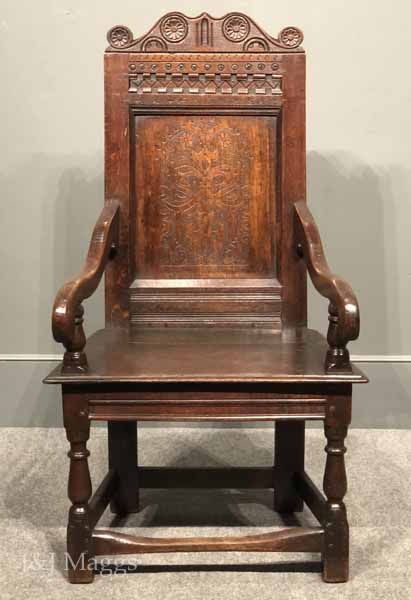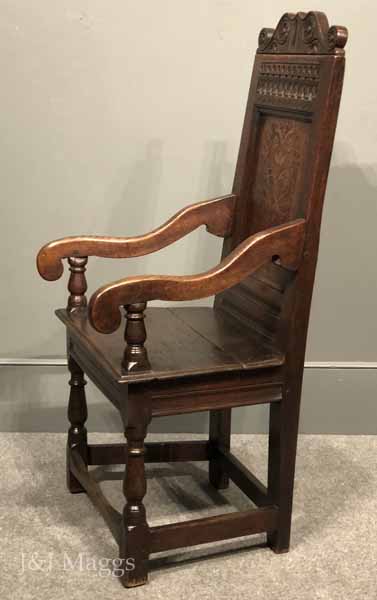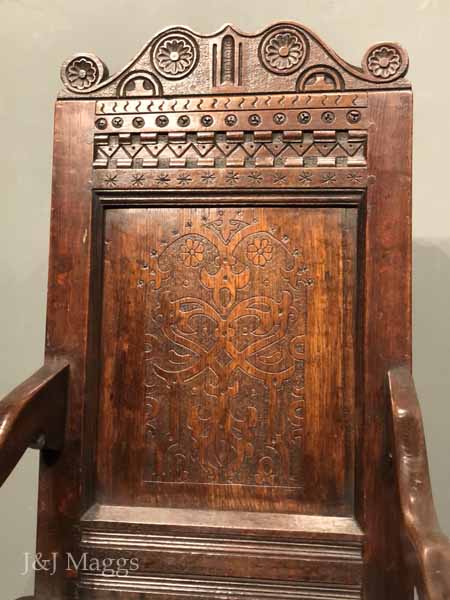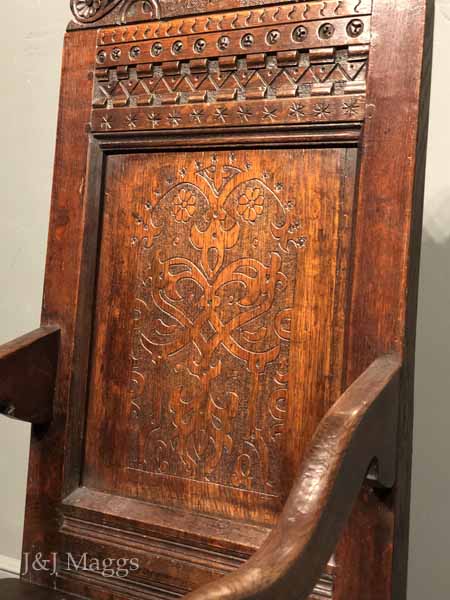 ~ ~ ~ ~ ~ ~ ~ ~ ~ ~ ~ ~ ~ ~ ~ ~ ~ ~ ~ ~ ~ ~ ~ ~ ~ ~ ~ ~ ~ ~ ~ ~ ~ ~ ~ ~ ~ ~ ~ ~ ~ ~ ~ ~ ~ ~