Jan & John Maggs
Antiques and Art
Exceptional bench-made replica of a 17th-century oak wainscot armchair
~ ~ ~ ~ ~ ~ ~ ~ ~ ~ ~ ~ ~ ~ ~ ~ ~ ~ ~ ~ ~ ~ ~ ~ ~ ~ ~ ~ ~ ~ ~ ~ ~ ~ ~ ~ ~ ~ ~ ~ ~ ~ ~ ~ ~ ~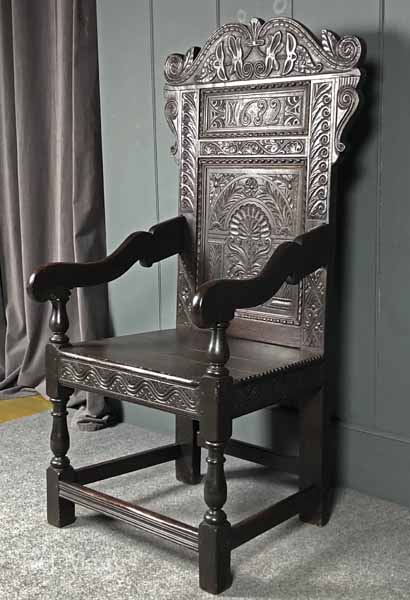 An assertive oak armchair with detailed carving on its back, cornice, and apron.
The back has two panels, the lower of which is carved with a large flower set in a leafy arcade, and the upper panel bears the carved date 1632.
The crest is carved symmetrically with vines and leaves and supported by an applied spandrel on either side.
The seat rails are carved with a simple pattern of waves, and the ends of the seat are chip-carved.
The chair sits on turned front legs and rectangular rear ones that extend upward to frame the panels and crest.
The gently undulating arms help to make this chair very comfortable.
All joints are pegged and are tight and secure.
One of the panels of the seat appears to have cracked and is now braced underneath.
At first glance, a period chair in unusually good condition, but upon closer inspection, it appears to be an excellent modern replica.
English or American, 1890 - 1930
Width: 23"; Depth: 18"; Overall height: 50"; Seat height: 18 ½"
SOLD
Questions? Click HERE.
Inventory #26639
~ ~ ~ ~ ~ ~ ~ ~ ~ ~ ~ ~ ~ ~ ~ ~ ~ ~ ~ ~ ~ ~ ~ ~ ~ ~ ~ ~ ~ ~ ~ ~ ~ ~ ~ ~ ~ ~ ~ ~ ~ ~ ~ ~ ~ ~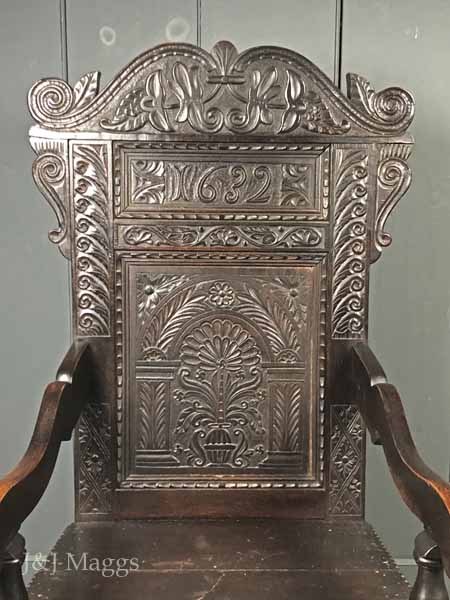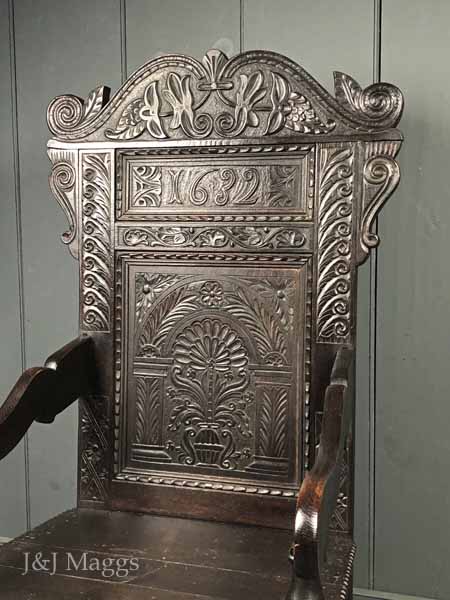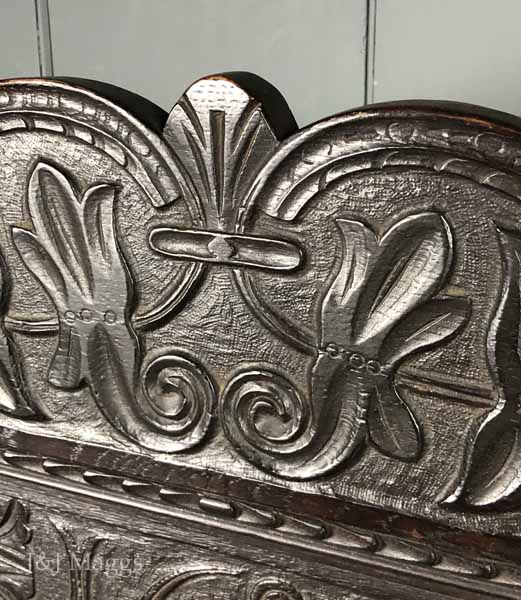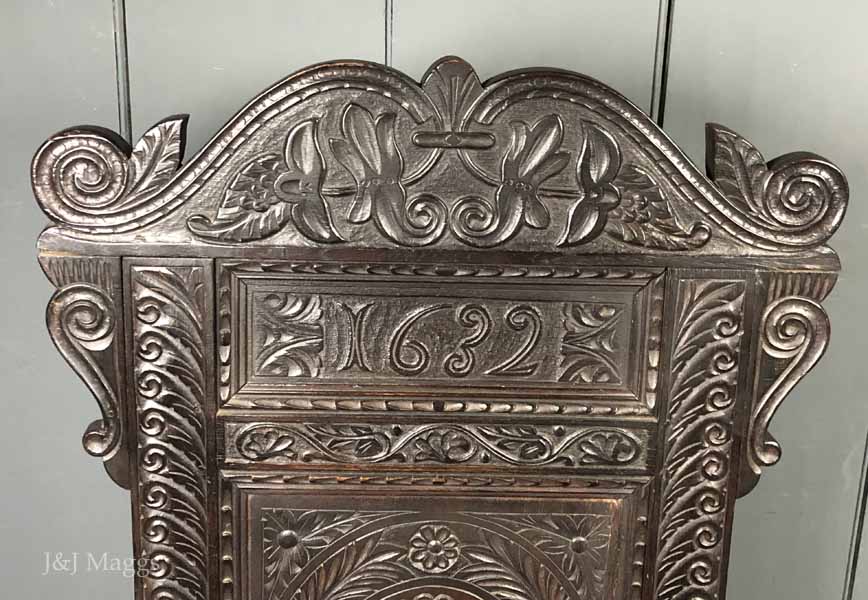 ~ ~ ~ ~ ~ ~ ~ ~ ~ ~ ~ ~ ~ ~ ~ ~ ~ ~ ~ ~ ~ ~ ~ ~ ~ ~ ~ ~ ~ ~ ~ ~ ~ ~ ~ ~ ~ ~ ~ ~ ~ ~ ~ ~ ~ ~
CLICK HERE to return to the Furniture Gallery