Jan & John Maggs
Antiques and Art
Small oak bible box
~ ~ ~ ~ ~ ~ ~ ~ ~ ~ ~ ~ ~ ~ ~ ~ ~ ~ ~ ~ ~ ~ ~ ~ ~ ~ ~ ~ ~ ~ ~ ~ ~ ~ ~ ~ ~ ~ ~ ~ ~ ~ ~ ~ ~ ~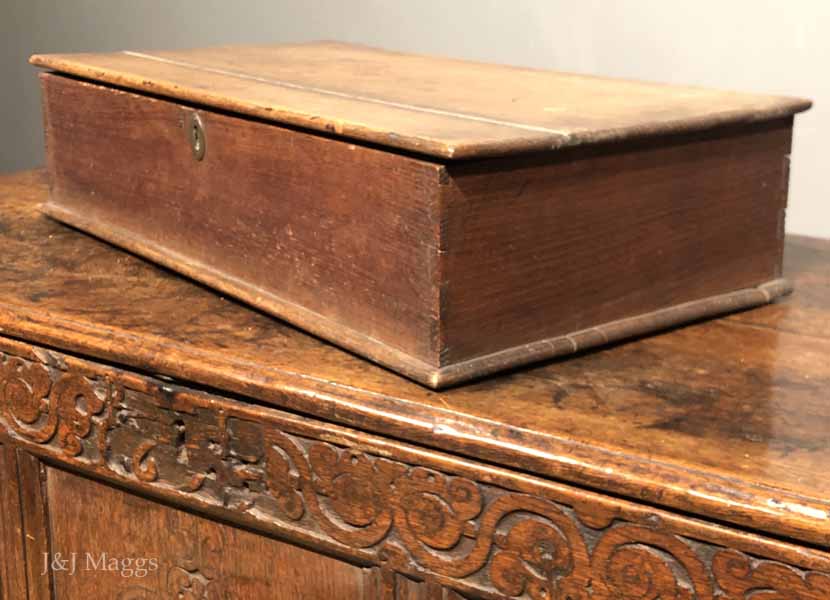 Made entirely of thinly planed oak boards, the sides, front, and back are joined with tight dovetails. The bottom of the box is made of a wide oak board and a second, narrower one, and we can see the expected shrinkage gap between the two. The base is attached to the case with small, forged nails.
The top, likewise, was made of two boards, and they have been re-joined, after apparently becoming separated. The lid connects to the back of the box with two small, hand-forged strap hinges, secured with hand-wrought nails. It has its original lock, but the locking flange is missing.
The box is compact in form and is in excellent condition, with a dry surface that has traces of red wash on the front and sides.
English or American, early - mid 1700's
Ex. collection Marion Atten
Lid: 24 ½" X 13 ½"; Height: 6"
Price: $675
Free domestic shipping is available on this piece
Questions? Click HERE.
Inventory #26643
~ ~ ~ ~ ~ ~ ~ ~ ~ ~ ~ ~ ~ ~ ~ ~ ~ ~ ~ ~ ~ ~ ~ ~ ~ ~ ~ ~ ~ ~ ~ ~ ~ ~ ~ ~ ~ ~ ~ ~ ~ ~ ~ ~ ~ ~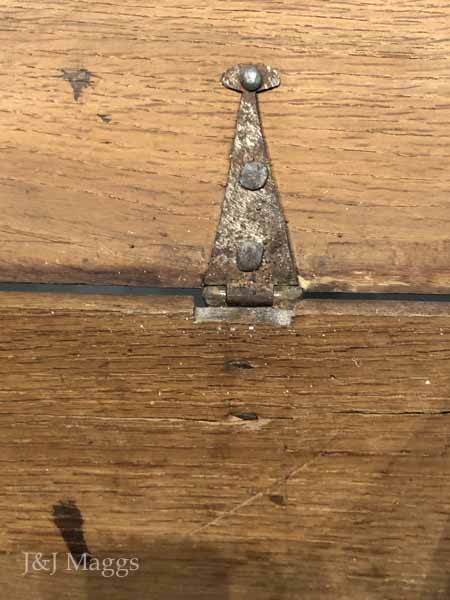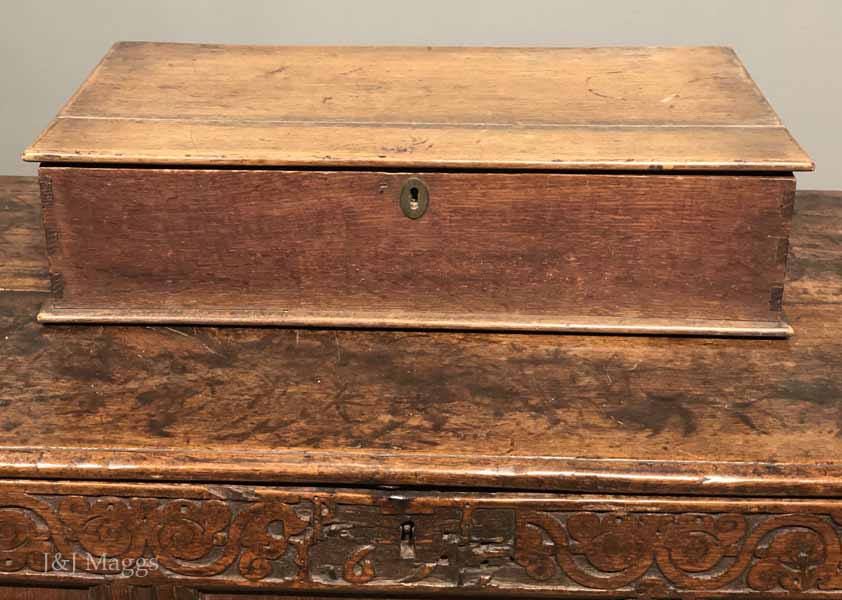 ~ ~ ~ ~ ~ ~ ~ ~ ~ ~ ~ ~ ~ ~ ~ ~ ~ ~ ~ ~ ~ ~ ~ ~ ~ ~ ~ ~ ~ ~ ~ ~ ~ ~ ~ ~ ~ ~ ~ ~ ~ ~ ~ ~ ~ ~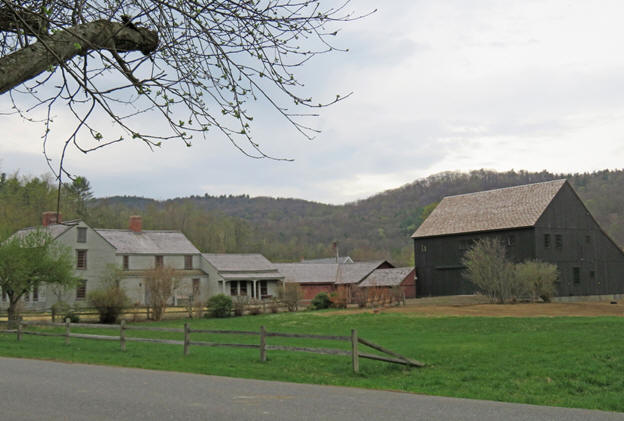 Click to return to the Jan & John Maggs home page