Jan & John Maggs
Antiques and Art
A chunky late 17th-century oak work table on bobbin-turned legs
~ ~ ~ ~ ~ ~ ~ ~ ~ ~ ~ ~ ~ ~ ~ ~ ~ ~ ~ ~ ~ ~ ~ ~ ~ ~ ~ ~ ~ ~ ~ ~ ~ ~ ~ ~ ~ ~ ~ ~ ~ ~ ~ ~ ~ ~
Simple in form and folky in appearance, this little table stands on four bobbin-turned legs with stretcher base. The apron is finished with a narrow moulded edge on every side, and each of the four legs terminates in a small button foot. The base of the table is secured with pegged mortises and tenons at every joint, and the two-board top is held with a combination of pegs and nails. There is wear to one edge, and one of the legs has twisted in drying. It is very solid, and unobtrusively appealing.
Solid and substantial, this is an excellent work table that could certainly double as a table for casual dining for two.
English, ca. 1690
Dimensions: 37 ½" X 23 ¾"; Height: 25 ⅜"
Price: $750
Questions? Click HERE.
Inventory #26682
~ ~ ~ ~ ~ ~ ~ ~ ~ ~ ~ ~ ~ ~ ~ ~ ~ ~ ~ ~ ~ ~ ~ ~ ~ ~ ~ ~ ~ ~ ~ ~ ~ ~ ~ ~ ~ ~ ~ ~ ~ ~ ~ ~ ~ ~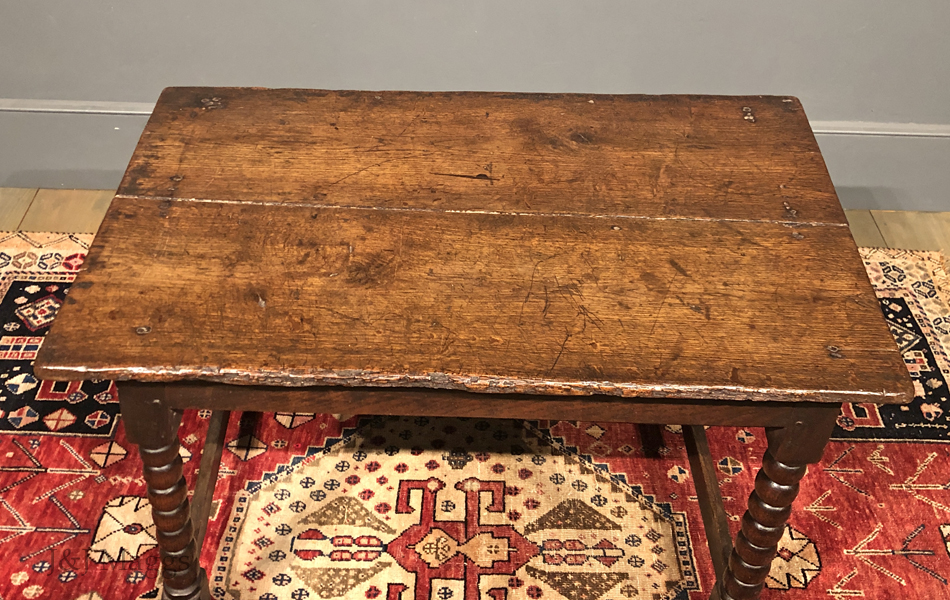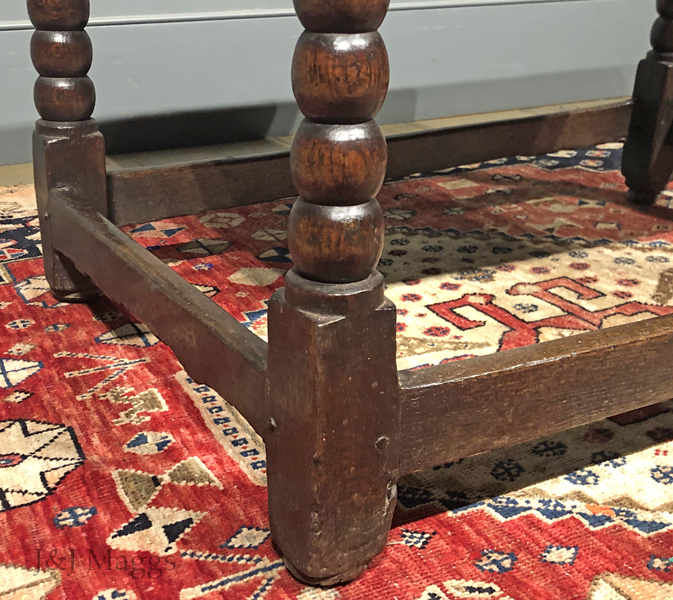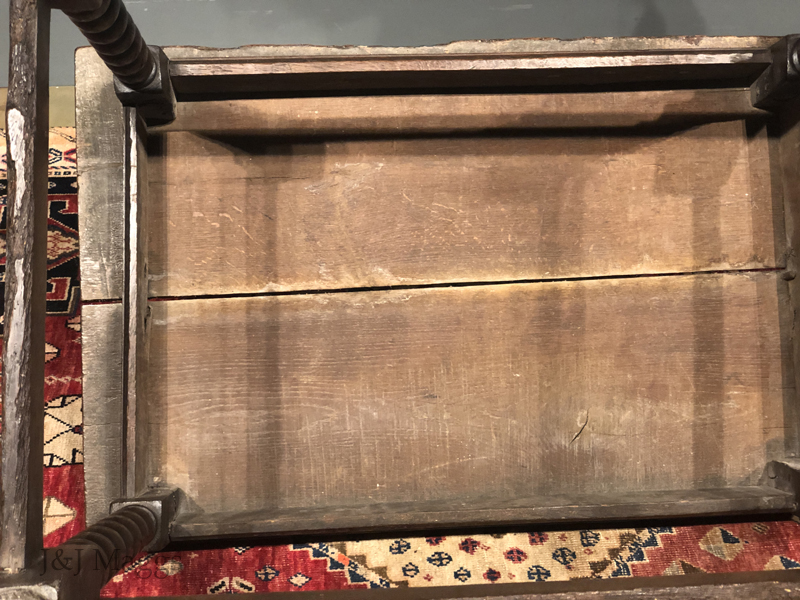 ~ ~ ~ ~ ~ ~ ~ ~ ~ ~ ~ ~ ~ ~ ~ ~ ~ ~ ~ ~ ~ ~ ~ ~ ~ ~ ~ ~ ~ ~ ~ ~ ~ ~ ~ ~ ~ ~ ~ ~ ~ ~ ~ ~ ~ ~
Click HERE to visit the Jan & John Maggs Antiques home page