Jan & John Maggs
Antiques and Art
A petite early 18th-century side table with drawer
~ ~ ~ ~ ~ ~ ~ ~ ~ ~ ~ ~ ~ ~ ~ ~ ~ ~ ~ ~ ~ ~ ~ ~ ~ ~ ~ ~ ~ ~ ~ ~ ~ ~ ~ ~ ~ ~ ~ ~ ~ ~ ~ ~ ~ ~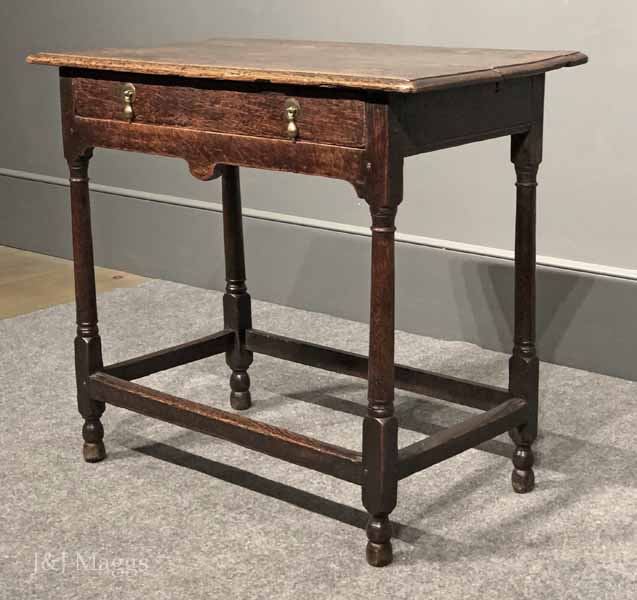 Elegant in its simplicity, this table has a pleasing two-plank top, finished with a simple thumbnail moulding on front and sides. The legs are of the "gunbarrel" type with rings at top and bottom and a flattened ball where they meet the lower blocks. Beneath each of the four unadorned lower stretchers is another ball and a shaped ball foot.
Connecting the front legs at the top is a sturdy rail beneath the drawer, decorated with a central drop and quasi-spandrels at the sides. The face of the drawer holds two brass drops, which are probably 19th-century replacements. There is evidence to suggest that, at some point, the drawer was fitted with a central pull, although it seems more likely that the drawer was made with double pulls in the holes where the present pair are now and that this central pull was an early "modernization". The lower edges of the apron stretchers on the sides and rear are subtly decorated with a simple planed moulding.
English, ca. 1720
Dimensions: 30 ½" X 17"; Height: 27"
Price: $1200
Questions? Click HERE.
Inventory #26683
~ ~ ~ ~ ~ ~ ~ ~ ~ ~ ~ ~ ~ ~ ~ ~ ~ ~ ~ ~ ~ ~ ~ ~ ~ ~ ~ ~ ~ ~ ~ ~ ~ ~ ~ ~ ~ ~ ~ ~ ~ ~ ~ ~ ~ ~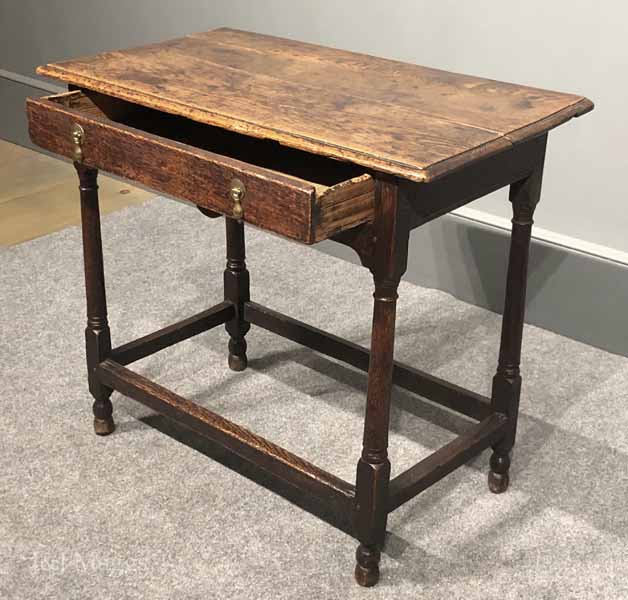 ~ ~ ~ ~ ~ ~ ~ ~ ~ ~ ~ ~ ~ ~ ~ ~ ~ ~ ~ ~ ~ ~ ~ ~ ~ ~ ~ ~ ~ ~ ~ ~ ~ ~ ~ ~ ~ ~ ~ ~ ~ ~ ~ ~ ~ ~
Click HERE to visit the Jan & John Maggs Antiques home page