Jan & John Maggs
Antiques and Art
A handsome walnut chest of drawers
~ ~ ~ ~ ~ ~ ~ ~ ~ ~ ~ ~ ~ ~ ~ ~ ~ ~ ~ ~ ~ ~ ~ ~ ~ ~ ~ ~ ~ ~ ~ ~ ~ ~ ~ ~ ~ ~ ~ ~ ~ ~ ~ ~ ~ ~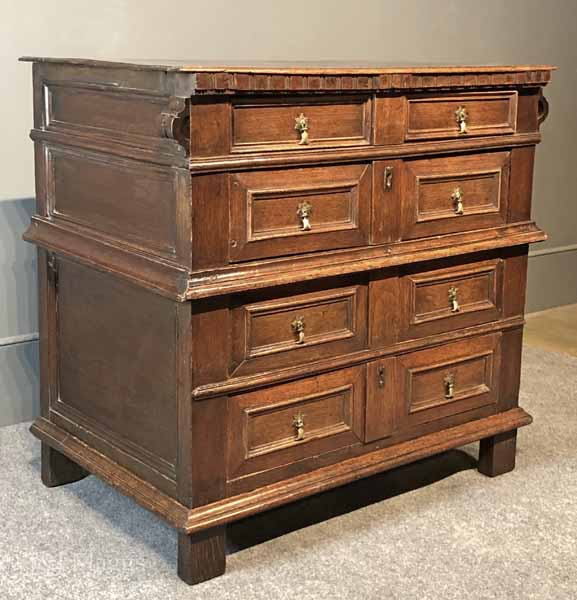 Another example of the Jacobean joined chest of drawers, with the four rails at the corners of the chest extending below the case to form the four feet upon which it rests. This stately example has four drawers, which are side-hung in the manner of the period. The shallow top drawer is faced with an applied moulding around the perimeter, while the three lower drawers have a modest "pillows" which extend slightly beyond their frames. Each of the four drawers is fitted with a pair of brass drops. The front and sides have a proud moulding at the bottom and around the middle of the chest. Above the first drawer, just under the top of the chest, is a course of small, square dentils. The inchworm-shaped additions to the upper corners are a curious addition to a chest whose formality is devoid or any other whimsical element. The chest is made of walnut, a less common material than oak at this time, and the back is paneled vertically, a more sophisticated solution than usual. These two things suggest to us that the piece may have come from a very active shop.
Good surface outside and in. The four feet have been pieced, a common restoration in this type of chest.
English, ca. 1690
Width: 36"; Depth: 23"; Height: 34 ¾"
Price: $1,850
Questions? Click HERE.
Inventory #26701
~ ~ ~ ~ ~ ~ ~ ~ ~ ~ ~ ~ ~ ~ ~ ~ ~ ~ ~ ~ ~ ~ ~ ~ ~ ~ ~ ~ ~ ~ ~ ~ ~ ~ ~ ~ ~ ~ ~ ~ ~ ~ ~ ~ ~ ~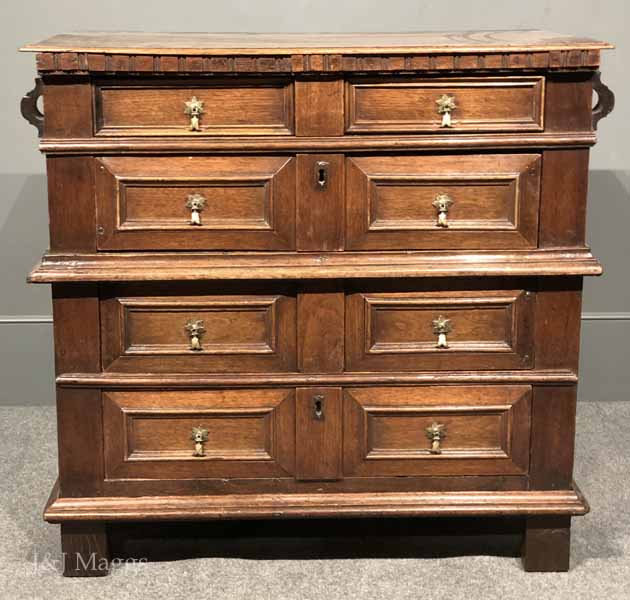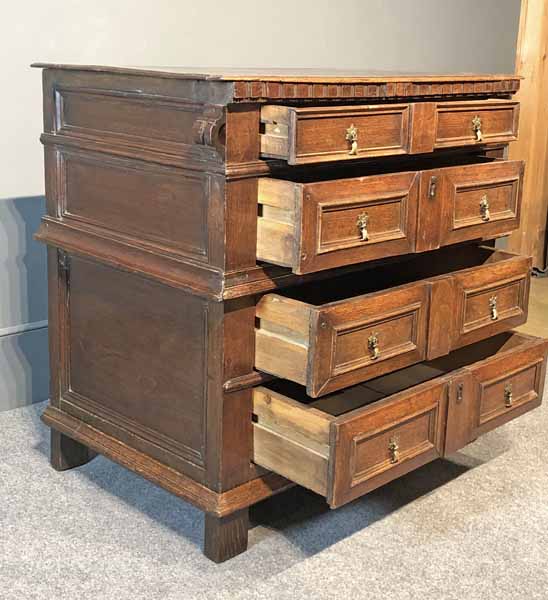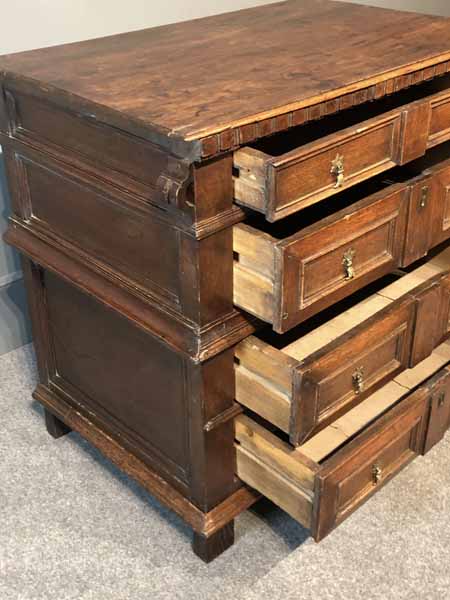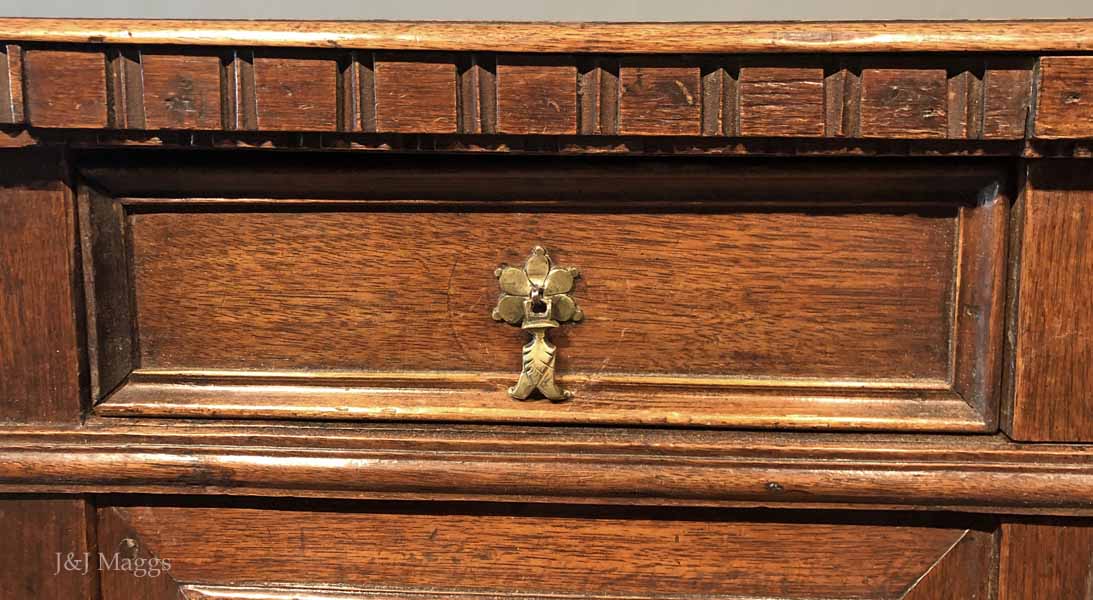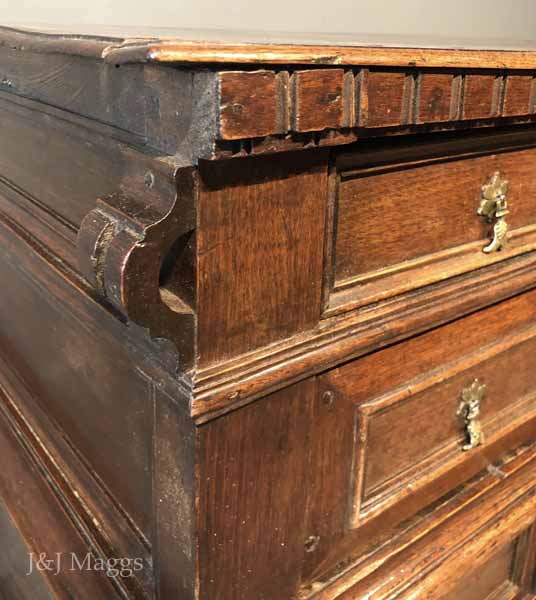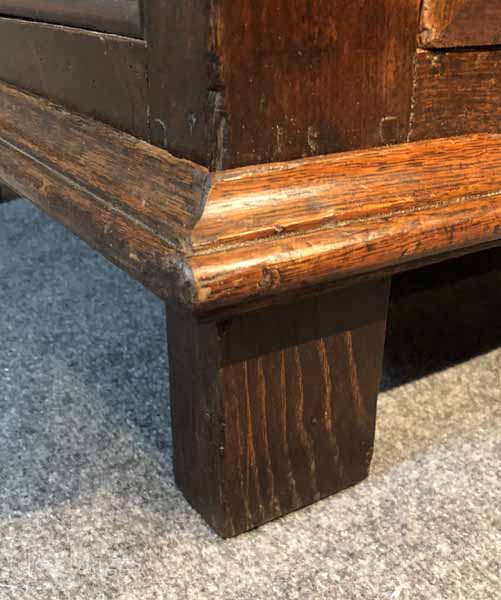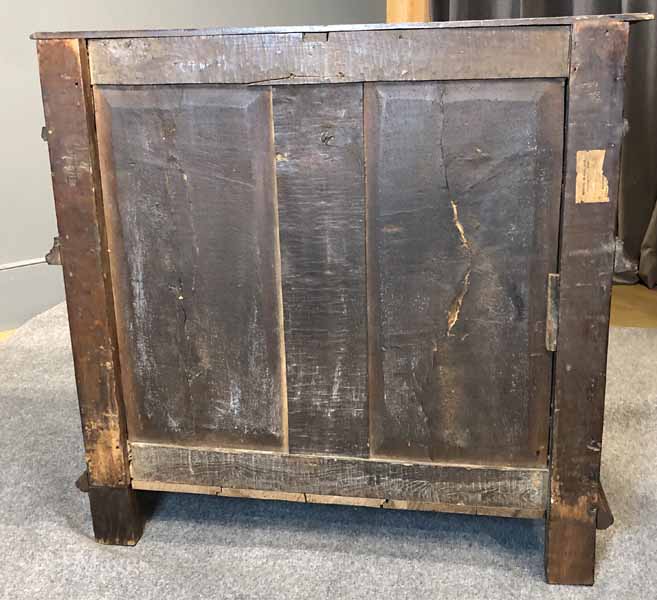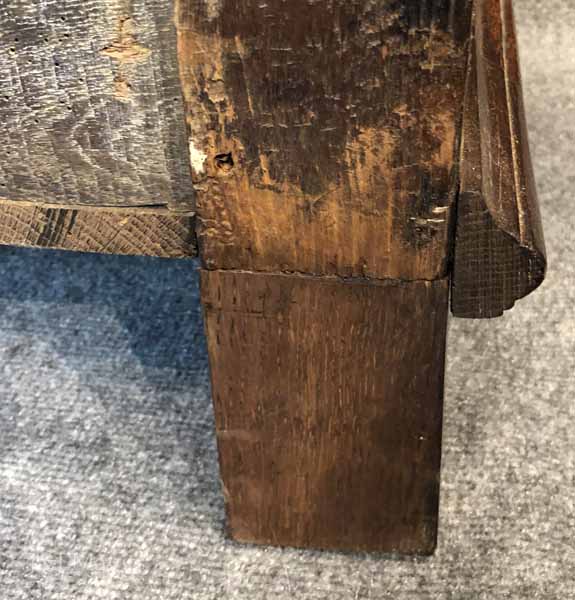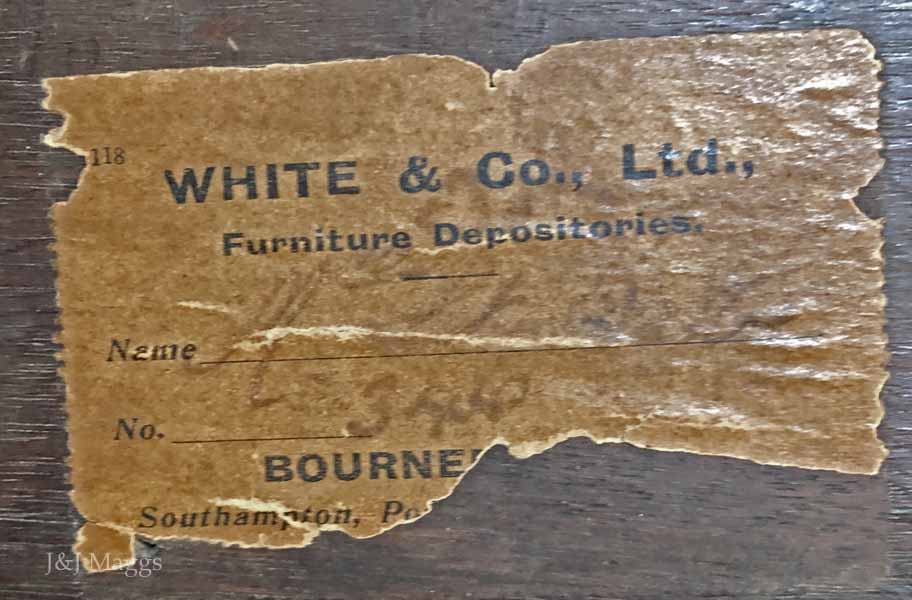 ~ ~ ~ ~ ~ ~ ~ ~ ~ ~ ~ ~ ~ ~ ~ ~ ~ ~ ~ ~ ~ ~ ~ ~ ~ ~ ~ ~ ~ ~ ~ ~ ~ ~ ~ ~ ~ ~ ~ ~ ~ ~ ~ ~ ~ ~
Click HERE to visit the Jan & John Maggs Antiques home page