Jan & John Maggs
Antiques and Art
Rare period oak joined form
~ ~ ~ ~ ~ ~ ~ ~ ~ ~ ~ ~ ~ ~ ~ ~ ~ ~ ~ ~ ~ ~ ~ ~ ~ ~ ~ ~ ~ ~ ~ ~ ~ ~ ~ ~ ~ ~ ~ ~ ~ ~ ~ ~ ~ ~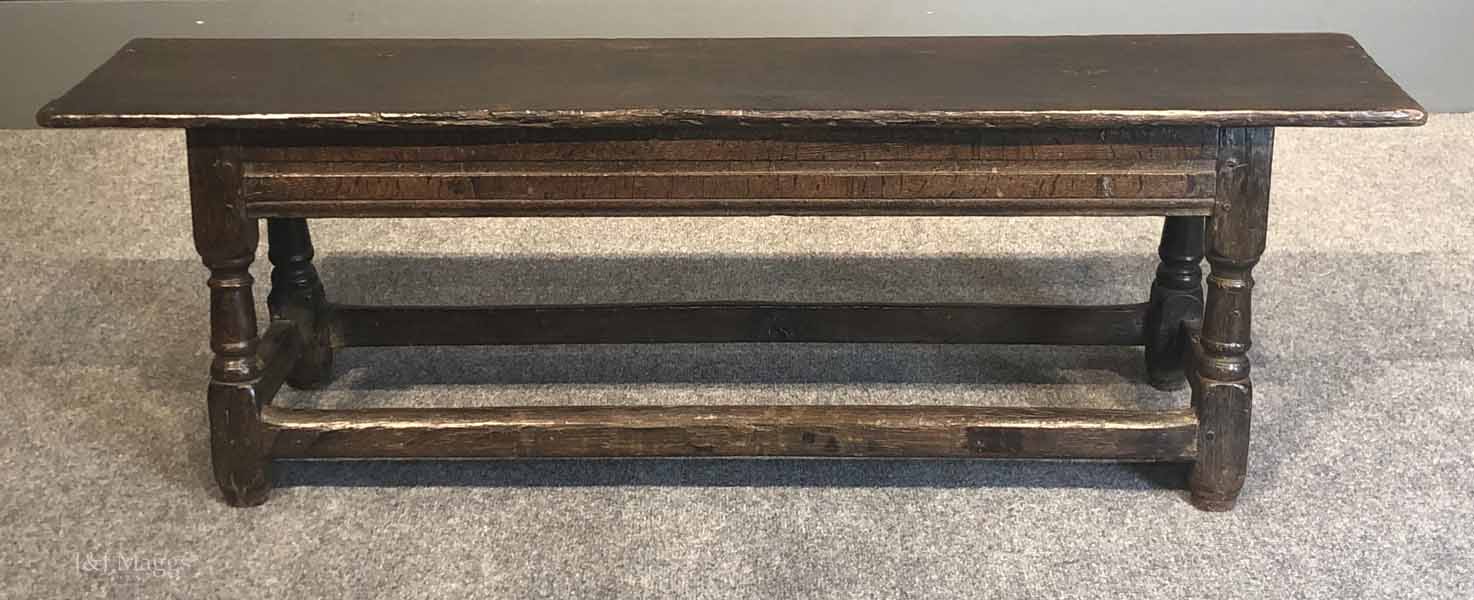 A most desirable variant of the joined stool, the form provided seating for two or more, as the more common stool did for one. The construction is the same: four turned legs joined at top and bottom by a plain apron and stretchers. In this instance, the legs are of the column and ball type, the apron is nicely moulded, and the stretchers are plain. The apron is joined to the legs with two pegs at each end, while the stretchers have only one. The single-board seat is secured to the base by pegs and nails; the latter are perhaps later additions.
Good dark color with ample wear. This is a stool that has been used.
English, mid-1600's
Dimensions: 48" X 10"; Height: 15 ½"
SOLD
Questions? Click HERE.
Inventory #26710
~ ~ ~ ~ ~ ~ ~ ~ ~ ~ ~ ~ ~ ~ ~ ~ ~ ~ ~ ~ ~ ~ ~ ~ ~ ~ ~ ~ ~ ~ ~ ~ ~ ~ ~ ~ ~ ~ ~ ~ ~ ~ ~ ~ ~ ~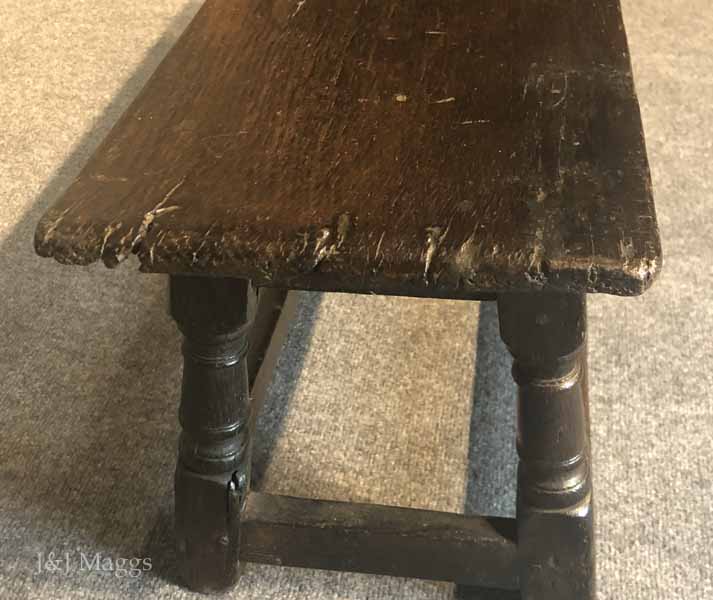 ~ ~ ~ ~ ~ ~ ~ ~ ~ ~ ~ ~ ~ ~ ~ ~ ~ ~ ~ ~ ~ ~ ~ ~ ~ ~ ~ ~ ~ ~ ~ ~ ~ ~ ~ ~ ~ ~ ~ ~ ~ ~ ~ ~ ~ ~
Click HERE to visit the Jan & John Maggs Antiques home page