Jan & John Maggs
Antiques and Art
A small, boarded oak coffer in old surface
~ ~ ~ ~ ~ ~ ~ ~ ~ ~ ~ ~ ~ ~ ~ ~ ~ ~ ~ ~ ~ ~ ~ ~ ~ ~ ~ ~ ~ ~ ~ ~ ~ ~ ~ ~ ~ ~ ~ ~ ~ ~ ~ ~ ~ ~
A simple chest made of six wide oak boards, two of which are applied vertically and shaped to make the four feet upon which the chest stands. The chest has minimal decoration, but all of it is tastefully applied. The face is decorated with planed mouldings at top and bottom and chip carving at the corners. The iron lock box with brass center offers its own decorative touch. Similar mouldings and scratch and punch decoration are applied to the lid. The back, sides, and bottom are undecorated, but the interior contains a small till, which is complete and in working order.
The chest has good, dark color and a dry surface. The original cotter pin hinges have been replaced by iron straps. The original hasp is missing.
English, ca. 1690
Width: 41"; Depth: 14"; Height: 17 ¼"
Price: $750
Questions? Click HERE.
Inventory #26793
~ ~ ~ ~ ~ ~ ~ ~ ~ ~ ~ ~ ~ ~ ~ ~ ~ ~ ~ ~ ~ ~ ~ ~ ~ ~ ~ ~ ~ ~ ~ ~ ~ ~ ~ ~ ~ ~ ~ ~ ~ ~ ~ ~ ~ ~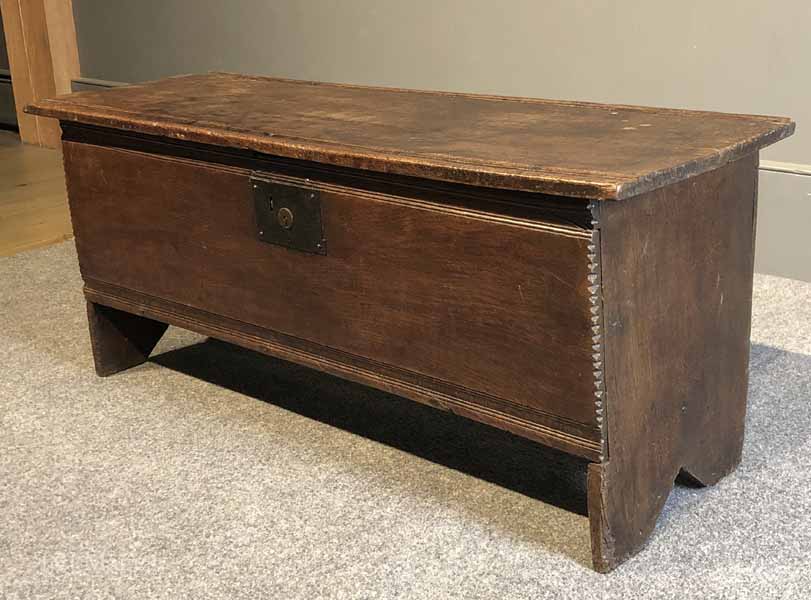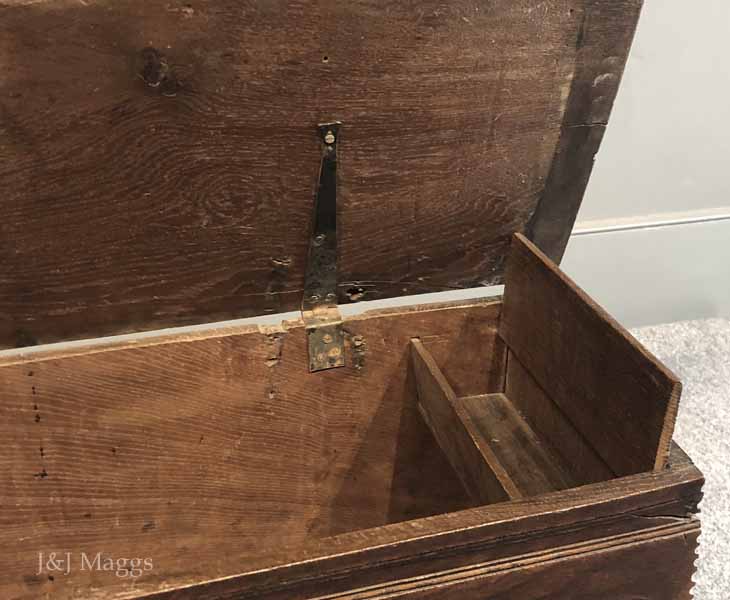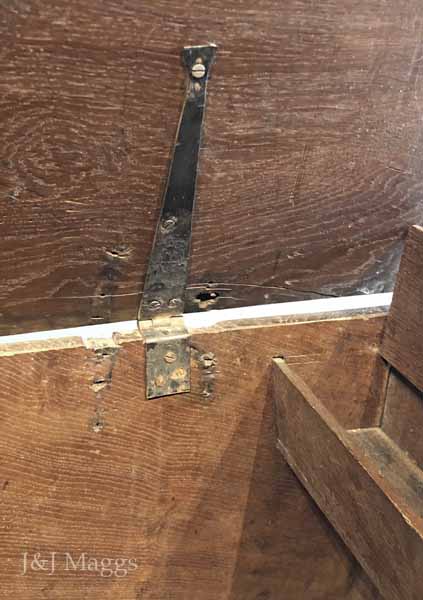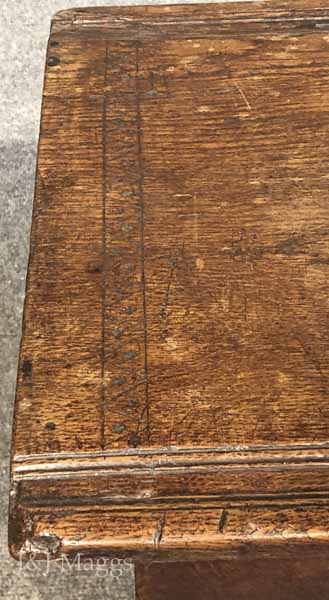 ~ ~ ~ ~ ~ ~ ~ ~ ~ ~ ~ ~ ~ ~ ~ ~ ~ ~ ~ ~ ~ ~ ~ ~ ~ ~ ~ ~ ~ ~ ~ ~ ~ ~ ~ ~ ~ ~ ~ ~ ~ ~ ~ ~ ~ ~
Click HERE to visit the Jan & John Maggs Antiques home page