Jan & John Maggs
Antiques and Art
Stunning Art Nouveau diamond paste and pearl earrings
~ ~ ~ ~ ~ ~ ~ ~ ~ ~ ~ ~ ~ ~ ~ ~ ~ ~ ~ ~ ~ ~ ~ ~ ~ ~ ~ ~ ~ ~ ~ ~ ~ ~ ~ ~ ~ ~ ~ ~ ~ ~ ~ ~ ~ ~
Fancy Art Nouveau earrings in gold and silver which we found in England. Three closed-back set diamond paste stones set in silver at the top. The second section is triangular with two closed-back set diamond pastes, leading to the bow-knot shape section with 11 diamond pastes. A large baroque pearl is suspended from the bow. The graceful gold shepherd's crook earwires go in from the front of the ear. These have amazing sparkle, and wonderful movement!
Overall measurement of the earrings is 2 ¼" and 9/16" at the bow.
English, 1890-1910.
Click HERE to view a brief video of this piece.
Price: $485
Free domestic shipping is available on this item.
Questions? Click HERE.
Inventory #25908
~ ~ ~ ~ ~ ~ ~ ~ ~ ~ ~ ~ ~ ~ ~ ~ ~ ~ ~ ~ ~ ~ ~ ~ ~ ~ ~ ~ ~ ~ ~ ~ ~ ~ ~ ~ ~ ~ ~ ~ ~ ~ ~ ~ ~ ~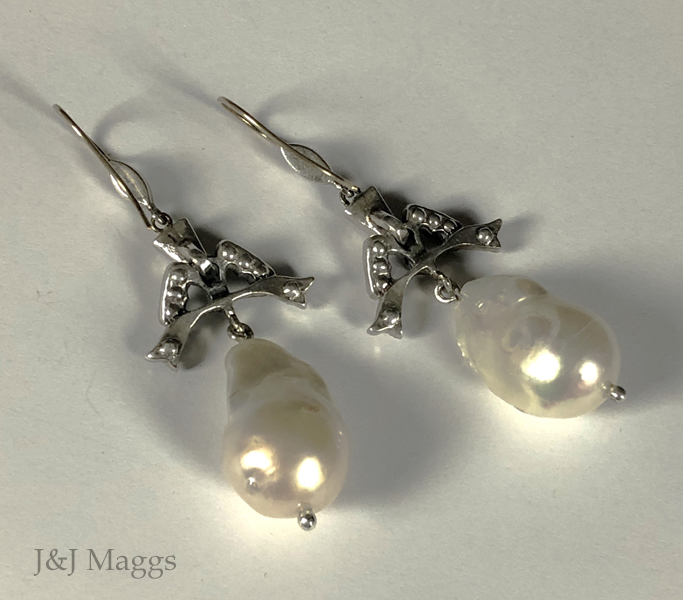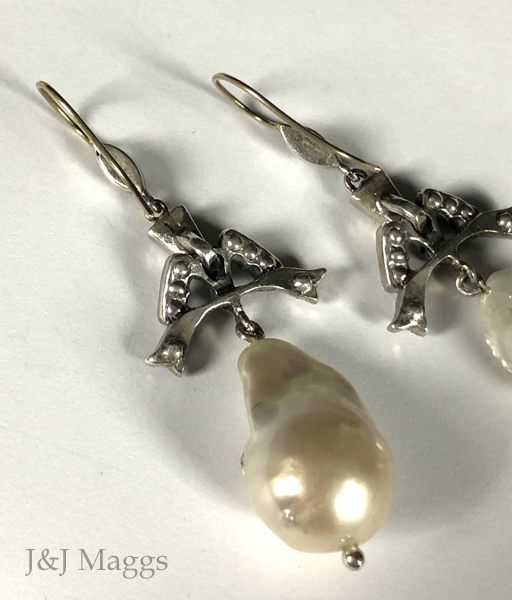 ~ ~ ~ ~ ~ ~ ~ ~ ~ ~ ~ ~ ~ ~ ~ ~ ~ ~ ~ ~ ~ ~ ~ ~ ~ ~ ~ ~ ~ ~ ~ ~ ~ ~ ~ ~ ~ ~ ~ ~ ~ ~ ~ ~ ~ ~
Click HERE to visit the Jan & John Maggs Antiques home page