~ ~ ~ ~ ~ ~ ~ ~ ~ ~ ~ ~ ~ ~ ~ ~ ~ ~ ~ ~ ~ ~ ~ ~ ~ ~ ~ ~ ~ ~ ~ ~ ~ ~ ~ ~ ~ ~ ~ ~ ~ ~ ~ ~ ~ ~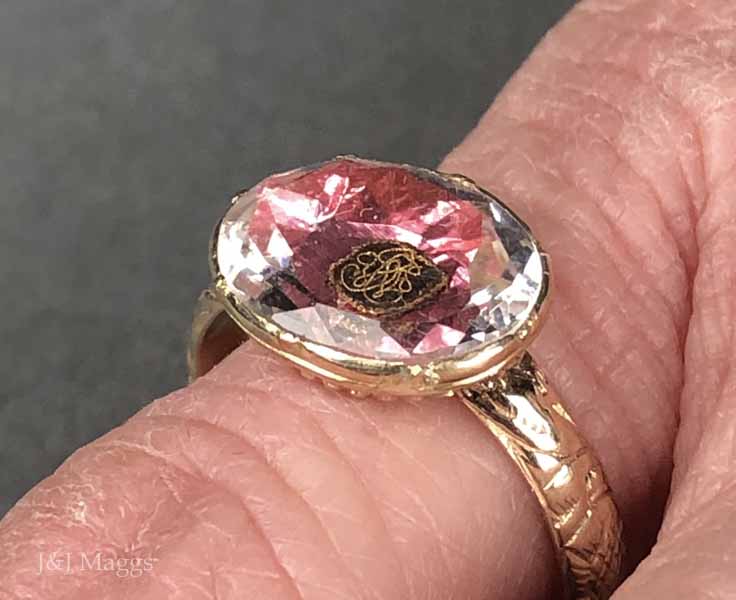 A beautiful 17th century Stuart crystal* ring created in high karat gold.
The head of the ring has been closed-back, bezel-set with a sparkling, oval-faceted Stuart crystal, with multiple cuts to the girdle. The verso of the setting has a sun-rayed or basket back, and the ribbing is well defined.
The mounting's shaped bezel holds the crystal (9.5x13mm) over a rosy pink foil, on top of which there is a love token of woven chestnut-color hair. Gold cyphers within a gold border have been placed over the love token. This is all visible between the foil and the crystal.
At the shoulders, the rounded belly of the rayed verso joins a delightfully engraved floral gold shank which tapers to a small plain section at the back (thus sizeable).
The ring is in remarkable condition, currently a size 6 on a grooved mandrel.
A rare commemorative of Charles I of England, who died in 1649, these Stuart crystal pieces were only created in England and are highly prized. You will be wearing history on your hand.
Click HERE to view a brief video of this piece.
SOLD
Free domestic shipping is available on this item
Questions? Click HERE.
Inventory #26310
~ ~ ~ ~ ~ ~ ~ ~ ~ ~ ~ ~ ~ ~ ~ ~ ~ ~ ~ ~ ~ ~ ~ ~ ~ ~ ~ ~ ~ ~ ~ ~ ~ ~ ~ ~ ~ ~ ~ ~ ~ ~ ~ ~ ~ ~
*Stuart crystals have fascinated lovers of antique jewelry for many years, and for good reason. These beautiful gems were initially created in 1649, when King Charles I, the martyred King of England, was executed under Cromwell's rule. People loyal to the Stuart monarchy (Royalists) wished to memorialize their lost King, to show their support and sympathy, by wearing slides, pendants, rings, earrings or cufflinks with his initials, crowns, or a likeness of the fallen King, set in gold or silver under a crystal. Thus they became known as Stuart crystals, as they were commemorative of King Charles I, of the House of Stuart. Royalists opposed Charles I's execution, believing that he was God's chosen leader, and feeling that his death was not justice, but murder. Later in the 17th century, the crystals were worn by Jacobites against the deposition of James II and the Stuart monarchy in 1688. Showing support for fallen monarchs was dangerous, so many Stuart crystals were diminutive and were worn secretly. These amazing pieces of jewelry were made up of clear, faceted rock crystals, enclosing love tokens (pieces of ribbon, cloth, or hair), with initials (sometimes the King's monogram) worked in fine gold wire into cyphers on top, and a foil backing (rose, pink, red, silver, sometimes blue or green, in color). The whole mounting was closed-back set in silver or gold. This did not open but was rubbed over the crystal or sealed in a crimped manner. Rarely does one find pieces which actually contain the highly prized hair of King Charles I. It is more usual to find Stuart crystal jewels with a miscellany of cyphers (in monogram) over the hair/fabric work, on top of the colored foil. Occasionally there are additional pieces of foil or filigree worked into angels, crowns, skulls, swags, skeletons, doves, etc., placed under the crystals, especially in slides or pendants if worn in memoriam. Later in the 17th century some Stuart pieces were worn as love tokens or wedding commemoratives, with symbols of love, i.e., hearts, putti, cherubs, or wreaths of flowers. This tradition continued through the reign of Queen Anne, who died in 1714, the last monarch of the House of Stuart.
~ ~ ~ ~ ~ ~ ~ ~ ~ ~ ~ ~ ~ ~ ~ ~ ~ ~ ~ ~ ~ ~ ~ ~ ~ ~ ~ ~ ~ ~ ~ ~ ~ ~ ~ ~ ~ ~ ~ ~ ~ ~ ~ ~ ~ ~