Jan & John Maggs
Antiques and Art
Georgian floral almandine garnet necklet
~ ~ ~ ~ ~ ~ ~ ~ ~ ~ ~ ~ ~ ~ ~ ~ ~ ~ ~ ~ ~ ~ ~ ~ ~ ~ ~ ~ ~ ~ ~ ~ ~ ~ ~ ~ ~ ~ ~ ~ ~ ~ ~ ~ ~ ~
Glorious Georgian (ca. 1760-80) closed-back set necklet of amazing almandine flat-cut garnet stones (87) silver set as an openwork garland of floral motifs, clusters, ribbons, and leaves – lovely and airy.
Each section is connected via a silver tongue. There are slide brackets at each end to allow for ribbons to be inserted for tying at the side or back.
Each of the inside sections measures 1 1/8" tab to tab; the beginning and end sections are 7/8" each; and the overall measurement is 7 3/8".
A long piece of velvet ribbon comes with this necklet, for tying a bow on the side or in the back.
Purchased in England. There is a similar example at the V & A.
As quoted from Dawes and Collings, Georgian Jewellery 1714 – 1830, "The most desirable gemstone of Georgian day jewellery was undoubtedly the garnet." Also, on page 2, opposite the title page of the book, there is a photo showing a similar airy garnet necklet.
And in America, Martha Washington had a collection of garnet jewelry, including a similar necklace.
In a 1766 painting by Jeremiah Theus, Mrs. Barnard Eliott is depicted wearing a similar necklace which had a drop pendant added. See: Jewelry in America, by Martha Gandy Fales, pgs. 36 and 37.
SOLD
Click HERE to view a brief video of this piece.
Free domestic shipping is available on this item
Questions? Click HERE.
Inventory #26740
~ ~ ~ ~ ~ ~ ~ ~ ~ ~ ~ ~ ~ ~ ~ ~ ~ ~ ~ ~ ~ ~ ~ ~ ~ ~ ~ ~ ~ ~ ~ ~ ~ ~ ~ ~ ~ ~ ~ ~ ~ ~ ~ ~ ~ ~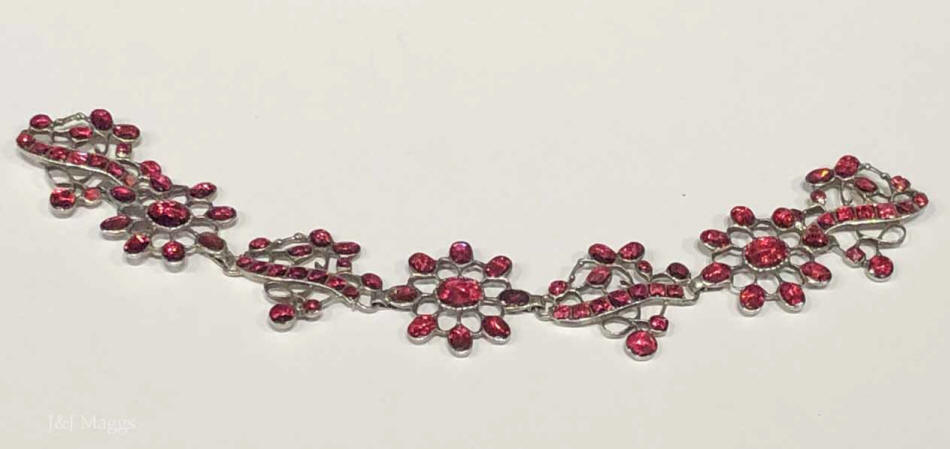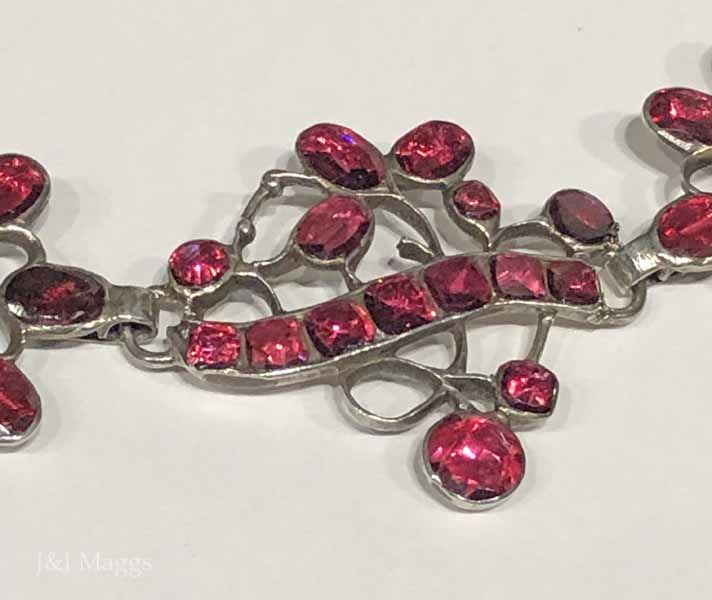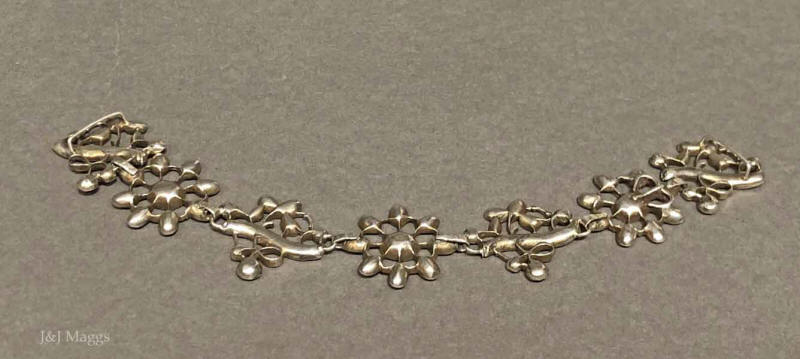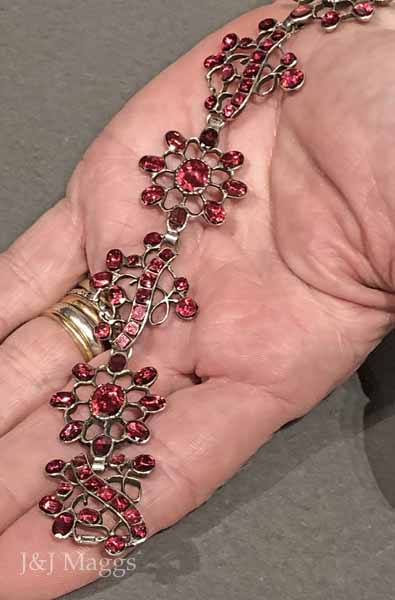 ~ ~ ~ ~ ~ ~ ~ ~ ~ ~ ~ ~ ~ ~ ~ ~ ~ ~ ~ ~ ~ ~ ~ ~ ~ ~ ~ ~ ~ ~ ~ ~ ~ ~ ~ ~ ~ ~ ~ ~ ~ ~ ~ ~ ~ ~ ~ ~ ~ ~ ~ ~ ~ ~ ~ ~ ~ ~ ~ ~ ~ ~ ~