~ ~ ~ ~ ~ ~ ~ ~ ~ ~ ~ ~ ~ ~ ~ ~ ~ ~ ~ ~ ~ ~ ~ ~ ~ ~ ~ ~ ~ ~ ~ ~ ~ ~ ~ ~ ~ ~ ~ ~ ~ ~ ~ ~ ~ ~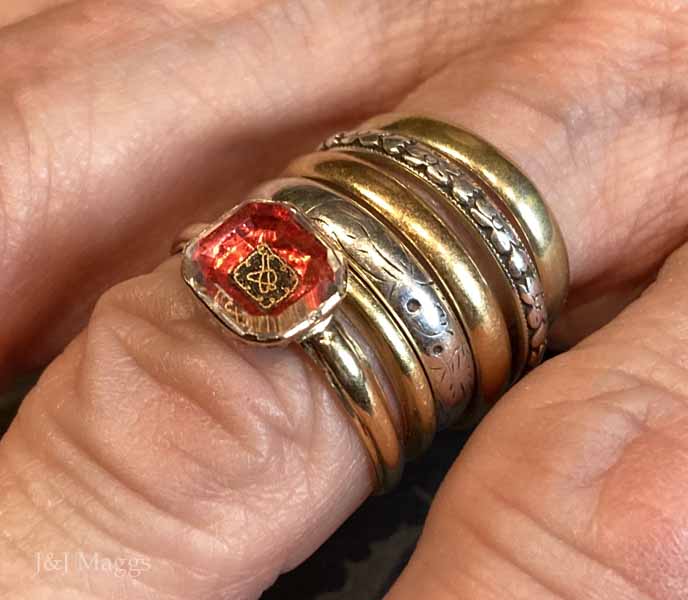 A stunning 17th century Stuart crystal ring created in gold. The head of the ring has been closed-back set with a sparkling, eight-sided faceted Stuart crystal, with a single angled cut to the girdle. The rounded belly of the rayed verso joins a has a fine sun-rayed or basket back, and the ribbing is well defined. The mounting's shaped bezel holds the crystal over a rosy foil, on top of which there is a love token of woven chestnut-color hair, and gold cyphers within a gold border, have been placed over the love token; this is all visible between the foil and the crystal.
The entire ring is gold. The shank, which attaches at the shoulders, is fluted and tapers to an undecorated central back, so sizing is a possibility. A previous owner has apparently scratched a pair of initials into the inside of the band. The ring is quite lovely, currently a size 8 on a grooved mandrel.
A rare commemorative of Charles I of England, who died in 1649, these Stuart crystal pieces were only created in England and are highly prized. You will be wearing history on your hand.
Click HERE to view a brief video of this piece.
Price: $2,075
Free domestic shipping is available on this item.
Questions? Click HERE.
Inventory #26742
~ ~ ~ ~ ~ ~ ~ ~ ~ ~ ~ ~ ~ ~ ~ ~ ~ ~ ~ ~ ~ ~ ~ ~ ~ ~ ~ ~ ~ ~ ~ ~ ~ ~ ~ ~ ~ ~ ~ ~ ~ ~ ~ ~ ~ ~