Jan & John Maggs
Antiques and Art
Emerald and pearl Austro-Hungarian necklace
~ ~ ~ ~ ~ ~ ~ ~ ~ ~ ~ ~ ~ ~ ~ ~ ~ ~ ~ ~ ~ ~ ~ ~ ~ ~ ~ ~ ~ ~ ~ ~ ~ ~ ~ ~ ~ ~ ~ ~ ~ ~ ~ ~ ~ ~
A regal Renaissance revival pendant in silver, pearls and gems. Inspired by jewelry worn in Renaissance paintings, jewelers and artisans created jewels in this style. This pendant and chain were crafted in silver; the links of the chain were closed-back set with tiny rose-cut diamonds and emerald-colored stones, and small pearls, a few have been lost. Three pearls appear at the top of the bow-knot mounting, with three polished emerald teardrops suspended from the bottom. There are tiny emeralds and emerald color stones in collet settings in the pendant, and a tiny pearl drop. It is hand fabricated and enchanting! The Renaissance Revival style was in great demand in the early-to-mid 1800's in Austria and Hungary under the influence of the Habsburg Monarchy.
The necklace pendant and chain measure 19"; the pendant measures 1 ½" x 1 ¾". A glorious piece of history!
Click HERE to view a brief video of this piece.
Price: $725
Free domestic shipping is available on this item.
Questions? Click HERE.
Inventory #26753
~ ~ ~ ~ ~ ~ ~ ~ ~ ~ ~ ~ ~ ~ ~ ~ ~ ~ ~ ~ ~ ~ ~ ~ ~ ~ ~ ~ ~ ~ ~ ~ ~ ~ ~ ~ ~ ~ ~ ~ ~ ~ ~ ~ ~ ~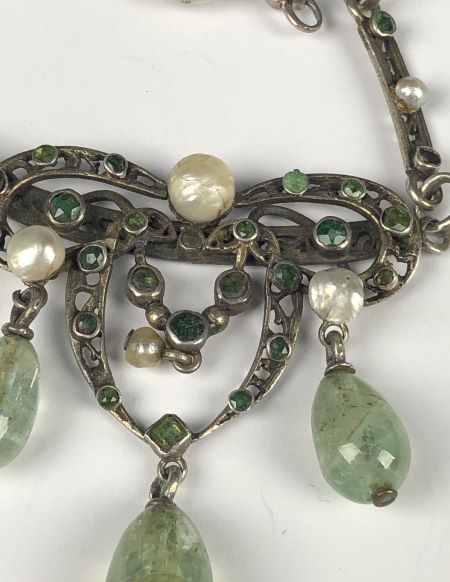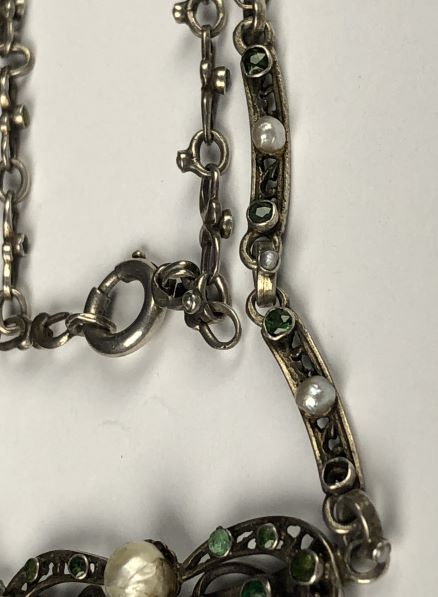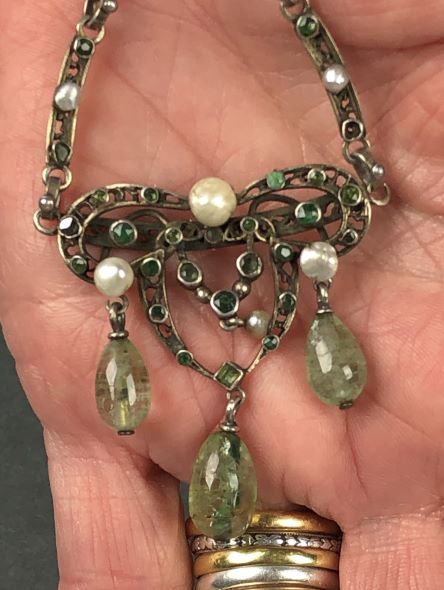 ~ ~ ~ ~ ~ ~ ~ ~ ~ ~ ~ ~ ~ ~ ~ ~ ~ ~ ~ ~ ~ ~ ~ ~ ~ ~ ~ ~ ~ ~ ~ ~ ~ ~ ~ ~ ~ ~ ~ ~ ~ ~ ~ ~ ~ ~
Click HERE to visit the Jan & John Maggs Antiques home page