Jan & John Maggs
Antiques and Art
Late Georgian ~ early Victorian crowned heart diamond and ruby ring
~ ~ ~ ~ ~ ~ ~ ~ ~ ~ ~ ~ ~ ~ ~ ~ ~ ~ ~ ~ ~ ~ ~ ~ ~ ~ ~ ~ ~ ~ ~ ~ ~ ~ ~ ~ ~ ~ ~ ~ ~ ~ ~ ~ ~ ~
A lovely gold and silver ring designed as a crowned heart, with graceful, pierced arabesques hugging the heart on each side. The crown of the heart is set with a rose-cut diamond, with two more rose-cuts and a ruby at each shoulder. At the center of the heart is the largest ruby, and the largest rose-cut diamond joins the base of the setting. A ribbed gold shank joins at the shoulders, tapering to an undecorated D-shape at the center back, which makes sizing the ring an option.
This lovely late Georgian/early Victorian ring is in 15k gold and silver and is currently a size 6 – 6 ½.
Ca. 1830 - 50
Click HERE to view a brief video of this piece.
Price: $750
Free domestic shipping is available on this item.
Questions? Click HERE.
Inventory #26834
~ ~ ~ ~ ~ ~ ~ ~ ~ ~ ~ ~ ~ ~ ~ ~ ~ ~ ~ ~ ~ ~ ~ ~ ~ ~ ~ ~ ~ ~ ~ ~ ~ ~ ~ ~ ~ ~ ~ ~ ~ ~ ~ ~ ~ ~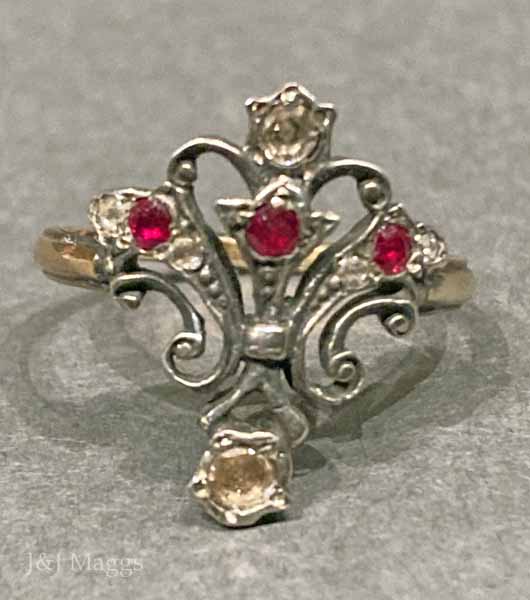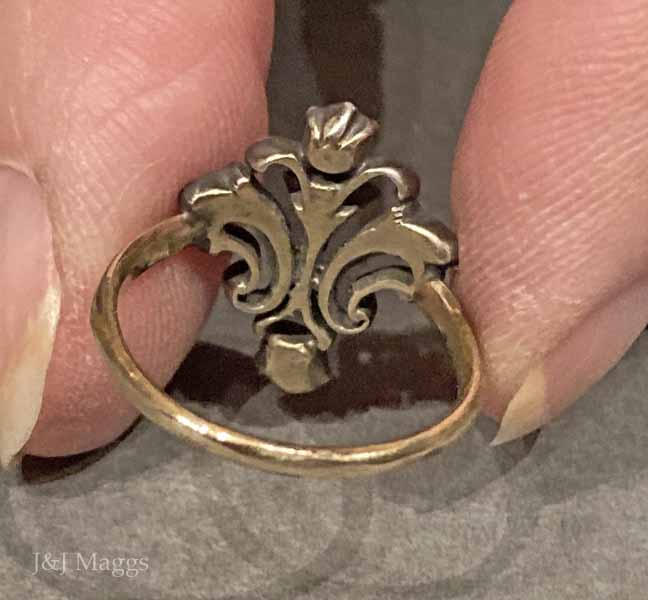 ~ ~ ~ ~ ~ ~ ~ ~ ~ ~ ~ ~ ~ ~ ~ ~ ~ ~ ~ ~ ~ ~ ~ ~ ~ ~ ~ ~ ~ ~ ~ ~ ~ ~ ~ ~ ~ ~ ~ ~ ~ ~ ~ ~ ~ ~
Click HERE to visit the Jan & John Maggs Antiques home page