~ ~ ~ ~ ~ ~ ~ ~ ~ ~ ~ ~ ~ ~ ~ ~ ~ ~ ~ ~ ~ ~ ~ ~ ~ ~ ~ ~ ~ ~ ~ ~ ~ ~ ~ ~ ~ ~ ~ ~ ~ ~ ~ ~ ~ ~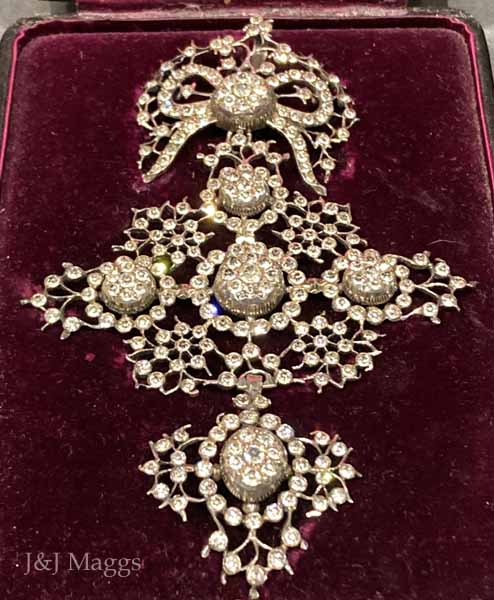 This gorgeous tri-part silver pendant with foiled diamond (clear) paste stones is most likely French, and dates from the late 1700's. It is handmade in heavy silver with closed-back settings to form this stunning multi-drop piece.
The top section is fitted with a bail on the verso and was created as a haloed bow-knot with a floral crown. Suspended from this by a long silver tongue, is the top section of a 'cross', with four haloed clusters, each surrounded by pierced, eight stone clusters, each surmounted by diamond paste foliage. The bottom section also suspended by a silver tongue, completes the 'cross' design, the central design being an oval haloed cluster, foliate at the two sides and bottom all in glorious diamond (clear) pastes.
Because the sections are suspended by tongues, the piece separates into individual sections which may be worn alone. You may wear it as it is shown, or remove the middle section and wear the bottom section hanging from the top, etc.
The overall measurement is 4 ⅝" by 2" at its widest point. It may be dropped from an organza ribbon, and easily could hang from a silk cord or a silver chain. It comes in a fitted box.
Amazing candlelight sparkles from this treasure.
Click HERE to view a brief video of this piece.
SOLD
Free domestic shipping is available on this item.
Questions? Click HERE.
Inventory #26840
~ ~ ~ ~ ~ ~ ~ ~ ~ ~ ~ ~ ~ ~ ~ ~ ~ ~ ~ ~ ~ ~ ~ ~ ~ ~ ~ ~ ~ ~ ~ ~ ~ ~ ~ ~ ~ ~ ~ ~ ~ ~ ~ ~ ~ ~