Jan & John Maggs
Antiques and Art
Georgian diamond paste tri-part teardrop earrings
~ ~ ~ ~ ~ ~ ~ ~ ~ ~ ~ ~ ~ ~ ~ ~ ~ ~ ~ ~ ~ ~ ~ ~ ~ ~ ~ ~ ~ ~ ~ ~ ~ ~ ~ ~ ~ ~ ~ ~ ~ ~ ~ ~ ~ ~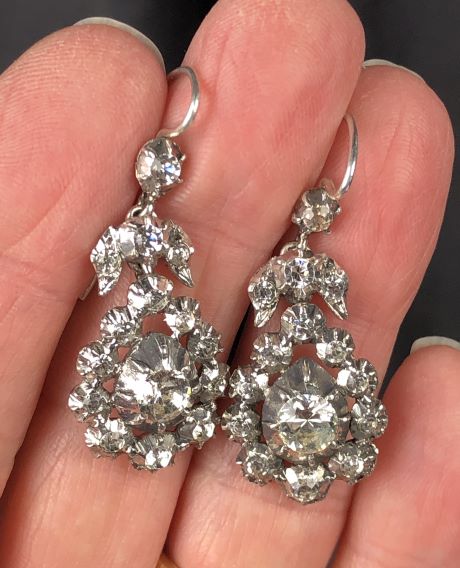 A stunning pair of tri-part clear diamond paste pendant earrings in silver. The top is a single diamond paste stone closed back set and attached to the graceful silver shepherd's crook earwires. The central 3-stone section is a stylized silver flower and leaves, closed-back set with foiled and faceted diamond pastes. Suspended from this is a teardrop-shaped pendant closed-back, silver set with 10 stones surrounding a central larger stone, just beautiful. Overall measurements are 1 ½" and ⅝" at the widest point. Earwires go into the front of the ear. English, ca. 1830. Sensational sparkle.
Price: $675
Click HERE to view a brief video of this piece.
Free domestic shipping is available on this item.
Questions? Click HERE.
Inventory #26858
~ ~ ~ ~ ~ ~ ~ ~ ~ ~ ~ ~ ~ ~ ~ ~ ~ ~ ~ ~ ~ ~ ~ ~ ~ ~ ~ ~ ~ ~ ~ ~ ~ ~ ~ ~ ~ ~ ~ ~ ~ ~ ~ ~ ~ ~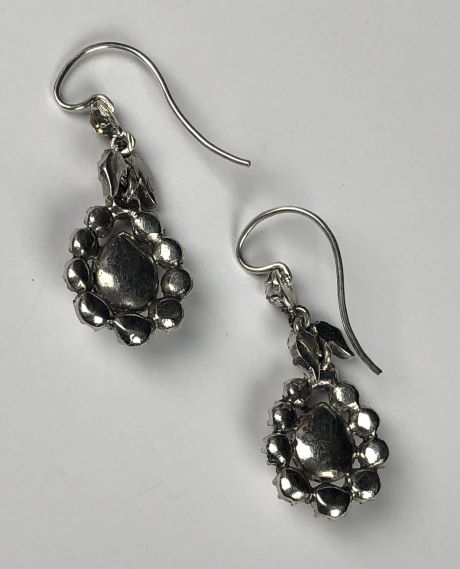 ~ ~ ~ ~ ~ ~ ~ ~ ~ ~ ~ ~ ~ ~ ~ ~ ~ ~ ~ ~ ~ ~ ~ ~ ~ ~ ~ ~ ~ ~ ~ ~ ~ ~ ~ ~ ~ ~ ~ ~ ~ ~ ~ ~ ~ ~
Click HERE to visit the Jan & John Maggs Antiques home page