Jan & John Maggs
Antiques and Art
Georgian gold old-cut diamond and ruby love token eternity snake ring
~ ~ ~ ~ ~ ~ ~ ~ ~ ~ ~ ~ ~ ~ ~ ~ ~ ~ ~ ~ ~ ~ ~ ~ ~ ~ ~ ~ ~ ~ ~ ~ ~ ~ ~ ~ ~ ~ ~ ~ ~ ~ ~ ~ ~ ~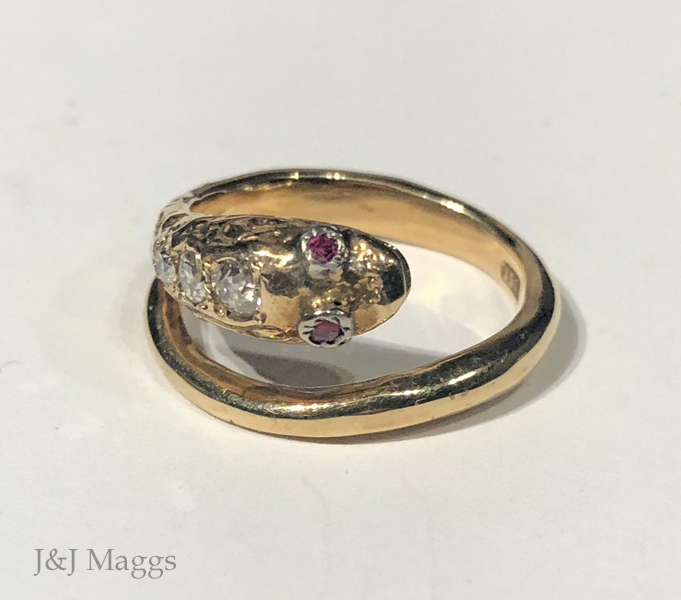 This wonderful Georgian (15k) gold snake ring is set with two ruby faceted ruby eyes, and three old-cut diamonds (4mm, 3.5mm, 2mm) crimped in gold bezels. The entire ring is gold front and back. The head of the snake is open-mouthed, followed by two faceted ruby eyes, three graduated old-cut diamonds set on its head, and engraved details follow as the gold shank tapers to an undecorated back and wraps around the finger. The snake's head passes his wavy tail, symbolizing eternity. This snake ring is currently a size 6 ½, though it is sizeable. This special love token is English, ca. 1810-20.
Price: $1950
Click HERE to view a brief video of this piece.
Free domestic shipping is available on this item.
Questions? Click HERE.
Inventory #27007
~ ~ ~ ~ ~ ~ ~ ~ ~ ~ ~ ~ ~ ~ ~ ~ ~ ~ ~ ~ ~ ~ ~ ~ ~ ~ ~ ~ ~ ~ ~ ~ ~ ~ ~ ~ ~ ~ ~ ~ ~ ~ ~ ~ ~ ~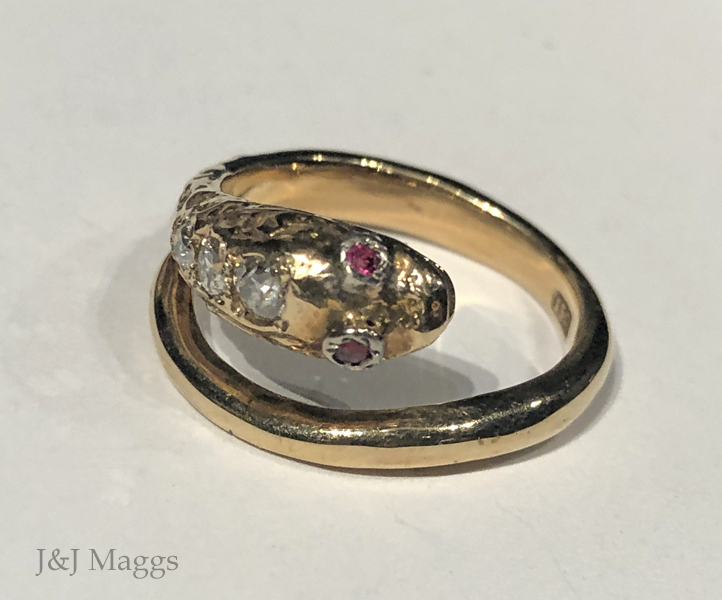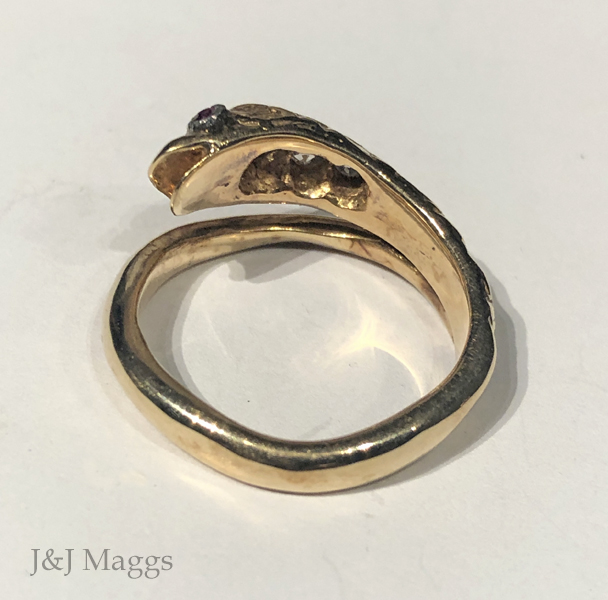 ~ ~ ~ ~ ~ ~ ~ ~ ~ ~ ~ ~ ~ ~ ~ ~ ~ ~ ~ ~ ~ ~ ~ ~ ~ ~ ~ ~ ~ ~ ~ ~ ~ ~ ~ ~ ~ ~ ~ ~ ~ ~ ~ ~ ~ ~
Click HERE to visit the Jan & John Maggs Antiques home page