Jan and John Maggs Antiques
Dennis Sheehan
---
---
Dennis Sheehan lives and paints in New Hampshire, and his pastoral paintings are reminiscent of 19th-century New England in both style and subject. He is fascinated by the subtle tones and chords of light on landscape during transitional moments: dusk, dawn, or the time immediately before or after storms, when small amounts of light and color in an otherwise somber environment produce piercingly beautiful effects. "My goal is to have the painting emanate light," the artist explains. "This is why the areas of shadow are so important, for it is from them that this emanation proceeds."
His attention to technique is derived from his training in the "Boston School" of painting, which he studied at the Monserrat School of Visual Art, the Vesper George School of Art, and under private instruction with Richard Whitney and Robert Cormier. In addition, he studies his own extensive collection of art history books, which comprises hundreds of volumes.
We discovered Dennis Sheehan's paintings on the Internet more than a decade ago and subsequently visited his New Hampshire studio. Over the years we've returned to the studio many times and have acquired many of his paintings. We've been fortunate to be able to retain nearly a dozen of his works for our own collection of American and European landscapes. The photograph below contains three of our favorite Sheehan paintings displayed in our living room.
---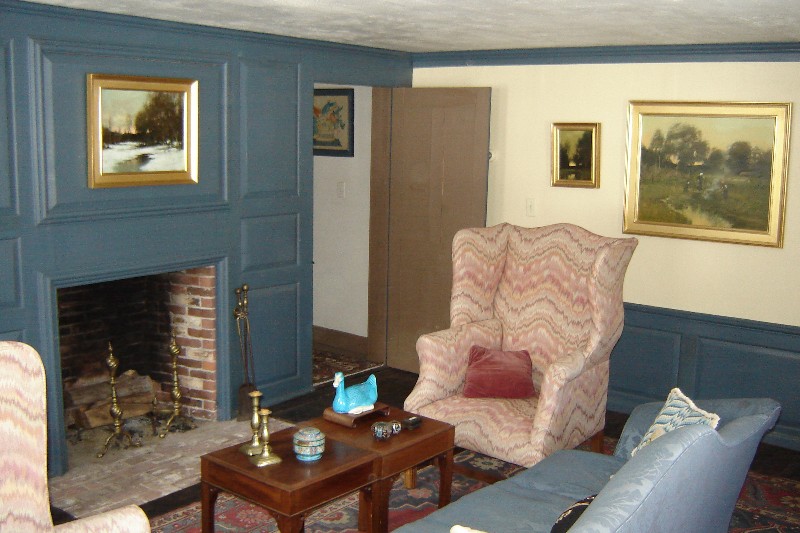 ---
Click on the painting to visit our Paintings Gallery, where you'll generally find a few Dennis Sheehan paintings.