The Savvy Shopper's Guide to Brimfield

Every year around the beginning of March, as cabin fever starts to wane and signs of Spring begin to peek out from beneath the snow-covered fields and hills of New England, thoughts of many avid antiquers turn to the event that signals the start of the Summer outdoor antiques show season -- Brimfield. Three times each summer, a one-mile stretch of US Route 20 is transformed by the arrival of thousands of antiques dealers and tens of thousands of eager buyers into a huge, week-long, antiques extravaganza. Though naively alleged to be the largest such event in the world, Brimfield is probably the biggest in the US. Because of its size alone, Brimfield would be an exhausting, overwhelming, and confusing event; and, with its many fields, each criss-crossed by a grid of paths and lanes, the complexities of Brimfield become an enormous physical and psychological maze. It is our intention to help the Brimfield neophyte navigate through it.

Some History

The concept of an outdoor market for previously-owned merchandise is thought to have originated in the ancient Marche aux Puces in Paris, the original "flea" market (in which the name of the insect was very likely not used metaphorically). The idea was introduced into the U.S. by Russell Carrell, an antiques dealer from Salisbury, Connecticut who instituted "Antiques in a Cow Pasture" in September of 1958. A year later, Gordon Reid, a Brimfield auctioneer, launched a similar event at his "Auction Acres" in Brimfield. Since then, many of Reid's neighbors, seeing the opportunity to capitalize on the money that out-of-town buyers brought to Brimfield, have followed Reid's example. As a result, there are now 22 separate shows during each Brimfield week. Several years ago the Town of Brimfield, seeking to exert some control over the number of visitors to the town during the shows, developed a schedule of staggered openings, starting at dawn on Tuesday and lasting through the following Sunday. They also established an "itinerant merchant license", for which each dealer pays a fee of $30.00, on top of booth rents ranging from about $150 to $300. Do the math!

First, set a goal

How you approach Brimfield must, of course, be determined by your expectations. We dealers, whose livelihood depends upon being able to buy high quality pieces at affordable prices, need to approach any buying opportunity decisively and aggressively. At Brimfield we find ourselves in competition with thousands of equally aggressive buyers; because supply is limited, "getting there first" is the key to success.

On the other hand, many approach Brimfield as an outing, where there is always the chance of finding "just the right thing for that corner in the family room" or another piece of pewter for the corner cupboard. Or, perhaps, people-watching or lunch may be more important priorities.

Most visitors to Brimfield are motivated by considerations that lie somewhere between these extremes. Recognizing where your needs and interests fall in this continuum will help you decide how aggressive your visit will need to be.

Jan and I have been part of Brimfield for over 20 years, both as buyers and as sellers. What follows is a condensation of our experiences on both sides of the cash register. Whatever your expectations are, we hope that this guide will help you to plan an effective strategy.

The Three Brimfields

Though Brimfield happens three times each summer--in May, July, and September--each event has a unique character. If you plan to visit Brimfield only once a year, you may find the following comparison helpful.

The May show is the busiest and most frenetic. For many dealers this is the first show of the season, which means lots of fresh merchandise. Many buyers who have hibernated all winter have money to spend and are eager to get started. When we were sellers at Brimfield, our sales were always best in May, while our buying is usually the most difficult, due to the tremendous competition among buyers. If you enjoy crowds and the buzz of activity, May is the show for you.

The July show is best described as "quiet". Many dealers who sell in May and September stay home in July, primarily because of the heat, which also discourages buyers. In recent years this effect has begun to spiral, and many fields operate at half of their capacity or less in July. If you enjoy a leisurely walk in the hot sun (there is very little shade in Brimfield), July could be your show. On the other hand, because so many stay away, competition for the good things that do appear is less than in busier times.

September is more like May than July. The days are cooler, and the fields are full of sellers and buyers once again. Merchandise is generally a bit thinner, though many seasonal dealers may be trying to unload things they've had for a while, and deals might be had on the more mundane items.

Treasure or Trash?

There is a lot of junk at Brimfield. This includes everything from legitimate "old stuff" that simply isn't worth anything, to outright fakes. Be on your guard, and remember the adage, "If it seems too good to be true, it probably is."

There are also a lot of fine antiques at Brimfield. Finding them, however, is not easy. Remember that you are in competition with thousands of buyers, many of them professionals, who probably know at least as much as you do. If you know what you're doing, you can find very high-quality antiques at Brimfield, but -- except for the occasional "score" -- don't expect to find them at yard sale prices.

Most Brimfield dealers are legitimate and honest, and there is much for most buyers, sometimes at reasonable prices, sometimes not. Our best advice is, "Buy thoughtfully", as you should everywhere, of course.

The Fields

The 22 shows that make up Brimfield week open according to a schedule that has been in place for several years. Because the various shows open at different times and on different days, it is essential to be aware of this schedule. If you have a favorite field, it's probably best to go on the day that it opens. Remember that the more popular fields attract huge crowds, which create great frenzy during the opening minutes. Even if you'd prefer not to fight the crowd, it's advisable to come on opening day; many sellers move from field to field as the week goes on, so on the second or third day of a multi-day show you may find the field less than half full.

While it's virtually impossible to generalize about specific fields, the following observations, reflecting our personal bias, might be helpful. Click on highlighted text for more details about specific shows.
Tuesday
Wednesday

The first of three Wednesday openings, the New England Motel show, opens at 6:00 a.m. Many good dealers set up on this field, offering antiques and collectables from several time periods. There is an admission charge.
At 9:00 on Wednesday Heart-O-the-Mart opens to the public. This is a very large field, with several hundred dealers. Competition is fierce, but good pieces abound. If you have any hope of finding something wonderful, get there on time, and don't dally, as everyone picks this field. Worth the admission fee.
At noon on Wednesday a bell is sounded announcing the opening of the Jeanne Hertan field. On this signal dealers begin unloading their vans and trucks as hopeful buyers race from one dealer to another. Because the field is not fenced, many buyers stake out positions at the booths of favorite dealers before the opening bell. Many of Brimfield's better dealers exhibit here, and the field is especially known for American country, but the timid may find the chaos overwhelming. There is no admission charge, but take care not to get trampled!

Thursday

At the civilized hour of 9:00 a.m. on Thursday, Mays Antique Market opens. Since dealers are not allowed to remove merchandise from their vehicles before the opening, buyers swarm onto the field as dealers unpack. The "no unpacking before 9:00" policy guarantees that what dealers bring to the show will be available when the public enters, and despite perennial dealer grumbling, has helped May's to remain one of the best shows in Brimfield. There is an admission fee, and the field's 600 dealers include many of the top show dealers in the northeast.

Friday

On Friday morning at 6:00, the J&J Promotions field opens. On the site of the original Brimfield event, this show is managed by Gordon Reid's two daughters, Jill and Judy, usually referred to as "the girls". This field maintains its long-standing reputation as a source for American country antiques. There is an admission fee.

Saturday and Sunday

Some shows remain open on the weekend, and casual buyers often have an enjoyable time, but most dealers and virtually all of the serious buyers will have already left.
Food
The crowds that descend on Brimfield easily overwhelm the town's two or three permanent restaurants. Consequently, many itinerant food vendors set up shop on the street. There is a large food court in front of the New England Motel as well as a row of food stands across the highway in front of Central Park and Faxon's Midway. Many individual fields have food concessions as well. These food venues are all inspected regularly by the Brimfield Board of Health, and we've never heard of any health issues. Food is usually well-prepared, though there is a decided emphasis on deep-fried and grilled foods.
Healthy alternatives do exist, however, and our favorite is a small stand, located in front of Central Park, that serves a delicious herbed chicken wrap (made with grilled chicken breast), a veggie wrap, and their legendary "Pilgrim Sandwich"--turkey, stuffing, and cranberry sauce on a bun (or in a wrap, if you ask). Both are reasonably priced and made while you wait, and the line that's always in front of their booth is testimony to the quality of what they serve. (Well worth the short wait). Look for the "PILGRIM SANDWICHES" sign.
Our experience has shown that, as with antiques, it pays to shop around. There is good value in some of Brimfield's kitchens, but it's as easy to overpay for your lunch as it is for an antique.
Parking
Parking is not allowed on any public road within walking distance of the shows. The police are very aggressive in their enforcement of this policy, cars are towed, and the fines are substantial. Consequently, parking lots are big business during the shows. Most parking facilities charge five or six dollars, though a few of the more remote lots charge less, and one field charges $10. We've found it best to park near the center of the show (May's and Quaker Acres offer the best combination of convenience and price, though the two lots are often filled.). Parking on the perimeter to save two or three dollars doesn't compensate for the half-mile walk to and from your car.
Toilets
All those people, all that coffee and soda! In response to the obvious need, dozens of portable toilets descend on Brimfield for the week, bearing names like Sani-Can, Royal Flush, and Porta-John. (I try not to take this personally.) Each field has several, they are kept relatively clean, though timing is sometimes everything, and there's rarely a long wait. For obvious reasons, we recommend that you use one when you see it, rather than waiting until you've gotta.
Afterthoughts
Jan and I have been buying and selling at Brimfield for more than twenty years. During those years we've sold to buyers from all over the United States and Canada, as well as Europe, Asia, and Australia. We've sold to collectors, dealers, decorators, and motion picture production crews. Many of our Brimfield buyers have become regular customers, and some have become friends. We've gotten sunburned, soaked, and chilled to our bones. Our tent was once torn from its stakes in the ground and deposited in a heap several yards away. We've had merchandise stolen, and we've had to endure the obnoxious haggling that some shoppers feel is an integral part of the business.
As sellers, we've come home once or twice with our pockets full of money, and once or twice with so little to show for our efforts that we questioned the wisdom of our career choice. As buyers we've been frustrated by hundreds of "SOLD" tags on pieces we saw just a little too late, and we've been delighted by some that we saw first.
Yes, Brimfield can be frustrating, and confusing; and it's always exhausting. But it can also be stimulating and (dare I say it?) fun. With all of their ups and downs, these three weeks of every summer still offer some of the most exhilarating experiences in the antiques business. We hope that our love/hate relationship with Brimfield will continue for another twenty years. (JAM, revised 5/08)
---
Some further links to Brimfield sites.
The self-proclaimed Brimfield homepage may be found at www.brimfieldshow.com, which is a very good source of Brimfield information.
For partial dealer listings and other information, visit Brimfield Exchange.
There's another very well-presented guide to Brimfield , including opening times of the various shows and a list of local accommodation for those coming from a distance in the New England Antiques Journal.
Just found this very inclusive and well thought out site: Brimfield.com
---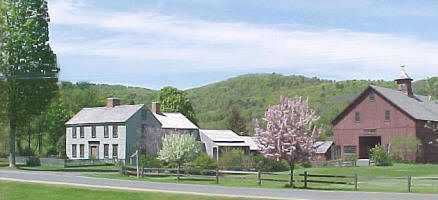 Click to visit the Jan and John Maggs Antiques website.