The Art of Virginia Strom Precourt
104.
Study for "Garden Parties"
Pencil on Paper
10 1/2" x 9 1/2"
~~~~~~~~~~~~~~~~~~~~~~~~~~~~~~~~~~~~~~~~~~~~~~~~~~~~~~~
Studies for "Garden Parties" For 30 years, beginning in the mid-'70s, Virginia Strom Precourt had a clear vision of a celebration of the youth, color, and energy of the Boston Public Garden. The focal point would be a young woman sitting on the edge of a bridge that interrupts the path from Arlington Street to Charles Street. Early on, she found the right posture for that individual, but kept changing out her clothes, her expression, even her face. A series of pencil drawings that carry the "Garden Party" theme was created at different times and demonstrated that she never wanted to move too far from what she had hoped would be her richest work. Characters who she wanted to join the Garden Party would come to mind and she'd interrupt whatever else she was doing to capture them on paper. She would describe her vision for this master work in specific terms, but never committed to a formal design. It always was a work in progress.
~~~~~~~~~~~~~~~~~~~~~~~~~~~~~~~~~~~~~~~~~~~~~~~~~~~~~~~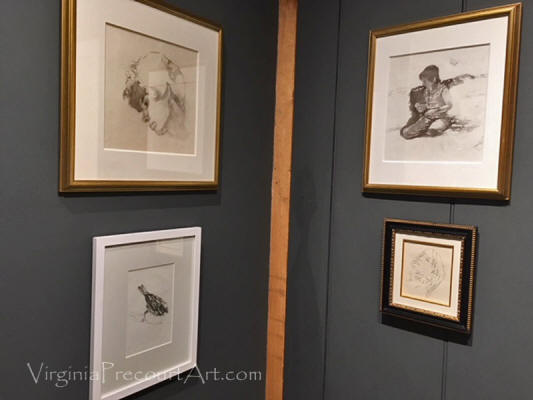 ~~~~~~~~~~~~~~~~~~~~~~~~~~~~~~~~~~~~~~~~~~~~~~~~~~~~~~~