Jan & John Maggs
Antiques and Art
A large, period oak gateleg table
~ ~ ~ ~ ~ ~ ~ ~ ~ ~ ~ ~ ~ ~ ~ ~ ~ ~ ~ ~ ~ ~ ~ ~ ~ ~ ~ ~ ~ ~ ~ ~ ~ ~ ~ ~ ~ ~ ~ ~ ~ ~ ~ ~ ~ ~
An extremely practical and attractive table. With both of its leaves up, it can seat six comfortably; with them down, it is only 18" wide, easily stored against a wall or in the middle of the room as a handy table for two.
It has a particularly ornate frame, with beautifully ring and ball turnings on its posts and stretchers. The large top extends nearly to the floor when folded down and has been artfully reinforced below. We purchased it from an English home.
Rich patina and fine condition. The drawer has been replaced.
English, ca. 1680.
Dimensions: with top open: 47" X 60"; with top closed: 47" X 18"; height: 28 ½"
Price: $850
Questions? Click HERE.
Inventory #25111
~ ~ ~ ~ ~ ~ ~ ~ ~ ~ ~ ~ ~ ~ ~ ~ ~ ~ ~ ~ ~ ~ ~ ~ ~ ~ ~ ~ ~ ~ ~ ~ ~ ~ ~ ~ ~ ~ ~ ~ ~ ~ ~ ~ ~ ~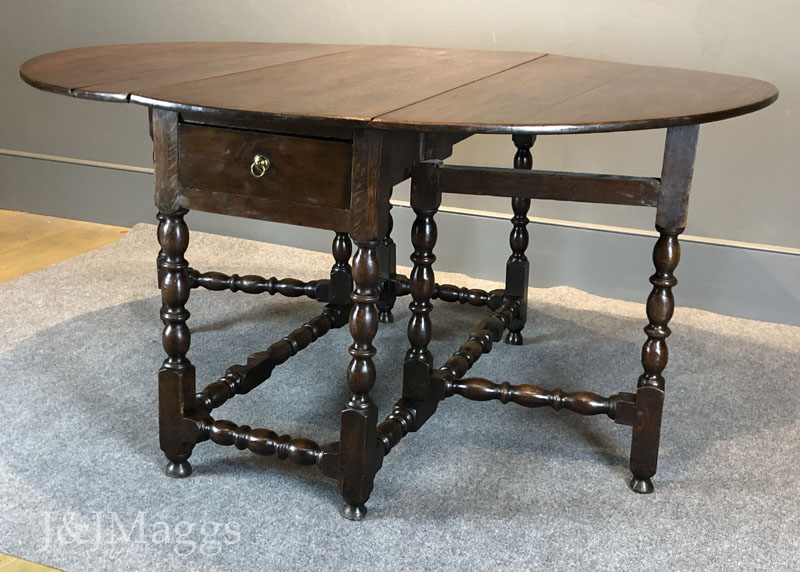 ~ ~ ~ ~ ~ ~ ~ ~ ~ ~ ~ ~ ~ ~ ~ ~ ~ ~ ~ ~ ~ ~ ~ ~ ~ ~ ~ ~ ~ ~ ~ ~ ~ ~ ~ ~ ~ ~ ~ ~ ~ ~ ~ ~ ~ ~
CLICK HERE to return to the Furniture Gallery