Jan & John Maggs
Antiques and Art
Welsh oak chest with applied moulding on its drawer fronts
~ ~ ~ ~ ~ ~ ~ ~ ~ ~ ~ ~ ~ ~ ~ ~ ~ ~ ~ ~ ~ ~ ~ ~ ~ ~ ~ ~ ~ ~ ~ ~ ~ ~ ~ ~ ~ ~ ~ ~ ~ ~ ~ ~ ~ ~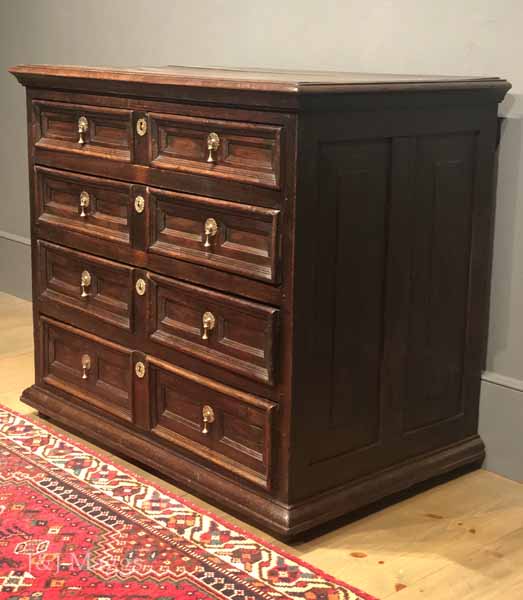 A large chest with four graduated drawers, each with a narrow, applied center panel separating two false panels defined by detailed applied moulding around their perimeters.
Each side of the chest contains two simple raised panels in a plain frame, and a proud moulding is applied at the top and the bottom.
The back consists of four boards mounted in a simple two-panel frame.
The drawers are fitted with brass drop pulls and central brass escutcheons. The hardware is of the period, but not original to this piece, which appears to have been modernized in the 19th century.
The chest stands on its four stiles, which protrude beneath the bottom. We suspect that it has lost a bit of its original height, and one of the front feet has been tipped. There is also an old repair to one of the rear feet.
Because the boards used to make the chest were never made as thin as urban furniture of the time, and the drawer bottoms are of oak, rather than the more common pine, the chest is both heavy and sturdy. The drawers move easily, and paper has been glued to cover gaps caused by shrinkage.
Width: 38-1/2"; Depth: 25"; Height: 34"
Welsh, ca. 1700
Price: $1,275
Questions? Click HERE.
Inventory #25809
~ ~ ~ ~ ~ ~ ~ ~ ~ ~ ~ ~ ~ ~ ~ ~ ~ ~ ~ ~ ~ ~ ~ ~ ~ ~ ~ ~ ~ ~ ~ ~ ~ ~ ~ ~ ~ ~ ~ ~ ~ ~ ~ ~ ~ ~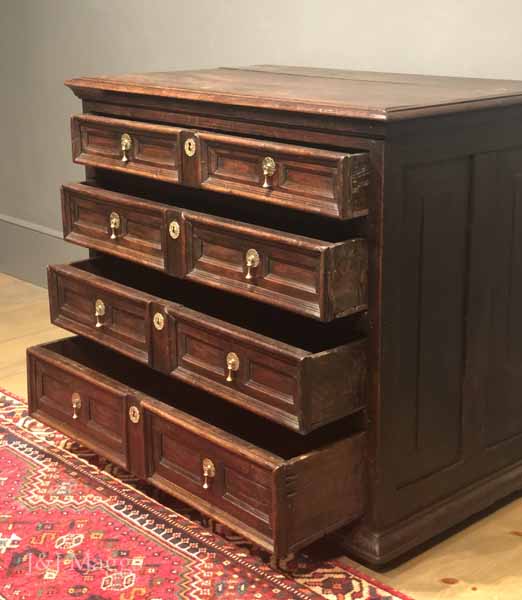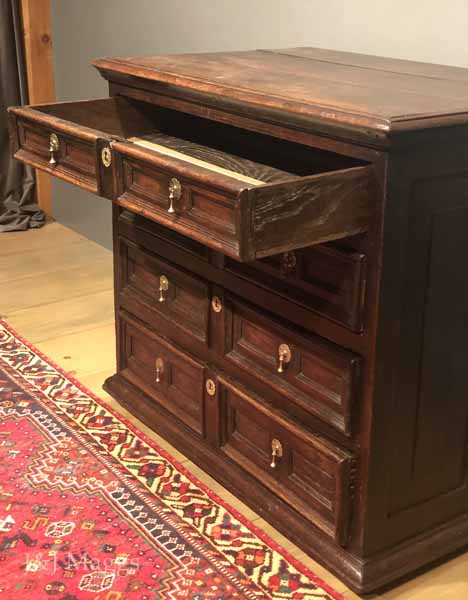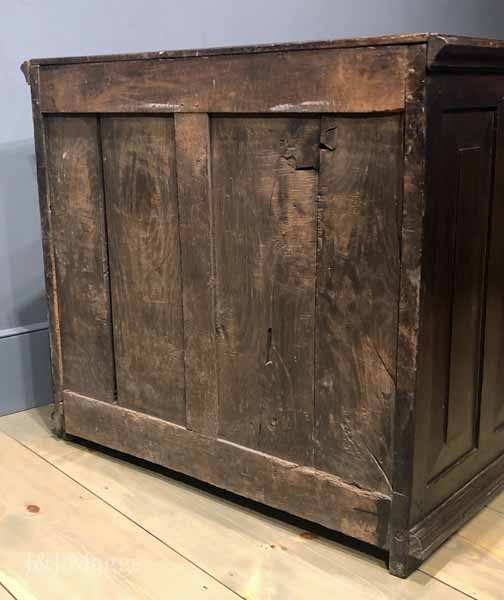 ~ ~ ~ ~ ~ ~ ~ ~ ~ ~ ~ ~ ~ ~ ~ ~ ~ ~ ~ ~ ~ ~ ~ ~ ~ ~ ~ ~ ~ ~ ~ ~ ~ ~ ~ ~ ~ ~ ~ ~ ~ ~ ~ ~ ~ ~
CLICK HERE to return to the Furniture Gallery