Jan & John Maggs
Antiques and Art
Exceptional 17th-century oak coffer
~ ~ ~ ~ ~ ~ ~ ~ ~ ~ ~ ~ ~ ~ ~ ~ ~ ~ ~ ~ ~ ~ ~ ~ ~ ~ ~ ~ ~ ~ ~ ~ ~ ~ ~ ~ ~ ~ ~ ~ ~ ~ ~ ~ ~ ~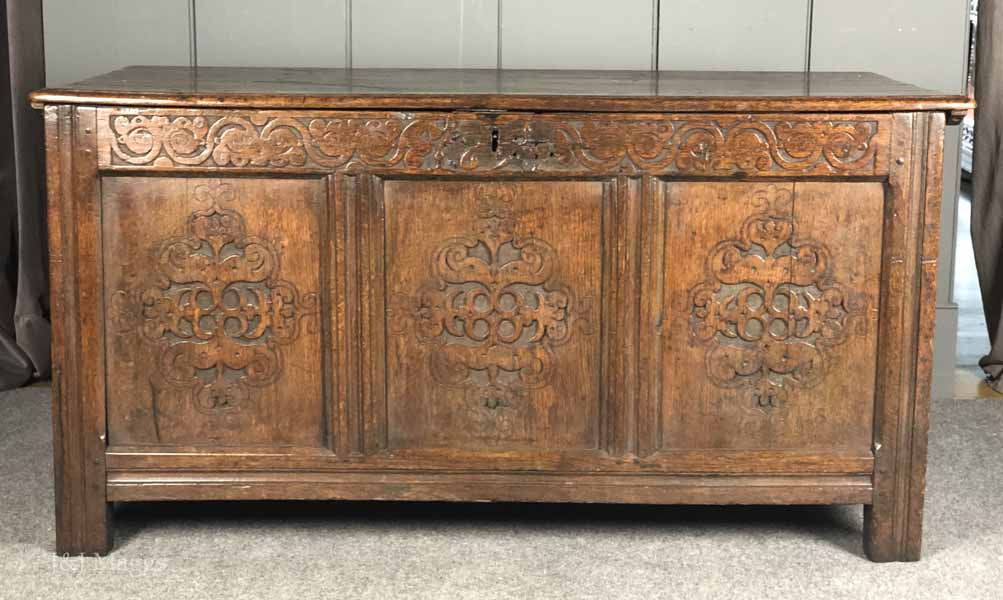 Purchased from a local estate, this chest presents an extremely interesting and attractive face. Its three front panels are set into a frame comprised of a frieze filled with carved florets, with a central keyhole, the initials "P I" and the date "1697". The remaining five elements of the front frame were decorated with a complex moulding, and the joinery of very high quality.
The two-panel ends are framed in a similar manner, but the three-panel back is finished without embellishment but for a slight chamfering on the interior. The two-board lid has a thumbnail moulding on its front and sides. It has split, and battens have been added inside to bind and reinforce.
But it is the carving on the three front panels that commands our attention. The carver has rendered four flowers in sunk carving style, one extending in each direction, but all sharing with their neighbors the circles from which they seem to grow. Not only conceptually interesting, but a visual treat as well, enhanced by the scratch-carved forms that encircle the central figures.
Regarding condition: The iron hinges appear to be replacements, as do the exterior battens under the lid at the ends of the lid. The coffer originally had a large till with an open shelf beneath, but these are gone. Two of the original bottom boards have been repaired, utilizing period timber.
English, ca. 1660
Lid: 49" X 21 ¾"; Height: 25 ¼"
Price: $ 1,450
Questions? Click HERE.
Inventory #26302
~ ~ ~ ~ ~ ~ ~ ~ ~ ~ ~ ~ ~ ~ ~ ~ ~ ~ ~ ~ ~ ~ ~ ~ ~ ~ ~ ~ ~ ~ ~ ~ ~ ~ ~ ~ ~ ~ ~ ~ ~ ~ ~ ~ ~ ~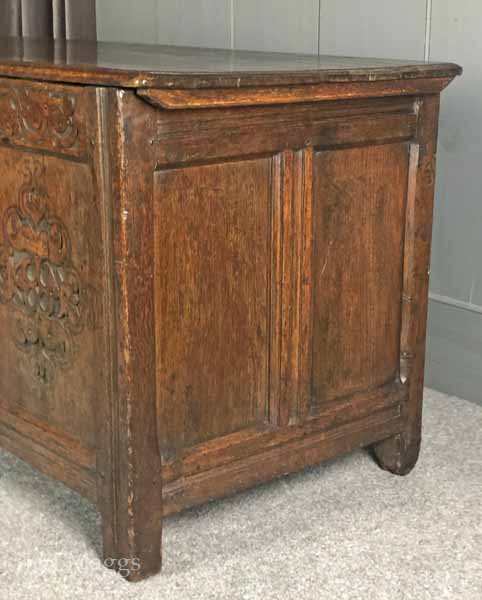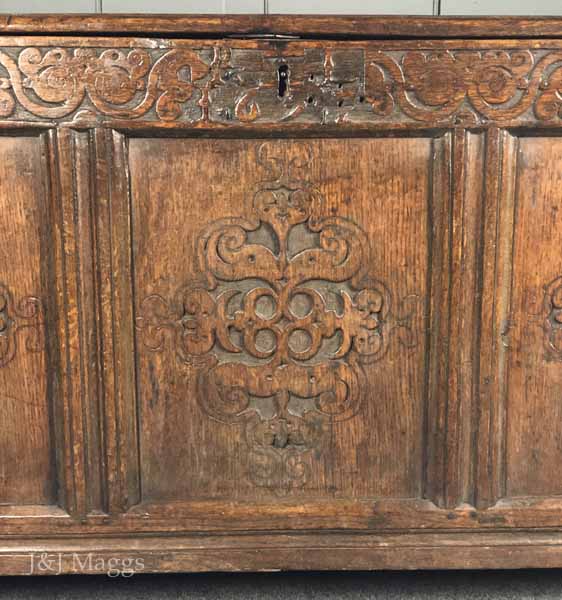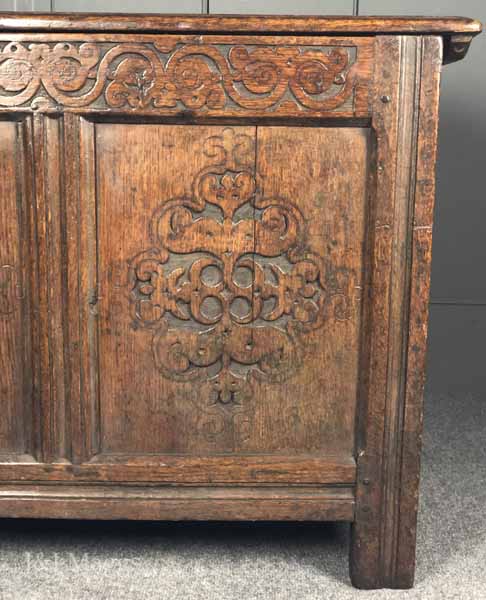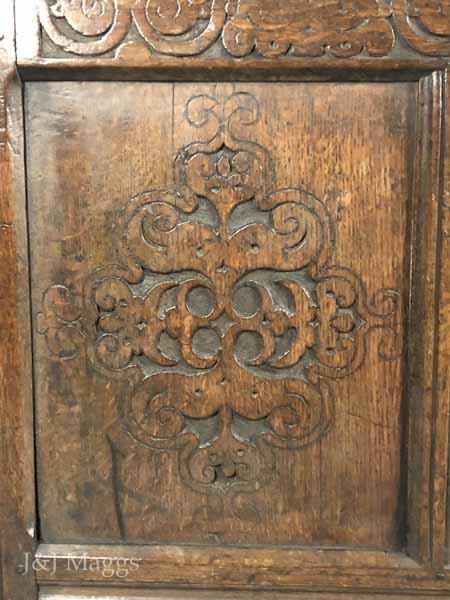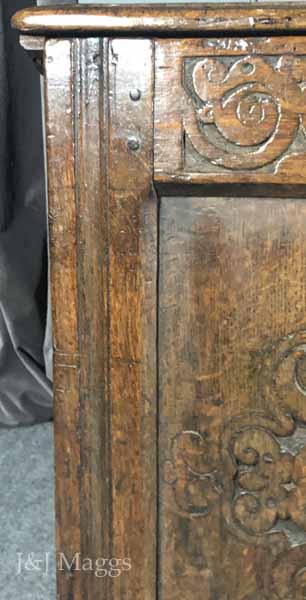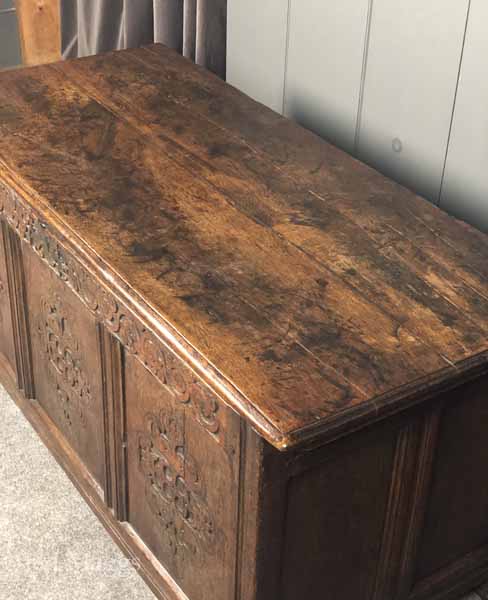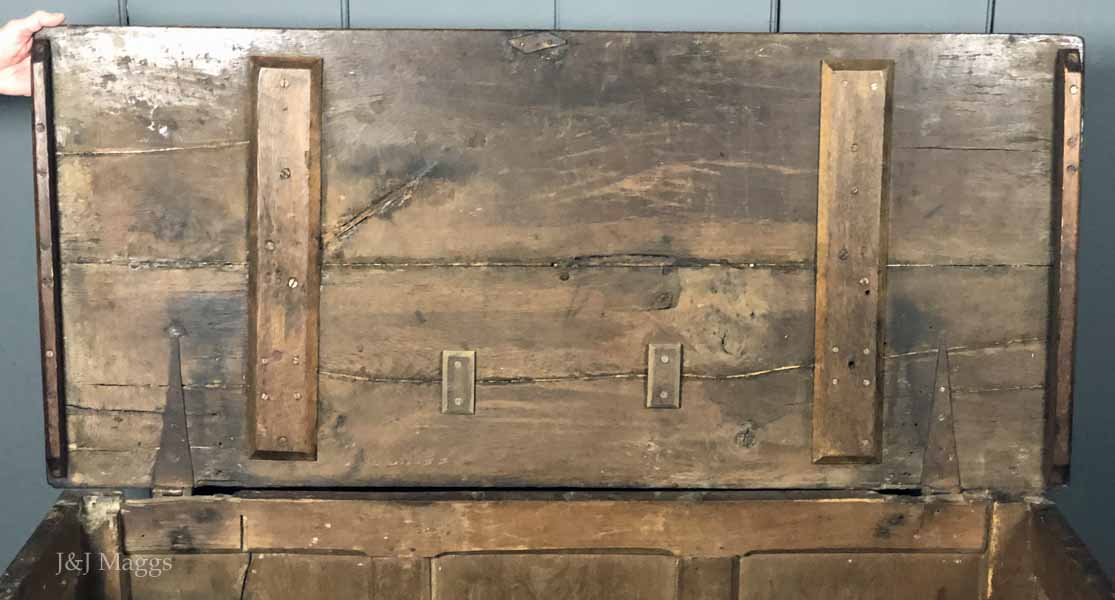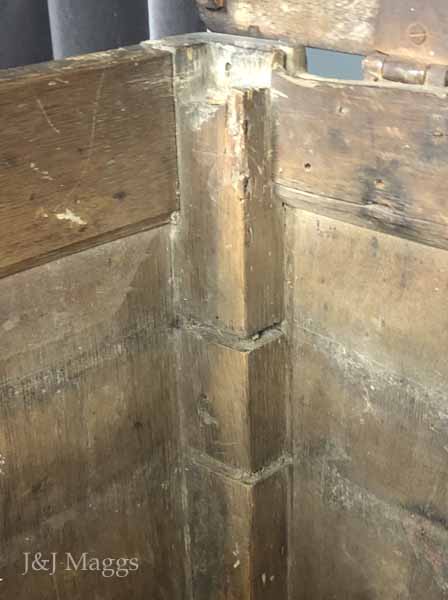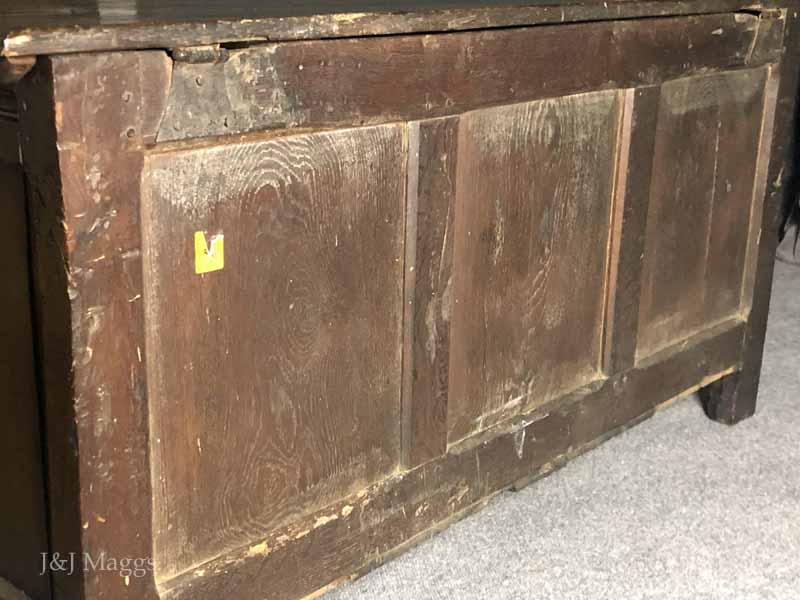 ~ ~ ~ ~ ~ ~ ~ ~ ~ ~ ~ ~ ~ ~ ~ ~ ~ ~ ~ ~ ~ ~ ~ ~ ~ ~ ~ ~ ~ ~ ~ ~ ~ ~ ~ ~ ~ ~ ~ ~ ~ ~ ~ ~ ~ ~
CLICK HERE to return to the Furniture Gallery