Jan & John Maggs
Antiques and Art
An outstanding replica of an early 18th-century Connecticut sunflower chest,
the original possibly by Peter Blin of Wethersfield (1640 – 1725)
~ ~ ~ ~ ~ ~ ~ ~ ~ ~ ~ ~ ~ ~ ~ ~ ~ ~ ~ ~ ~ ~ ~ ~ ~ ~ ~ ~ ~ ~ ~ ~ ~ ~ ~ ~ ~ ~ ~ ~ ~ ~ ~ ~ ~ ~
A bench-made blanket chest with single drawer, copiously decorated with carved tulips, sunflowers and other botanic forms.
The face of the chest is of joined construction, with three carved panels set into an oak frame. Each of the stiles of this frame is decorated with one or two applied turned split spindles, and the upper rail of the frame has a horizontal beaded element, planed into the rail and painted black.
Bold mouldings surround the front and sides above and below the drawer. The face of the single side-hung drawer is divided into halves by three pairs of smaller split spindles.
Except for the lid, the bottom of the chest, and most of the back, all of which are of wide pine boards, and the spindles and drawer bosses, which are of an unknown black painted hardwood, the chest is made entirely of straight-grained oak. The elements of the frame are pegged together, while the pine pieces are attached with hand-forged nails.
The lid is braced with oak cleats at the edges and hinged with forged cotter pins.
The oak panels and frame were left natural, while the mouldings framing drawer front and panels have been painted red. As noted above, the applied elements are black.
Except for a faint scent of mothballs on the interior, there is no evidence that the chest has ever been used.
We suspect that one of our readers will be able to tell us who might have made this outstanding replica. When that occurs, we'll update this listing or inform the buyer.
Probably New England, 2nd half 20th century.
Width: 46 ¾"; Depth: 21"; Height: 33"
Price: $ 1,200
Questions? Click HERE.
Inventory #26642
~ ~ ~ ~ ~ ~ ~ ~ ~ ~ ~ ~ ~ ~ ~ ~ ~ ~ ~ ~ ~ ~ ~ ~ ~ ~ ~ ~ ~ ~ ~ ~ ~ ~ ~ ~ ~ ~ ~ ~ ~ ~ ~ ~ ~ ~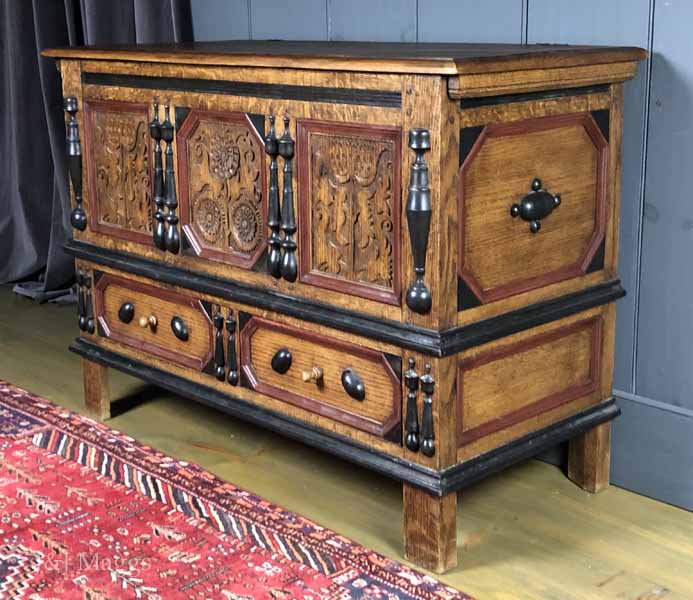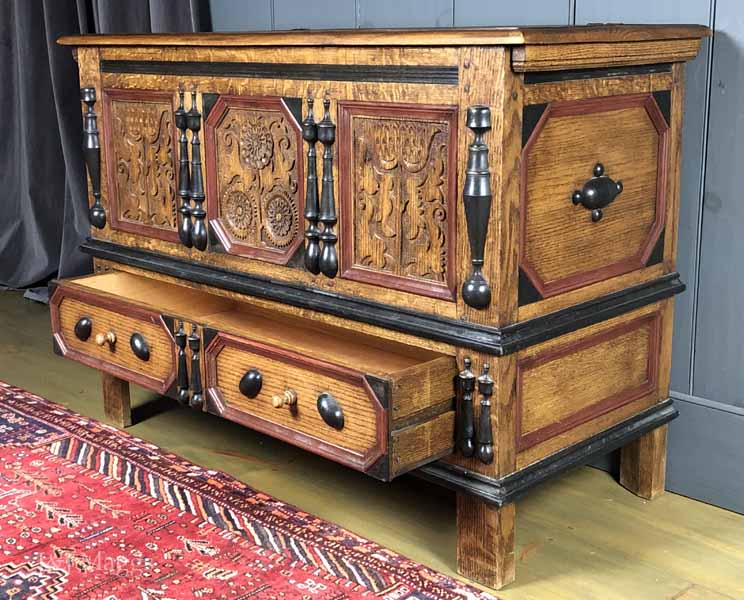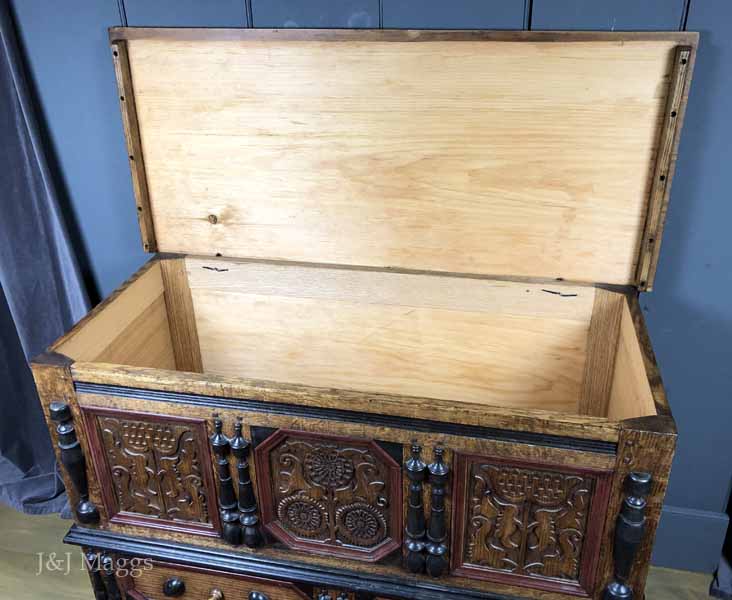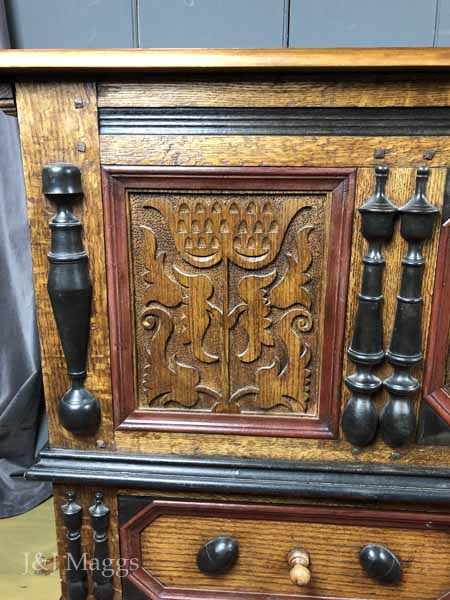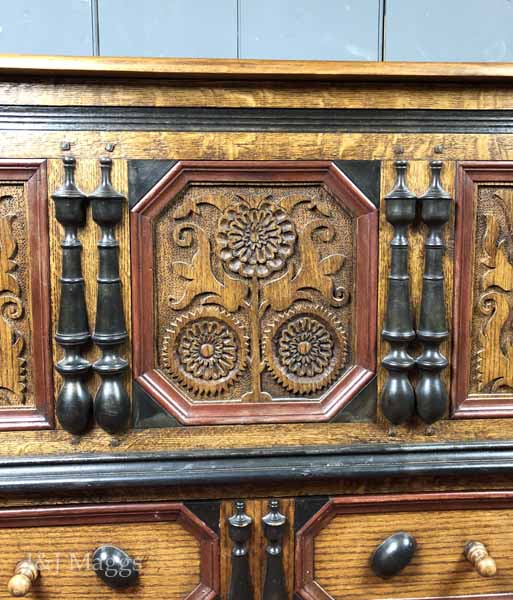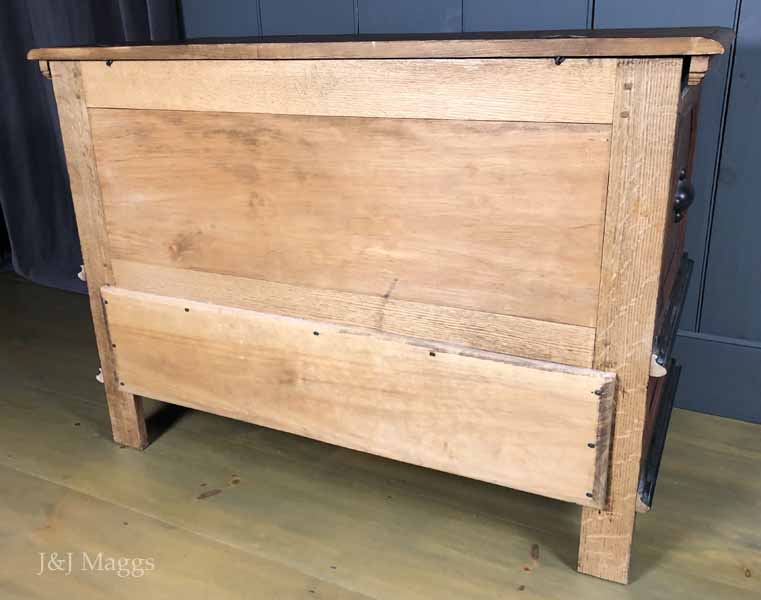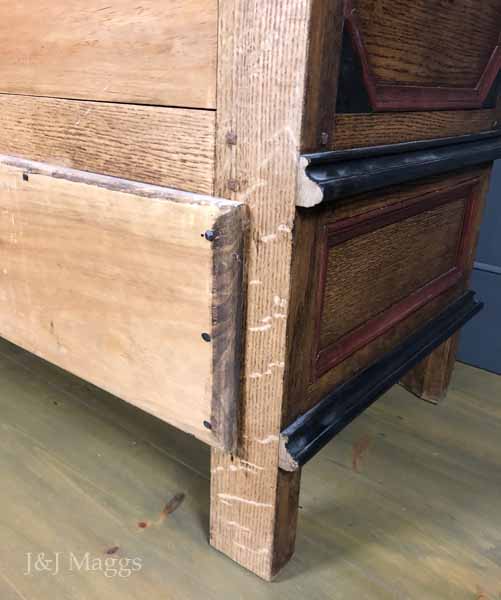 ~ ~ ~ ~ ~ ~ ~ ~ ~ ~ ~ ~ ~ ~ ~ ~ ~ ~ ~ ~ ~ ~ ~ ~ ~ ~ ~ ~ ~ ~ ~ ~ ~ ~ ~ ~ ~ ~ ~ ~ ~ ~ ~ ~ ~ ~
CLICK HERE to return to the Furniture Gallery